Sonja Kohn, Bernie Madoff's Bag Lady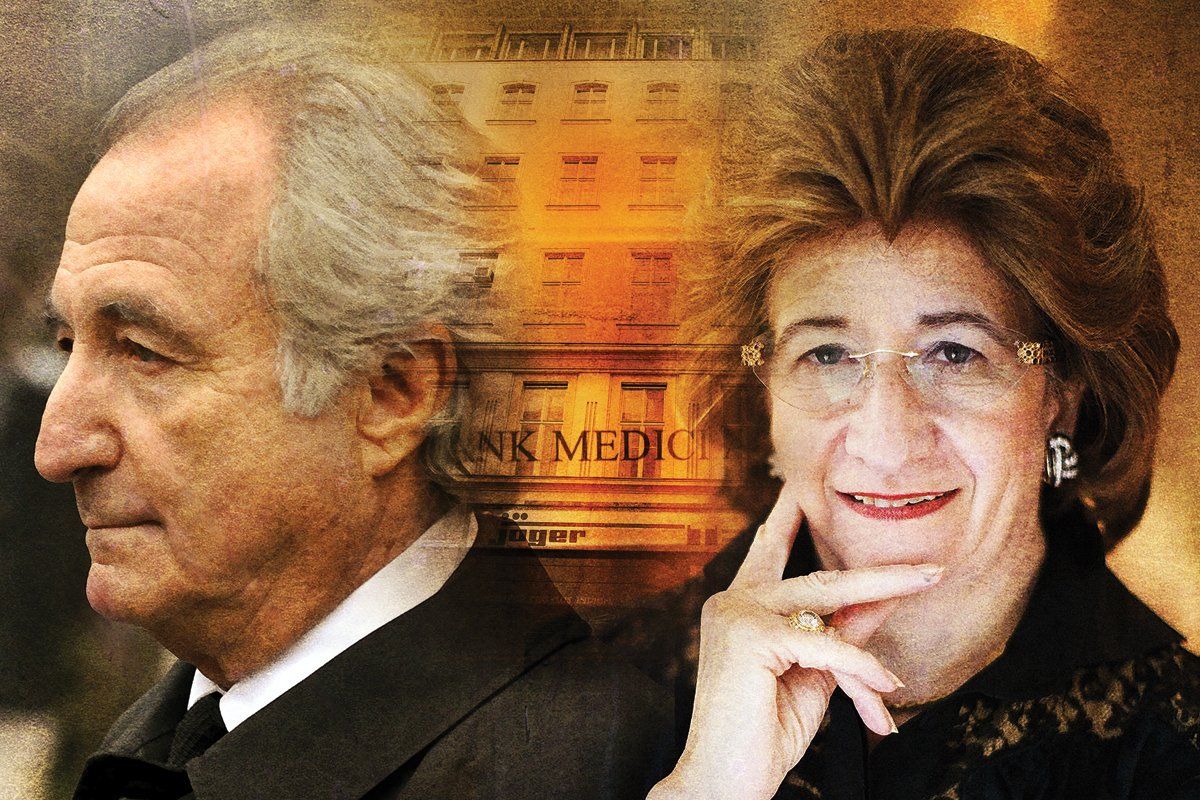 Sonja Kohn never had trouble reaching Bernie Madoff, whether by phone or in person. "I would always put her in to Bernie, because he always wanted to talk to her," recalls Eleanor Squillari, Madoff's personal secretary for 20 years. When Kohn ventured from Europe to visit Bernard L. Madoff Investment Securities, a warm welcome always awaited her at his 19th-floor office in the high-rise known as the Lipstick Building on Manhattan's East Side. "He always closed his door when she came in," says Squillari, who adds that her boss was "very comfortable" with Kohn.
In court papers, Irving Picard, the Madoff bankruptcy trustee, describes the scene this way: whenever Kohn brought wealthy European investors to New York, "Madoff would greet Kohn 'with a big hug and a kiss.'?" Squillari admired the flair of the sturdy Orthodox Jewish matron from Austria wearing a red sheitel—a religious wig.
"She was very lovely—if you looked at her face, she looked grandmotherly," says Squillari. "But she dressed—I don't know if you would say sharp, I would say a little funky. I remember one time she came in wearing a furry vest. She'd always have something special on."
For 23 years, operating mostly from abroad, Kohn was the go-to liaison for bankers, hedge-fund managers, and rich individuals outside the U.S. who wanted to invest in Madoff's financial products, often indirectly, through so-called feeder funds. These days Kohn, 62, is the subject of global litigation. Picard is suing her in the U.S. and the U.K.; investors have brought civil suits against her in New York; and in Austria, nearly two dozen firms are pursuing her. "Madoff could not have maintained his Ponzi scheme for so long without Sonja Kohn," says Timothy Pfeifer, a lawyer with Baker Hostetler who is leading the Madoff bankruptcy trustee's $19.6 billion civil-racketeering lawsuit against Kohn. "Madoff's own records … reflect that he credited Kohn with feeding over $9.1 billion of other people's money into his Ponzi scheme." Kohn's international legal defense team has a simple, two-pronged strategy: paint Kohn as an unwitting victim of Madoff, and highlight her clients' own failure at due diligence.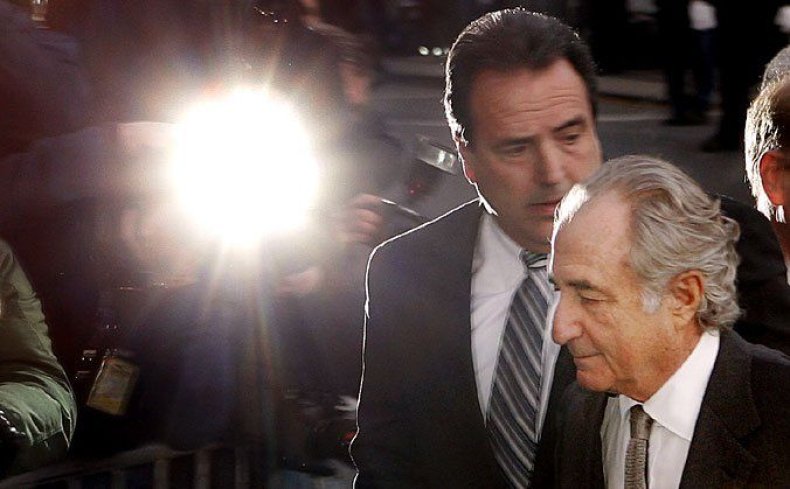 The trustee's court filings allege that before Madoff admitted his crimes to his sons and surrendered for arrest on Dec. 11, 2008, he destroyed documents detailing his multimillion-dollar secret payments to Kohn. What Madoff apparently did not realize is that an employee kept copies of such documents and helped investigators retrieve them. And though Madoff has begun talking in jail to the bankruptcy trustee's team, he has apparently not provided much useful information about Kohn.
Kohn was extraordinarily valuable to Madoff as his "initial ambassador" to Europe, says Oren Warshavsky, the lawyer for the bankruptcy trustee's suit against Kohn's custodian bank, HSBC. "If you are trying to maintain a Ponzi scheme," Warshavsky told NEWSWEEK, "turning to the European community is a natural choice." In other words, wealthy offshore investors rarely ask questions when they believe their investments are safe in a diversified stock portfolio with steady returns of 10 percent or more.
People who know Kohn and those investigating her agree on one point: while she is a charming and extremely hardworking saleswoman, her most important distinguishing characteristic—indeed, her No. 1 asset—was her unparalleled access to Madoff. "She would call Bernie and introduce people," recalls Squillari. With offices across the street from the opera house in Vienna and three blocks from La Scala in Milan, Kohn cultivated the image of a woman of culture, and of political and economic power. She promoted herself as "Austria's woman on Wall Street"—cachet that privately included her offer of entree to Bernie. One former employee recalls, "She would tell people she had Bernie's private mobile number." Her sales pitch sometimes included this line: "Everything I touch turns to gold." That was true, but not in the way they had hoped. Investors who met Madoff through Kohn turned over roughly $6 billion for him to manage, while her own ventures ultimately accounted for an additional $3 billion funneled to his "investment advisory" business.
Madoff's continental ambassador was born in Austria in 1948 to a Jewish family named Blau. In 1970 Sonja Blau married Erwin Kohn. Together, according to the bankruptcy trustee's suit, they ran an import-export business in Austria for a while before moving the business to Milan in the 1970s. In 1983 the Kohns emigrated to the U.S., living in Monsey, N.Y.
Financial-industry records show that Sonja Blau Kohn passed the first two of five securities-licensing exams in November 1984 and joined Merrill Lynch in mid-1985. Kohn was always trying to think of new business schemes, says a person she tried to enlist in Internet ventures: "She was always looking for the things that were going to make her rich. She was motivated by greed and the power that comes to people who are wealthy. Madoff would have been a dream come true."
While at Merrill, an accountant friend directed her to Maurice "Sonny" Cohn, a partner of Madoff's in a company called Cohmad Securities. When Cohn sent Kohn to Madoff, she was touting herself as "the biggest producer" Merrill Lynch had as a stockbroker. She was apparently so valuable that Sonny Cohn collected $87,000 a year—more than $526,000 total—from Madoff just for introducing him to the star saleswoman, according to a deposition Cohn gave the U.S. Securities & Exchange Commission.
Immediately, Madoff began paying Kohn to scout customers. From a fifth-floor office in the General Motors Building, opposite the Plaza Hotel, Kohn opened a small brokerage called Windsor IBC Inc. in 1987, followed by Eurovaleur in 1990. In 1994 Kohn shifted her focus to Vienna, moving there and opening Bank Medici, projecting an aura of gilded prestige. In the 1990s, European private-wealth managers were just discovering the world of hedge funds and were eager to find ways to place money with Madoff. He was, after all, the legendary stockbroker who had helped revolutionize computerized stock trading. As chairman of NASDAQ, he was renowned in financial circles as a key challenger to the New York Stock Exchange's trading dominance.
Some investors believed Madoff's expertise was benefiting, perhaps illegally, from inside knowledge his firm had about customer stock-trading patterns. The assumption was that investors could enjoy a free ride on his so-called front-running performance as long as he did not get caught. That fragrant hint of potential illegality became catnip for investors who wanted to push to the edge in pursuit of greater returns, which Madoff's firm did until the core Ponzi scheme was revealed. An Austrian who worked for Kohn says, "She captured the 'wink, wink' crowd who wanted desperately to get in with Madoff." Her targets were the big players, a former employee of Kohn's tells NEWSWEEK. Her defense is expected to be that big institutional investors, banks, and hedge funds should have done their own due diligence.
Using a welter of offshore companies, Kohn crafted a hedge-fund empire built around Bank Medici, the boutique institution whose name conjures up the famous Italian Renaissance financiers renowned as patrons of the arts. Bank Medici's marketing booklets, bound in what looks like red leather, were laden with pictures and quotations from Henry Ford, Winston Churchill, Thomas Edison, and Socrates. The booklets touted three hedge funds—without mentioning that the assets were entrusted to Madoff. To appeal to moneybags from former Eastern Bloc countries, she even had a Russian-language version printed. In regard to Kohn, the brochure stated: "Fluent in five languages, she blends European values with sophisticated American financial know how."
And yet, underneath all the patina of accomplishment, one person who knows her says the key to her drive may ultimately may have been a sense of inadequacy. "She is a very smart person, but there was a lack of self-confidence," says the source. "I think that was always her motivation to succeed."
She and her husband, Erwin, also had a company called Medici Realty incorporated in Gibraltar, which had its own fancy brochure, offering a villa in Italy once owned by an "Empress from Persia"—the wife of the shah of Iran. Erwin tended to stay behind the scenes, but the trustee's court papers accuse him of being "intimately involved in his wife's business affairs" and acting as Sonja's bagman, being dispatched to Madoff's London offices as early as 1987 to pick up "secret kickbacks." The couple were the beneficial owners of Herald Asset Management, which the trustee alleges was their "central funding and money laundering machine."
The business that Kohn brought to Madoff enabled him to keep new money flowing into his scheme years after he had soaked through the pockets of rich American investors he inveigled at synagogues and Jewish golf clubs. Kohn brought in so much business that Madoff secretly put her on a flat-fee retainer of $6.5 million a year. Bankruptcy-trustee lawyer Timothy Pfeifer tells NEWSWEEK: "Madoff appears to have paid Kohn out of a special slush fund for family members, friends, and insiders."
Madoff may have been paying Kohn millions in fees, but they were far lower than he might have paid other agents for introductions to rich clients. For Kohn, it was a good arrangement because she brought customers but didn't have to take care of them. They were going to do their own deals with Madoff.
The retainer ostensibly covered the cost of "research reports" that Kohn would provide to Madoff, a sham arrangement that went on for years, according to the complaint Picard filed last December. "Kohn invoiced Madoff for fabricated 'market research' that was summarily ignored and destroyed by Madoff's employees," the complaint states. It continues: "Madoff's payments to Kohn were not for services rendered. Rather, they were kickbacks for Kohn's solicitation of investors' money to fuel and sustain the Ponzi scheme." Squillari says she would process Kohn's invoices and file the "research reports" in a special closet in Madoff's New York office. "Bernie never looked at them."
Most of the investors Kohn delivered to Madoff were institutional. "She never had access to the wealth of the establishment in central Europe—and that was her biggest goal," says a former employee. Funds affiliated with one family that did meet Madoff through Kohn, the Benbassats of Geneva, Switzerland, lost about $700 million. The Benbassats directed investments to Madoff via their own hedge funds and wealth-management firm, called Genevalor. Their business with Madoff began after Kohn introduced him to Mario Benbassat, the family patriarch. In 1991, after meeting with Madoff in New York, the Benbassats made an initial investment of $135 million on behalf of a Benbassat-controlled fund named Lagoon. Scions Alberto and Stéphane Benbassat tell NEWSWEEK they do not blame Kohn for their family's losses, nor for the fact that they are named as codefendants in a lawsuit brought by Picard. "We took our decision to invest with Madoff. We were not entranced by Mrs. Kohn. We are victims, but to blame her.?.?." says Alberto. "No, she is not the one who pushed," says Stéphane. Still, the Benbassat brothers feel betrayed. Until the bankruptcy trustee sued Kohn, they had believed she was a loyal family friend who had done the Madoff introduction as a favor. "I was very surprised and taken aback that Sonja Kohn was receiving money from Madoff," says Alberto.
Since Madoff's empire collapsed, Kohn has not visited the U.S., not even to see her daughter Rina Hartstein, her son-in-law Moishe Hartstein, and their children, who live in the unassuming yellow split-level house that Sonja and Erwin once occupied in Monsey, an Orthodox Jewish community about 30 miles from New York City. When this reporter rang the doorbell, Rina Hartstein—the spitting image of Sonja, right down to the red wig—declined to answer questions about her mother.
Picard has accused Kohn of utilizing her husband, mother, and children as conduits to hide wealth. When Rina Hartstein was deposed by the bankruptcy trustee, she took the Fifth Amendment "more than 500 times," according to documents; her husband exercised his right "more than 135 times."
With few exceptions, Kohn has avoided the press, even as her transcontinental legal team issues statements from Vienna about what a surprised and disappointed victim of Madoff's she is. When a reproter visited, she did not come to the door at her current residence, a five-story home in Zurich. Clemens Trautenberg, a lawyer from the Austrian firm Wolf Theiss handling Kohn's civil litigation, first told NEWSWEEK she would answer written questions, but she later retracted that offer.
Before the Madoff scandal blew up, Kohn seemed en route to expanding her domain through Eastern Europe and beyond. She had became a close business friend of Stefan Zapotocky, who in 1991 was head of asset management at Bank Austria and opened the bank's first direct account with Madoff, according to the bankruptcy trustee. Zapotocky became co-CEO of the Vienna Stock Exchange, and, working with Kohn, set about trying to forge joint ventures between the Vienna Bourse and exchanges in Dubai and Shanghai. Madoff, similarly, was hoping to find new investors in the Middle East and China. Kohn found ways to work with Zapotocky as well as former Austrian ministers of finance and economics. Zapotocky, who is also being sued by the bankruptcy trustee, declined to comment.
Kohn's political influence in Europe swelled when Bank Austria—the country's largest bank—bought 25 percent of Medici. That stake in Medici shifted to Italy after Bank Austria was bought by UniCredit Bank Group, a Milan-based financial institution. Sources tell NEWSWEEK that those banks wanted to capitalize on Kohn's bank as a conduit to Madoff. One of the Austrian lawyers suing on behalf of Madoff victims believes that Kohn's success was due in part to cynical manipulation by the Austrian banking establishment. "I think they were using her to attract Jewish money," this lawyer says. (Bank Austria, UniCredit Bank, and the Vienna Stock Exchange all declined to comment.)
Private lawyers in Vienna suing on behalf of hundreds of European investors—some of whom say they unwittingly invested in Madoff via Kohn's bank and hedge funds—urged criminal prosecution of Kohn and her associates. The Financial Market Authority of Austria—the country's equivalent of the SEC—shuttered Bank Medici, the only part of Kohn's operations over which it had regulatory authority, in 2009. In April of that year, Kohn appeared for a six-hour interview session with the Vienna public prosecutor, a gathering that was also attended by two assistant U.S. attorneys who prosecuted Madoff in New York, two SEC officials, and Austrian investigators. According to a summary of the meeting obtained by NEWSWEEK and translated from German, Kohn began: "I am not guilty. I am the mother of five children and 24 grandchildren." A person who was present says, "She wanted to represent herself as a victim and define her role as [being as] irrelevant as possible."
When it came to the prosecutor's questions about money from Madoff, Kohn was repeatedly sketchy on the details, according to people who were present. While the U.S. Justice Department has asked plenty of questions about outsiders with feeder funds investing in Madoff, it has not yet filed criminal charges against anyone connected to those efforts. Kohn's criminal defense lawyer, Wolfgang Brandstetter, says he believes no criminal charges will be filed in Austria or elsewhere. Trautenberg, her chief spokesman, says, "Her goal and focus is to prove to the respective courts that the allegations brought forward against her are false and baseless."
Today Kohn maintains a low profile in her stronghold of Vienna. The woman once given an award from Austria's president for her high-profile boost to the country's economy has gone underground. In the building once occupied by Bank Medici, the bank's brass nameplate has been ripped off the wall. Around the corner at the Hotel Sacher, where Kohn apparently stays when she's in town, you can get a Sacher torte, but not a peep about the hotel's valued guest. A few blocks away at 17 Hegelgasse, at the offices of 20.20 Medici—the alternative-energy investment firm she and her husband are said to be running—the man who answers the buzzer refuses to allow entry to a reporter. A cabdriver along Vienna's fabled Ringstrasse brags he knows Sonja Kohn, until he is informed he's talking to a reporter. Even a driver for her regular car service declines to comment on the kind of luggage she carries. No wonder, as legend has it, spies can feel safe in Vienna.