Sonoma County Kincade Fire: Rapidly Moving California Wildfires Spark Evacuations in Geyserville, Santa Rosa Announces School Closures
A dangerously fast-moving fire near Geyserville in Sonoma County, California has covered nearly 7,000 acres so far since the fire broke last night about 10 p.m.
The blaze was swept by winds of up to 60 miles per hour, according to Captain Joe Stewart in a video of the fire posted by the Geyserville Fire Protection District on Facebook. "The fire is moving at a dangerous rate," he said. "If you are woken by emergency alerts, please heed those warnings and evacuate."
Zero percent of the fire (being called the Kincade fire) has been contained, according to a post on the official Twitter account of the Sonoma-Lake-Napa Unit of the California Department of Forestry and Fire Protection (Cal Fire LNU), which is currently at the scene.
Mandatory evacuation orders were issued for the area from Geysers Road to Highway 128, Pine Flat Road, and Red Winery Road, with residents being told to: "Leave immediately if you are in or near these roads," the official Sonoma County Emergency Information website states.
"The town of Geyserville and northern unincorporated Healdsburg are under an evacuation warning. Residents should prepare to leave, and if you don't feel safe evacuate now," it adds.
Cloverdale Geysers Road and Alexander Mountain Road are also among the evacuated areas, according to a post by the Cal Fire LNU Twitter account.
The National Weather Service has issued a Red Flag Warning (which indicates critical fire weather and fire danger conditions exist) for all of Sonoma County which is in effect until 4 p.m. today, the official website of the Sonoma County Fire District states.
Both Sonoma County and Lake County were reported to have been affected by the power shutdowns by the Pacific Gas and Electric Company (PG&E) which were done as a public safety measure following the threat of the fire, according to ABC7 News.
The power shutdown was issued around 2 p.m. yesterday in the foothills of the Sierra Nevada followed by the counties in the north San Francisco Bay area, while power in parts of San Mateo and Kern counties is also expected to be cut by 1 a.m. tomorrow.
A total of 179,000 customers are expected to be affected by the power shutdown, while more than 308,000 in 7 counties, including Ventura, Los Angeles, San Bernardino, Riverside, Orange, Kern and Santa Barbara, could also potentially face power outages until 12 p.m. tomorrow, the L.A. Times reports.
There are currently no immediate threats to the town of Windsor, where an evacuation center has been opened at Windsor High School at 8695 Windsor Rd, Windsor, CA 95492, according to the Sonoma County Fire District.
There is also one at Healdsburg Community Center, 1557 Healdsburg Ave, according to a post on the official Sonoma County Twitter account.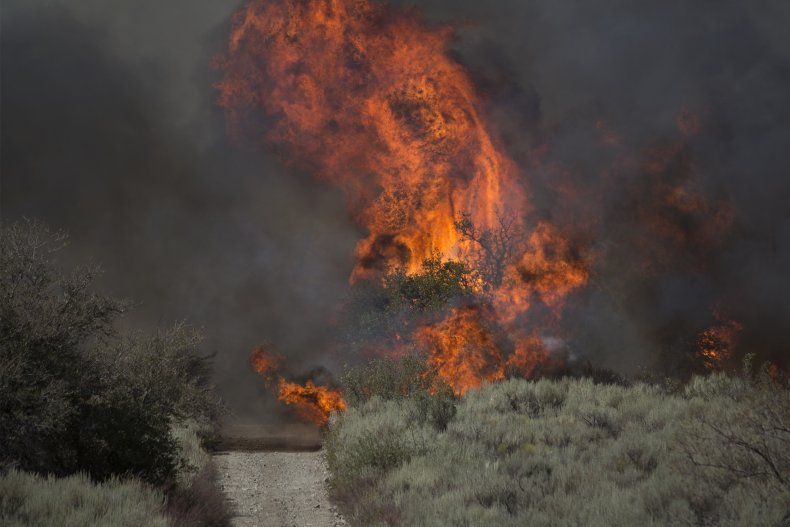 There are currently no reported fatalities or injuries and "structure fire has been mitigated, investigation is underway," Cal Fire LNU noted in a post on Twitter. It is also a bit "early" on in the incident to know for sure, according to Cal Fire spokesman Will Powers who also said the fire was burning at a "dangerous" rate, The Press Democrat reports.
There are also no reported fires within the city limits of Santa Rosa, according to The Press Democrat, but school closures have been announced for tomorrow at Hidden Valley Elementary, Santa Rosa Accelerated Charter, Rincon Valley Middle and Maria Carrillo High School, according to the Sonoma County Office of Education.
All schools in the Alexander Valley School District and Geyserville Unified School District, as well as a selection of schools including Whited Elementary, Binkley Elementary, Madrone Elementary, Sequoia Elementary, Rincon Valley Charter School, Sequoia Campus and Austin Creek Elementary in the Rincon Valley Union School District, will be closed tomorrow, the Sonoma County Office of Education announced.
"Weather forecast models point to a stronger wind event this weekend. Residents should prepare for a prolonged period of critical fire danger and should prepare for a possible loss of power," the Sonoma County Fire District said.
"Looks like #KincadeFire in #Sonoma County, already large & fast-moving, may well burn all the way toward east side of #AlexanderValley--where nearly continuous line of vineyards will hopefully act as broad firebreak. 65mph+ winds in hills, but nearly calm in valleys," Daniel Swain, climate scientist at UCLA Institute of the Environment and Sustainability, posted on his official Twitter account.
Those affected by the fire are advised to: "Please call 2-1-1 for questions and resources about the #KincadeFire. Only call 9-1-1 if you need immediate assistance," the official Sonoma County advised on its official Twitter account.
Speaking to Newsweek, Rohish Lal, Public Information Officer at the Sonoma County Department of Health Services, said: "There are no injuries or fatalities reported from the fire. Evacuations have stopped for now and the Sheriff's Department assesses the situation. 276 residents we­re under evacuation orders to leave due to the fire. River Rock Casino was also evacuated as a result of the Kinkade Fire."
"The Sonoma County Fairgrounds in Santa Rosa is open to shelter large animals only but is not an evacuation center," the officer added.
As of 2:18 a.m. about 7,000 acres have burned in the Kincade fire, according to the Cal Fire official Facebook page.
"Additionally, the County of Sonoma has posted information on their Facebook and Twitter pages. I would recommend you to check our social media pages below for the latest information. We are updating them regularly," the officer said.
Newsweek has contacted the Sonoma County Fire District and Cal Fire LNU for further updates.
This article was updated with comment from Sonoma County Department of Health Services.