Sonos Beam (Gen 2) Review: Dolby Atmos Sounds Great on the Compact Soundbar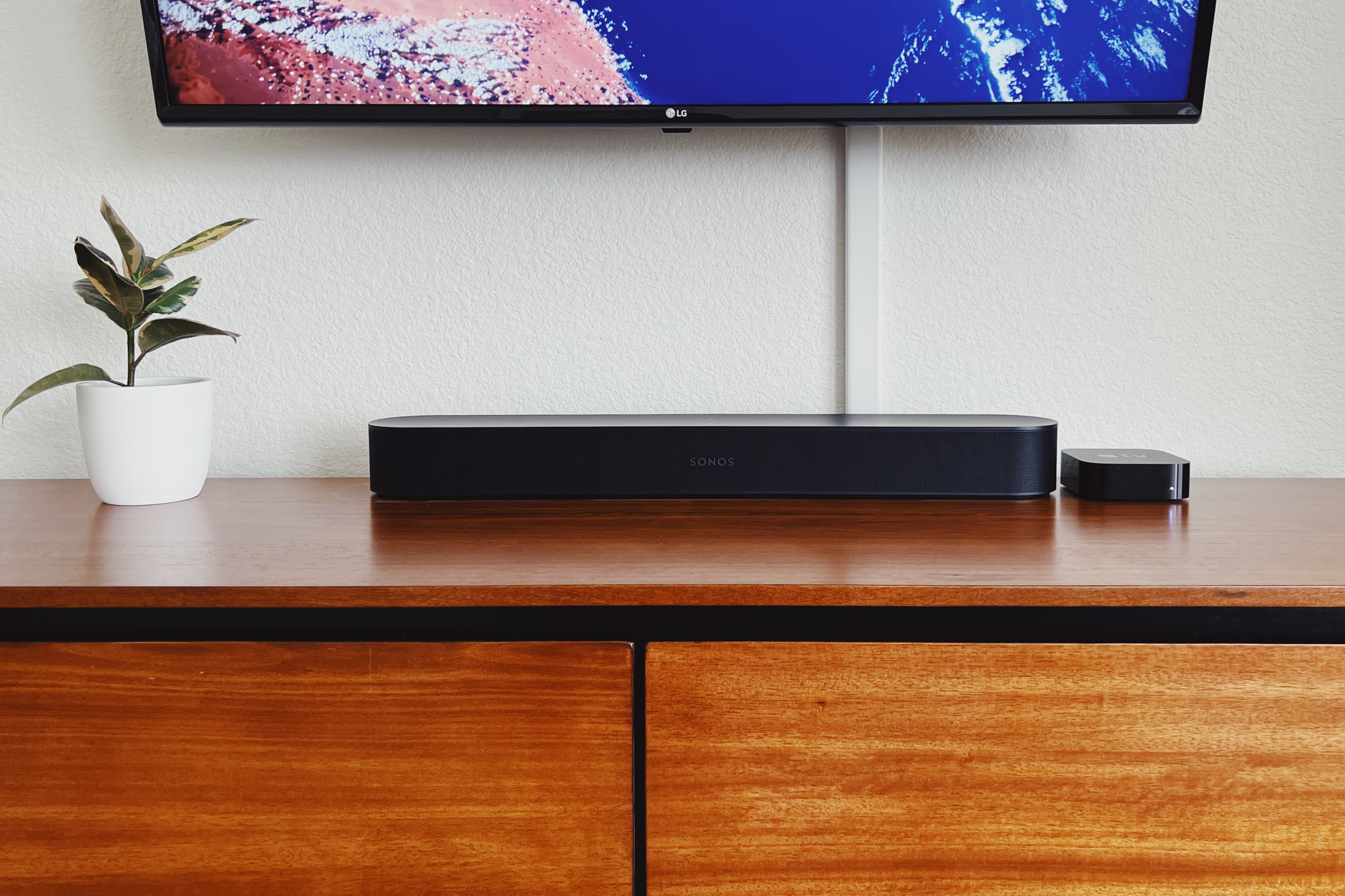 With its first revision, the new Beam (Gen 2) already feels like it's hit its peak essence. The revised home-theater soundbar adds Dolby Atmos support and faster internal components and replaces the fabric cover with a plastic grille—while it retains its sleek, minimal-size footprint. Until now, it was easy to think of Sonos' Arc soundbar as the real one and its Beam as a lesser product, only suitable for small rooms. But I'm starting to see Sonos' revised Beam as the main soundbar to consider, and its Arc as the choice for certain room needs only.
The Sonos Beam (Gen 2) costs $449, a $50 increase in price over the first-generation model. Even with a modest price increase, the soundbar feels as though it's moving away from most general soundbar consumers. There are plenty of decent soundbars for less money that come with a dedicated subwoofer and even possibly surround speakers. The redeeming factor here is that the Beam doubles as a Wi-Fi speaker that can tap into nearly all streaming music services.
I went hands-on with Beam (Gen 2) to see how its new features and slightly new look compare to the previous generation's model, and to try to see whether it's a soundbar everyone should consider.
TL;DR
Pros:
Compact size
Dolby Atmos support
Great for listening to music and watching movies
Cons:
$50 more than the previous generation Beam
Buy at Sonos.
Dolby Atmos on Sonos Beam
The addition of Dolby Atmos support is by far the single biggest upgrade to this new Beam. Dolby Atmos provides a 3D sound effect to give movies more audio depth. The feature makes it instantly more attractive to a wider range of people looking for the most immersive TV watching experience.
To get here, the new soundbar now has five speaker arrays, compared to the previous model's three. The company says that the two new arrays are dedicated to surround and height information and "apply time and frequency-based psychoacoustic [sic] techniques to provide separation between ear level and overhead audio." Most of the changes to the new Beam are internal, to make Atmos support possible.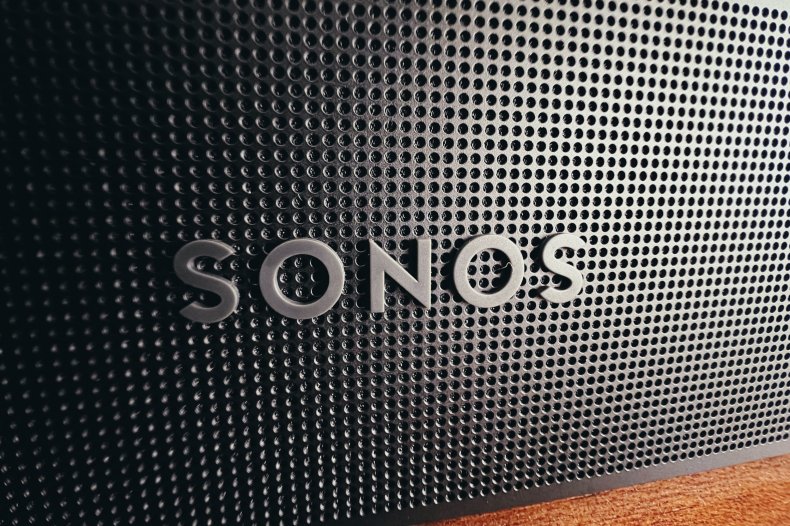 In short, the new Beam sounds great. It's still not a $899 Sonos Arc caliber soundbar, but it sounds more rich and full than other midrange soundbars I've tried. It doesn't need a subwoofer to pump out some bass—thought it can certainly benefit from pairing it with the Sonos Sub if you have an abundance of money to spend.
In terms of the Dolby Atmos sound, it's definitely there, and it also sounds good. There are no upfiring speakers like there are on the Arc, so I think the size and shape of your room will be a larger factor in how the effect sounds in your space. There are plenty of movies with Dolby Atmos sound, but I like testing soundbars with Disney's Soul and Baby Driver, and a Star Wars film. Soul's atmospheric sounds bounce around and invade your space more vividly with Dolby Atmos.
Beyond movies, both the Arc and this Beam (Gen 2) will support Dolby Atmos Music. Amazon Music support is coming shortly. I tried Apple Music's Spatial Audio with Dolby Atmos on an Apple TV, and I still think the Apple's enhanced music format is the best way to listen to songs. Flipping back and forth between the Beatles' "Abbey Road" album in stereo and Spatial Audio revealed more depth and better separation of voices and instruments on Beam (Gen 2).
Even though Dolby Atmos is an attractive feature and Beam (Gen 2) is a great speaker, I don't think people who own the first generation Beam should upgrade to this one.
Side by Side Beam Comparison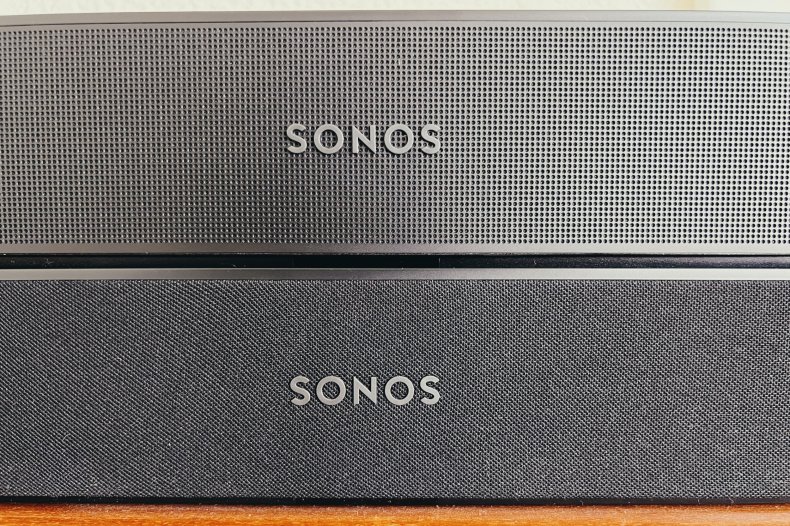 Even if Dolby Atmos is the headlining feature, the most noticeable change is on the exterior. The new Beam swaps out the fabric for a perforated plastic grille. The Beam follows the Arc's lead here, and it was the right decision. While the fabric looked fine, it wasn't very practical. Dust stuck to it and then it was difficult to wipe clean. The new wrap-around exterior doesn't forego any elegance but makes removing dust that tends to collect around home theater equipment much easier.
Even though the fabric of the first generation Beam and the plastic of the new one are different shades of black, they still look remarkably similar. My guess is that no one would notice if the old one was swapped out with a new one. Especially standing at a distance, they look remarkably similar.
The eerie familiarity comes from their physical dimensions being the same. On the sound front, there are some differences. Sonos says the strong low end from the previous generation Beam is still present on the revised model. But Sonos went further with the new Beam, making dialogue fuller, giving voices more clarity and implementing a more balanced soundstage for improvements around localizing sound.
I compared the sound between the two, and beyond the more obvious Dolby Atmos specific effects on compatible movies, both sound very similar. The differences are very subtle. For this reason, I wouldn't recommend first-gen owners upgrade to the new Beam.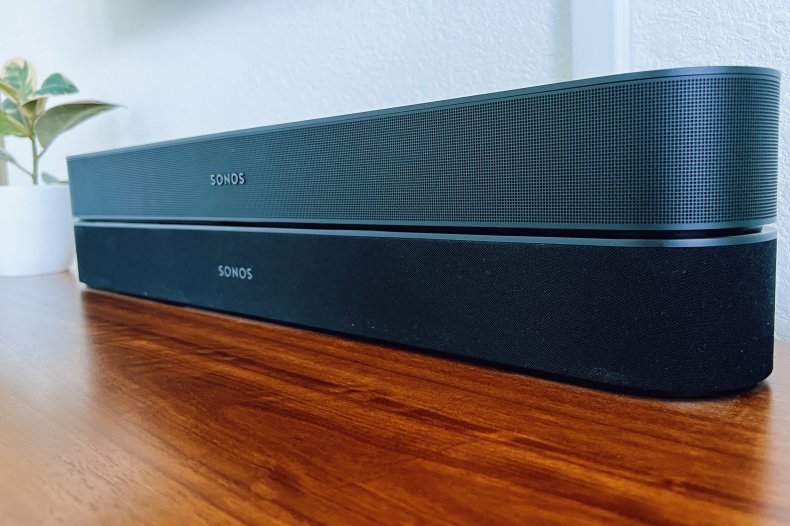 Maybe it was a little bit of a placebo effect, but the Speech Enhancement button did seem to pull out voices in a way that was more natural. A lot of times a dialogue mode can make voices sound hollow with a narrow frequency range. Non–Dolby Atmos content and movies using 5.1 sound mixing also seemed to have slightly more separation.
There isn't any volume difference claimed between the two speakers, and I didn't notice any other obvious sound differences. I was switching back and forth between them and barely noticed much of a difference in everyday TV watching. This should make previous Beam owners feel OK about sticking with their current soundbar.
Should You Buy a Sonos Beam (Gen 2)?
The first generation Sonos Beam was an expensive soundbar. It sounded great for its compact size, but its appeal and value were also wrapped up in being a Wi-Fi speaker that could go from watching movies to streaming music and be used all day long. The new Beam (Gen 2) does everything that the first generation model did and more. Unfortunately, the price also increases by $50.
The Beam (Gen 2) is not the cheapest way to get Dolby Atmos support on a soundbar. It's not a great value, either, and yet it still might be one of the best soundbars for people streaming content on a regular basis. Despite any complaints about Sonos' software or the way it does things, it still has the easiest and most flexible speakers out now. The Beam (Gen 2) supports AirPlay 2, Spotify Connect, its new Sonos Radio and tens of streaming services natively in its app. The soundbar has Dolby Atmos support, eArc HDMI and a fresh exterior. As a stand-alone component or another speaker in the Sonos ecosystem, the new Beam soundbar is a terrific option to add to a home.
Buy at Sonos for $449.
Newsweek may earn a commission from links on this page, but we only recommend products we back. We participate in various affiliate marketing programs, which means we may get paid commissions on editorially chosen products purchased through our links to retailer sites.