Sonos Roam Review: The Portable Speaker You've Been Waiting For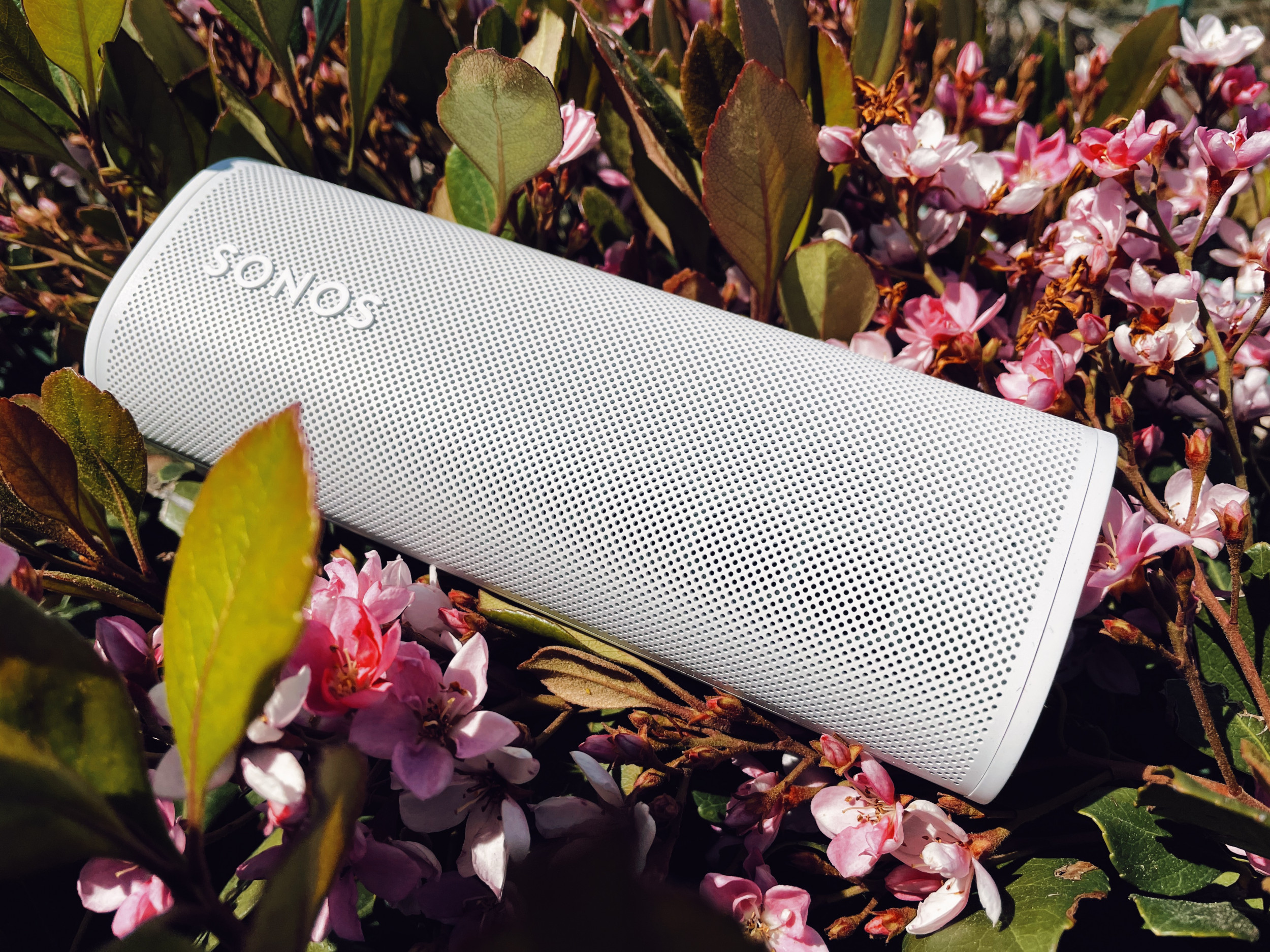 I once lugged Sonos' 6.6 pound "portable" Move speaker on a weekend trip so I could have great sound on vacation. I quickly regretted the decision. Move sounds impressive, but its weight and size are largely untenable for a trip. Apart from carrying it from room to room or into the backyard, it's more of a stationary speaker. The Sonos Roam, at just under 1 pound, on the other hand, is the speaker I would have wanted to travel with.
The Sonos Roam also has Wi-Fi and Bluetooth connectivity, like the Move, for uninterrupted use in or out of the home. It has a 10-hour battery life and is rugged enough to be submerged underwater for 30 minutes or to survive a drop.
On paper, Roam is a winner for Sonos and gives it an ultraportable speaker to compete directly against ones from Bose or UE. It comes with a wealth of features. The only remaining question is, How good does the small speaker actually sound?
Design and Setup
Sonos is a premium wireless speaker brand that has long been firmly planted in the home. Even its more portable Move speaker is not one you can hold in your hand. I was not expecting such a visceral feeling holding a song in my hand. To feel the vibrations on Roam's smooth plastic in my palm was exciting. This is new territory for the company.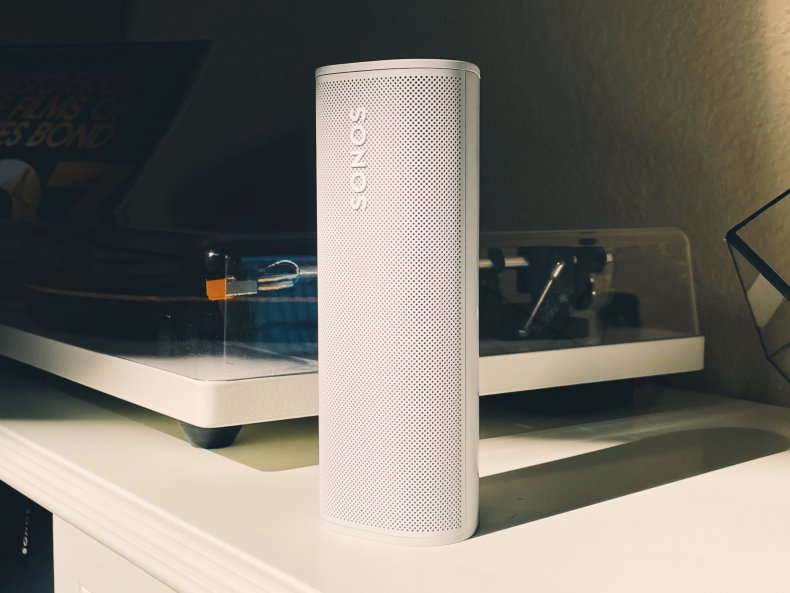 The Roam is small, and you can carry it around with ease. When standing vertically, it's just taller than an iPhone 12 Pro. It's not bulky, either. I can almost touch my thumb to my middle finger when I grip my hand around it. It looks like it was meant for a backpack rather than a living room. There's nothing about the gray or black rubberized plastic exterior that would preclude its aesthetic from fitting into a living room, though. Its design is neutral in terms of whether it would better live outside or inside. If pushed, I would say it's more dressed up than dressed down, but I think it works in all kinds of settings.
I tested the Roam in Lunar White, which I would describe as a gray. Its contrasting white logo demonstrates this difference. The soft-touch rubber on either end is pleasant. It's a nice material that should blunt drops and bumps. I noticed dust and dirt sticking to it, but it's easy enough to wipe clean.
The speaker can stand vertically or lie flat on four rubber nubs that anchor that side as the bottom. Its symmetrical logo doesn't help with orientation, but its speakers fire in only one direction. On one end are four buttons: play-pause, volume up, volume down and a microphone. On the opposite end is a spot for it to charge wirelessly on either a first-party charger or any Qi-certified wireless charger.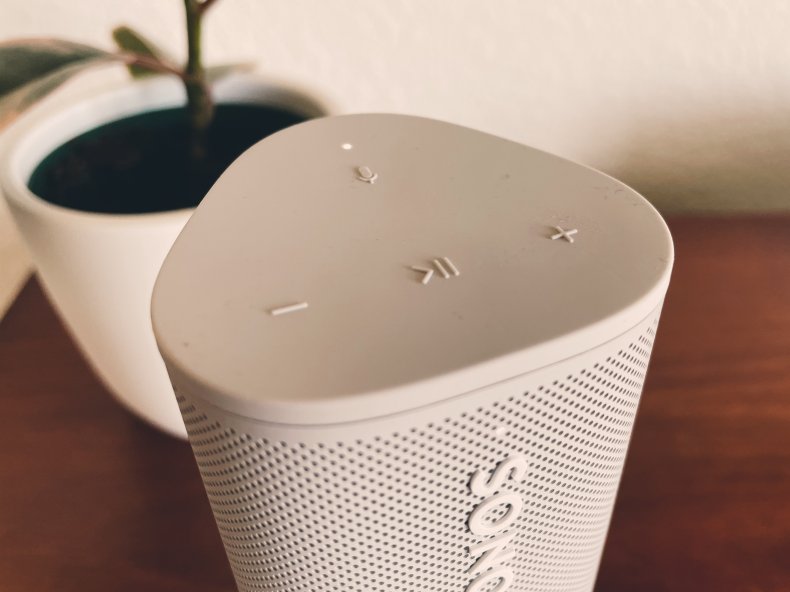 There is a USB-C port on the back for charging, but in my opinion, its wireless charging ability is game changing. It might not add battery life fast doing it that way, but being able to set it down on any wireless charger is highly convenient.
Features, Specs and Price
Sonos' advertised features and retail price:
Price: $169
2 Class-H digital amplifiers, one tweeter and one mid-woofer
Far-field microphone array for beamforming and multichannel echo cancellation. Also used for voice-assistant activation and automatic Trueplay tuning.
Dimensions: 6.61 inches by 2.44 inches by 2.36 inches
Weight: 0.95 pounds
18Wh battery for 10 hours of continuous listening
802.11b/g/n/ac 2.4 or 5 GHz Wi-Fi
Bluetooth 5.0
Performance
Roam sounds good—great even. After a quick setup in the Sonos app, the first melodies were crisp and refreshing. It lives up to Sonos' level of sound quality, even with its small size. Of course, the speaker can't defy the physics of its physical dimensions, so it's not a replacement for one of the company's larger speakers.
Soundwise, on the default settings, Roam is an impressive speaker for a bedroom and a perfect one to take on the go. When it doesn't need it to push its volume limits, the Roam has a rich low end that reverberates out. "Sweeter" by Leon Bridges and Terrace Martin provides a good example of how Roam can handle a thick layer of bass and fill a room with low-frequency sounds.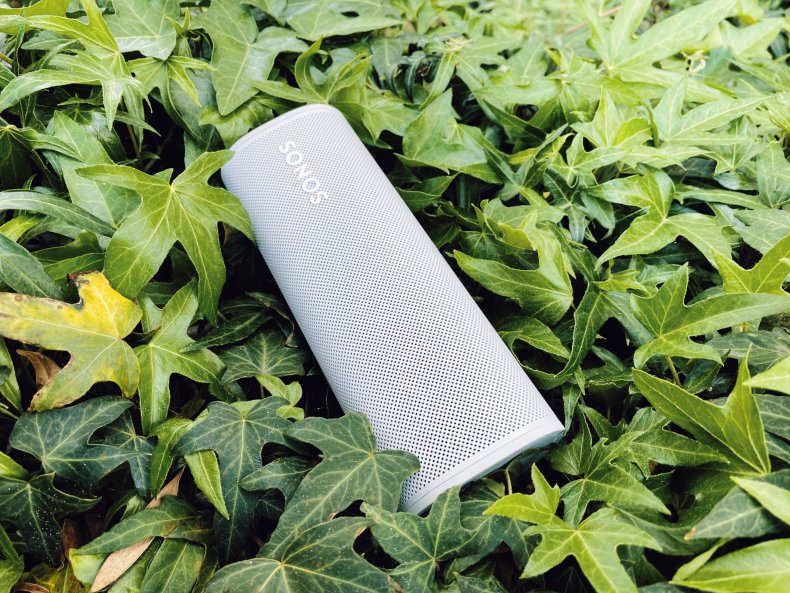 I tried to push the volume in different contexts to get a sense of its audio reach. In a living room with high ceilings, the speaker sounded its best up to 60 percent volume while listening to songs in the rock genre. After that, it sounded like it was working beyond its small stature, with harsher tones. On the other hand, James Taylor's "Carolina in My Mind" was potent and softer at 80 percent volume in the same room.
Outside at a park, the volume needed to be pushed toward its upper limits in the vastly open space so that it wasn't too quiet. In this context, songs sounded less harsh, even near the top-volume range. Roam can handle very low volumes that would be useful on a nightstand for sleeping, but it excels between the extreme volume levels—where people will likely find themselves listening most often.
Without trying to push its limits, the sound of this holdable speaker is rich and vibrant. I spent time listening to Bossa Nova playlists, RAC, Childish Gambino and Dua Lipa, among other things. All sounded wonderful, and each unique style was reproduced faithfully.
Roam's sound can be tweaked pretty heavily within the app—complicating how to describe it here. Nevertheless, bass, treble and loudness can all be adjusted. The microphone on the speaker can also be used to tune its sound automatically based on its placement in the room. This means that everyone's listening experience could be different. It also means that you should be able to dial in something that works really well for your space.
One thing I am curious to hear at some point is how a stereo pair of two Roam speakers sound. In the case of Apple's HomePod mini, for example, a pair of the cue-ball-like speakers in stereo produce a sound greater than two individual HomePod minis. I'm curious if two Roam speakers, at a total cost of $338, would perform the same—greater than the sum of its parts.
Roam adds some new tricks to Sonos' ecosystem, like the ability to "throw" what it's currently playing to the next closest Sonos speaker. The company calls this feature Sound Swap. To activate it, keep holding the play-pause button for a few seconds until the sound jumps. It worked each time I tried it. I have multiple Sonos speakers around my home, and the sound correctly moved to the expected speaker. In the Sonos app, you can also group the Roam with any speaker you want, like you were previously able to do, but the physical button shortcut also works well.
It's neat to be able to "pull" the audio back to the Roam speaker by holding the play-pause button in the same manner. Having the music come back to it from a beefy Play Five speaker does expose how the Roam's size limits its full sound.
In the marketing materials, Sonos imagines you using Sound Swap when coming home from a picnic or adventure in the city. I used it more just moving around the house, from working in the garage to cooking in the kitchen. The most adventurous I've been with Roam in this window before its release has been at a park, along with the front and back yards. It will make a great barbecue companion come summertime. It still produces noticeable bass in the wild.
Not only does Roam have both Wi-Fi and Bluetooth, but it can switch between the two seamlessly. The light at the top of the speaker will be white if it's on Wi-Fi and blue if it's connected via Bluetooth.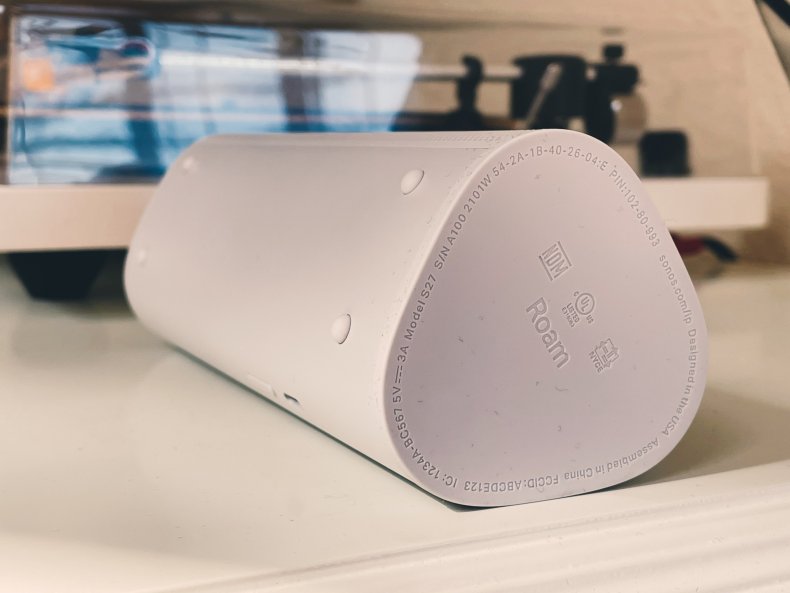 Overall, the listed 10 hours of battery life was adequate for a portable speaker like this, meant to be constantly on the go. But again, the differentiator of having a wireless charging base means that it can easily be set down around the house to boost battery life. It really is a useful feature that complements all the other niceties packed in.
Should You Buy Sonos Roam?
In a vacuum, the Sonos Roam is a near-perfect portable speaker. It caters to travel but still makes sound quality a priority. It would be foolish not to select it if you're constantly on the move, either inside your house or out. The problem is that the world of Bluetooth speakers is not a vacuum—it's crowded with good options.
Both Bose and UE, for example, produce great-sounding portable Bluetooth speakers for all weather types. Each has a robust feature set and unique physical characteristics. I think the difference here is that Sonos is continuing to build out its rich ecosystem of home theater and stationary speakers. It has the benefits of Wi-Fi and Bluetooth that also interact great with other Sonos speakers. Roam is a great opportunity to join the Sonos ecosystem or grow an existing collection.
Sonos didn't stretch itself too far to lower the entry price of its product line, so cost may still be a limiting factor for some people. But for Roam's $169 price it delivers everything you could want from a portable speaker.
Buy at Sonos.
Newsweek may earn a commission from links on this page, but we only recommend products we back. We participate in various affiliate marketing programs, which means we may get paid commissions on editorially chosen products purchased through our links to retailer sites.