Sony NB10 Neckband Speaker Is Only Good for People Working From Home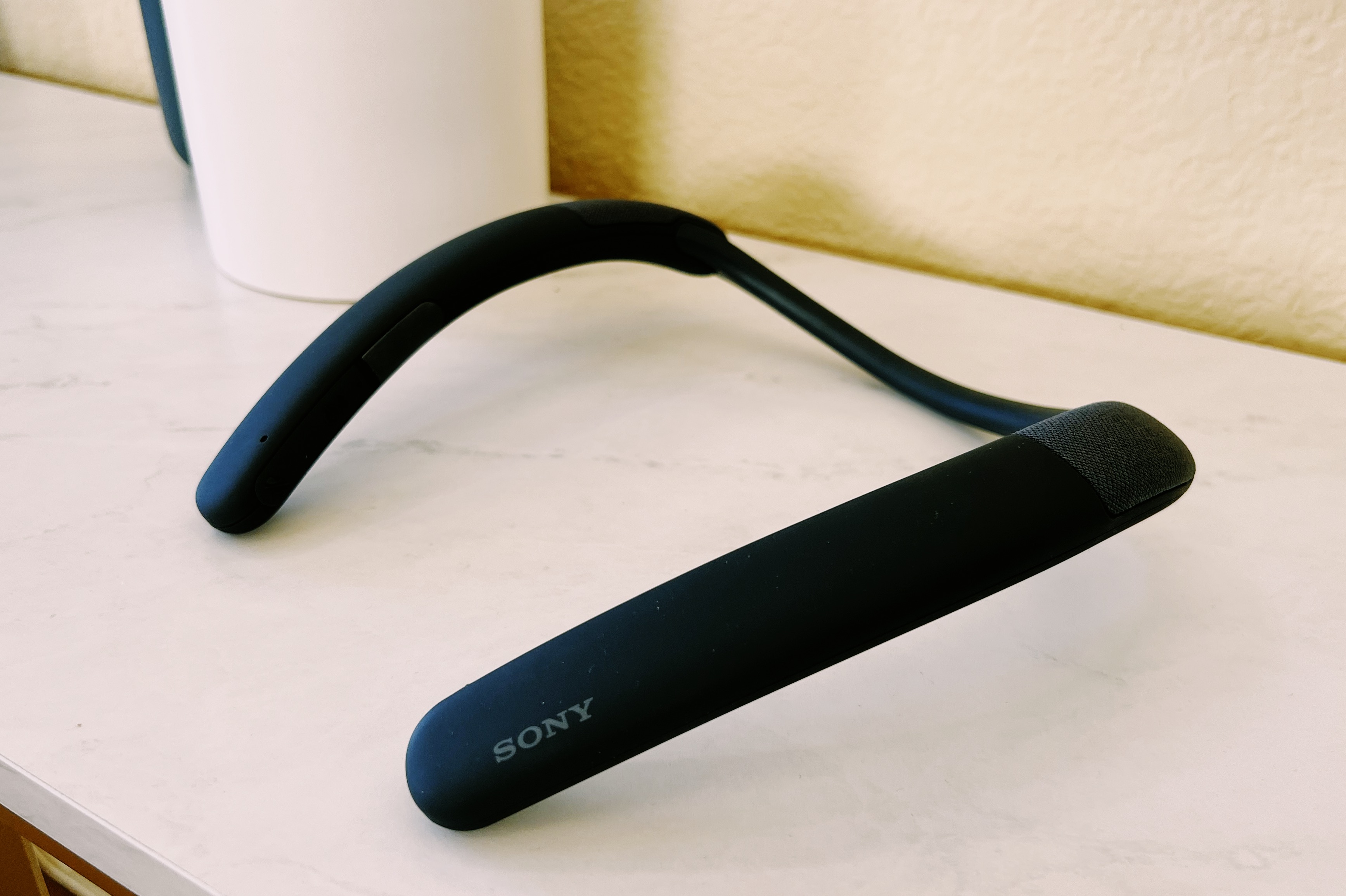 The gist of the Sony SRS-NB10 is a speaker that's worn around your neck. It's a strange concept and even a bit weird in use. The context that makes the most sense for it is for people working from home alone. And, at least in that scenario, the product is an interesting idea worth exploring.
Why wear the NB10 around your neck? Because wearing earbuds all day for video or phone calls can create ear fatigue and discomfort. The NB10 alleviates those things and can handle multiple duties, such as listening to music or talking on conference calls, with up-facing speakers on the left and right sides and two Beamforming microphones.
The concept here is solid. The problem is that the neckband doesn't sound good enough to replace any Bluetooth speaker and isn't private enough to replace headphones. Besides a very narrow set of criteria, I think it's potential usefulness will be lost on most people.
TL;DR
Pros:
No ear fatigue
Long battery life
Cons:
Sound leakage to other people in the room
Music quality is less than ideal
Buy at Amazon.
NB10 Sound and Features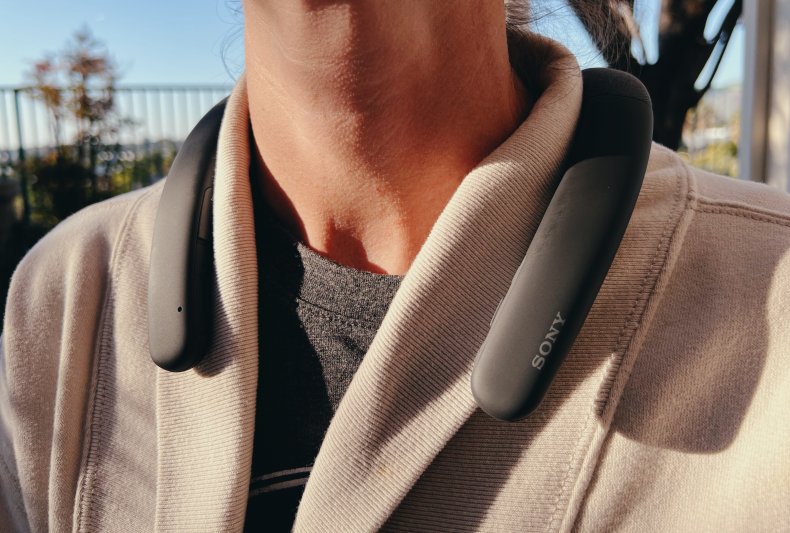 The goal of the NB10 is to be a personal speakerphone device that's effortless to carry around all day. To do this it has upward-facing speakers aimed at the ears. Its two microphones are tuned to pick up voices. There are buttons for mute, play and pause and volume up and down. It is IPX4 splash-resistant for kitchen use. The NB10 can also connect to multiple devices at once—say a tablet, phone and laptop.
Overall, the device's specs are in line with its goal of being a conference call speaker that wraps around the neck. Its 20 hours of battery life can probably support multiple days of use. Its physical design is unassuming and comfortable enough to wear throughout the day. It's not heavy, and it doesn't have any sharp angles. In fact, the wide, curved shape and soft matte plastic should be accommodating to a wide range of people's body types.
The speaker fits around collared shirts and sweatshirts. I also didn't notice any audible rustling sounds caused by clothing, and no one complained about static noise. The microphones are on the top right side and should remain out of the way. I'm not sure how the device would fare during a summer heatwave and whether it would cause sweating, but in general, it becomes invisible to the wearer under normal home use.
The first place the NB10 falls down is its sound quality. For playing music, it sounds about as good as playing through a newer iPhone. That's not to dis iPhones. They sound great and can get loud considering the tiny speakers they utilize. It's just not how I would like to listen to music unless there were no other option available.
Given Sony's reputation for headphones and earbuds, I was expecting a little more from the NB10 in terms of listening to music.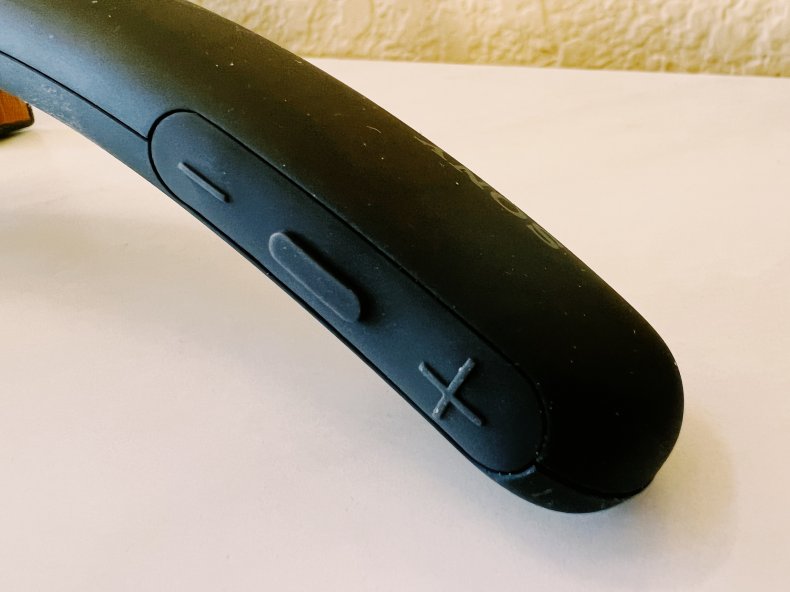 On the bright side, there is some stereo separation between the left and right. Plus, because of the proximity from the device to my ears, the sound is certainly listenable. But given the chance to use any small speaker, I would much rather do so on a HomePod mini or Sonos Roam. Both of those could also be used for conference calls, but the HomePod mini can't travel from room to room.
A Speaker for the Work-From-Home Crowd
So, the NB10 is not an ideal music speaker. Audio from it is about as good as it would be from a mobile phone's speaker. The audio is not a waste, though. For speech and conversations, it functions better. It's just not very personal. It leaks sound to anyone else in the same room.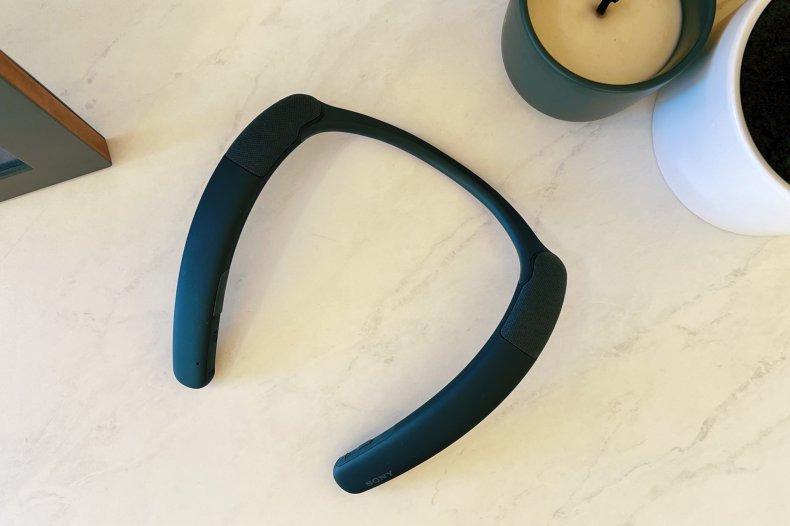 Working at home by myself during the day, I had great success with the NB10 as a speaker-phone-like device. I would slip it around my neck in the morning and then when a call came in, I would use the device to talk on the phone. It doesn't cause ear fatigue the same way keeping earbuds in my ears for hours do. The microphone quality was solid, and no one had trouble hearing or understanding me when I talked.
I would be hesitant to use the neckband speaker as freely as I did throughout the day if other people were working from home with me, too. The sound just doesn't stay private. I don't think it would make an appropriate device for an open-office setting, either, for this reason.
The accessible mute and media control buttons were handy. Reaching up to my neck to mute my audio was easy enough, and the plus and minus buttons for volume were raised just enough to feel, without looking. That's good because none of the neckband buttons could be seen without taking the NB10 off. The battery life was great, and I used it on and off for nearly a week before needing to give it a charge. When I did finally plug it in, the USB-C port did a quick charge in between meetings.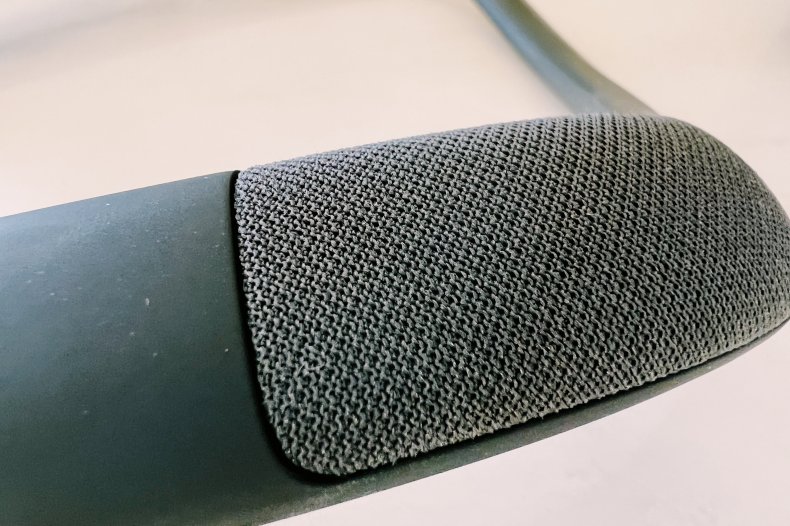 Should You Buy the Sony SRS-NB10?
At the end of the day, I'm very conflicted about the Sony NB10. I love the idea of it and, in isolation, it can be helpful to someone with a busy schedule. People working at home alone who also hate wearing headphones or earbuds finally have a new device to choose from here. Otherwise, the appeal is just too narrow.
I'm someone who works from home, and I can understand why Sony went down this path and created this device. If it sounded even better or somehow didn't leak sound to the rest of the room, it would be a product for more people. I would be much more excited about using it with those improvements. Until then, it's a niche personal speaker that works fine.
Buy at Amazon for $148.
Newsweek may earn a commission from links on this page, but we only recommend products we back. We participate in various affiliate marketing programs, which means we may get paid commissions on editorially chosen products purchased through our links to retailer sites.