Sony SRS-XG500 X-Series Speaker Review: A Modern Boombox Perfect for Pool Parties
The big, bold boombox of yesteryear is back. Sony's SRS-XG500 X-Series is a large Bluetooth speaker with a carry handle that conjures images of boombox stereos from the '80s and '90s. At first blush, this speaker is simply impressive for its substantial size, but upon closer inspection, its features are equally as remarkable. To top it off, its boomy, boastful sound is well-rounded and can handle a day at the pool or beach just fine.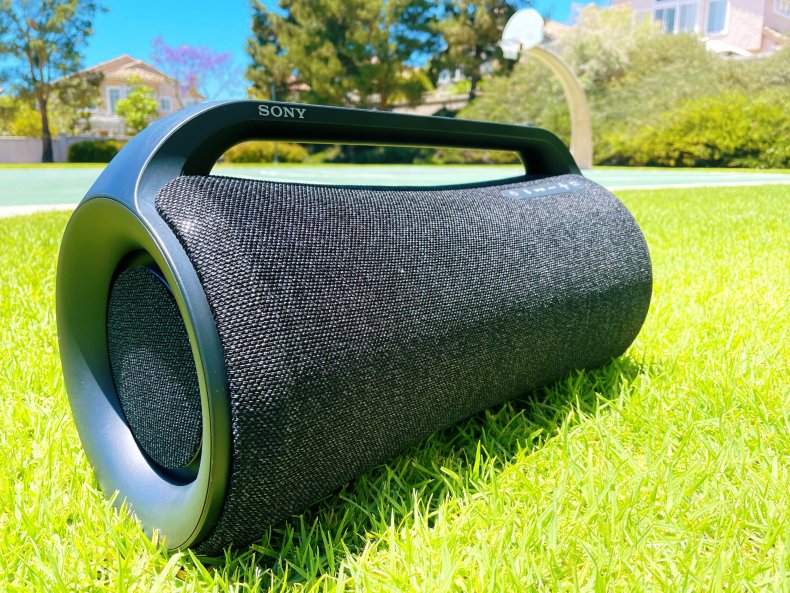 Sony is narrowing the right audience for this product, with its retail price of $450 and a large size not too far off from a classic 48-quart Coleman cooler. The perfect candidates for the SRS-XG500 are those who host or, at minimum, attend a good amount of parties. The other kind of people who might appreciate this speaker are musicians. On the back is a quarter-inch input that can handle instruments or a microphone. Being able to double as an amp for musicians still makes for a narrow audience, but it at least expands the speaker's usefulness.
How Big Is the SRS-XG500?
This speaker is not an afterthought. It will need its own seat in the car or a dedicated space carved out in the trunk as you drive to a weekend party. Taking the train or public transit? It's not a backpack speaker and weighs just over 12-pounds.
The SRS-XG500 is large, but its weight isn't prohibitive to lugging it around. Inside, it has two 4.3 inch woofers and two 0.98 inch tweeters. It really does produce a lot of low-end bass and volume for its size.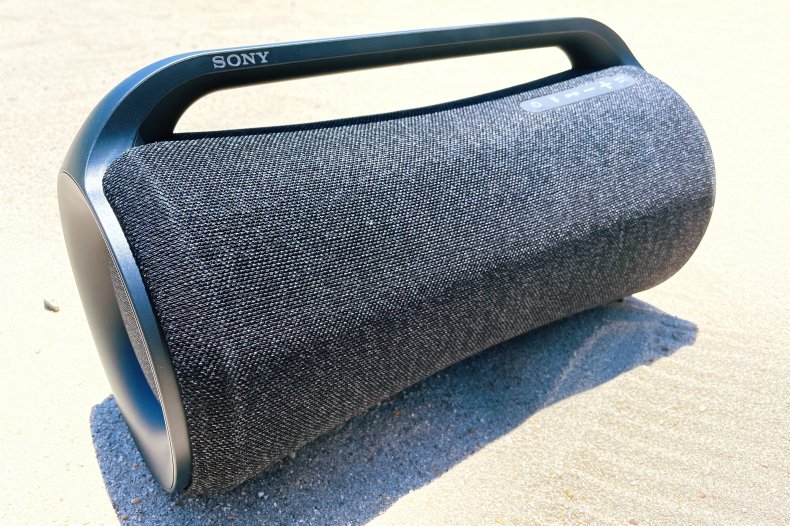 There are lights on each side of the speaker to add some ambiance as day fades into night. There's a row of rubber buttons on the front to control volume and playback without needing to reach for your phone. On the back is a control panel covered by a rubber flap, presumably to keep water out. It includes two USB-A ports to recharge your phone or tablet. The speaker itself can drive audio for 30-hours, so it likely has a bit of battery life to spare for those other devices.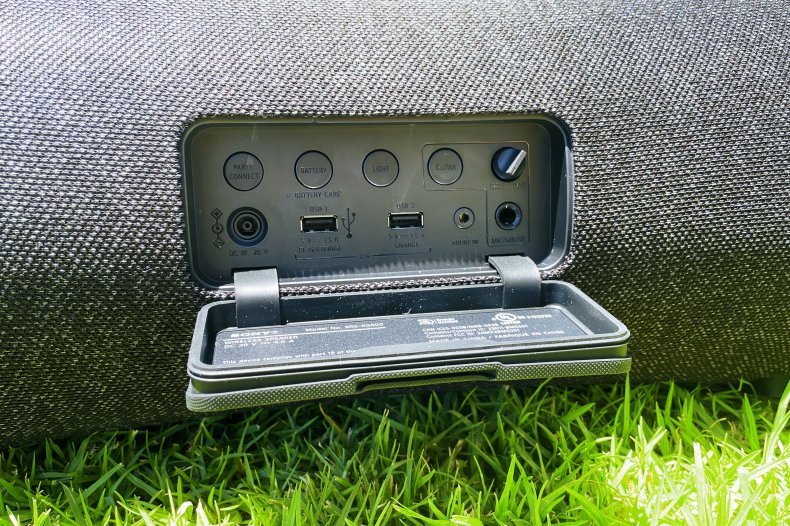 One of the neatest features, in my opinion, is also found on the back: the inclusion of a quarter-inch input, made for a guitar or a microphone. Beyond the speaker's streaming music from your phone, it can be used as an amp.
A Speaker and Guitar Amp Combo
If you imagine a midsize get-together with enough people to justify this heavy-duty speaker, then you can also imagine why it would make sense to need to connect a microphone to make announcements. Also, someone who is playing an intimate show might want a little bit of amplification. This speaker doesn't seem quite right for a street performer, as there's only one instrument input. Still, its ability to accommodate a mic makes it wildly more interesting than its simply being a Bluetooth speaker.
Boombox Sound With Twenty One Pilots' "Scaled and Icy"
As I listen to new speakers and headphones, I've been pairing them to specific music albums. In this case, I used Twenty One Pilots' new release "Scaled and Icy." Music from the duo ranges from heavier rock to lightweight pop, and makes a good test case here. This new release plays both sides of the band's past discography, but it largely favors a new, synthy and breezy sound with plenty of bass mixed in.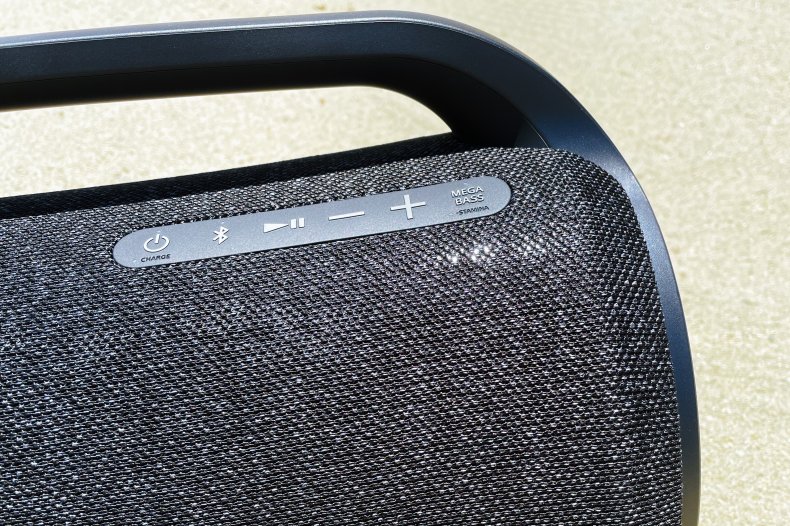 The speaker's low-end is really the story here and having a dedicated Mega Bass button flips songs like "Shy Away" or "The Outside" from being more synth-driven to showcasing the low-end beat. That's a welcome sound for the songs considering the bass doesn't end up drowning out the vocals. At 50-percent volume on the SRS-XG500, "Mulberry Street" pounds the drums hard enough to fill a large, high-ceiling living room. One of my favorite tracks on the album becomes even more danceable, thanks to the reverberating low end.
Pushing the bass with the Mega Bass mode does help its outside performance. Instead of the sound's dissipating in an instant like with smaller Bluetooth speakers, the SRS-XG500 creates a fairly even sound, complete with bass, even without walls surrounding it. "No Chances," one of the songs that contrasts sonically with the rest of the collection, doesn't lose any of its impact outside of the house, likely thanks to the dual sub speakers.
Both "Good Day" and "Bounce Man" retreat from the heaviest feel to some of the airiest tracks on "Scaled and Icy." Outside in the backyard, those songs lose their impact and are a bit trebly without the Mega Bass activated. With it turned on, those songs are much fuller and can really shine.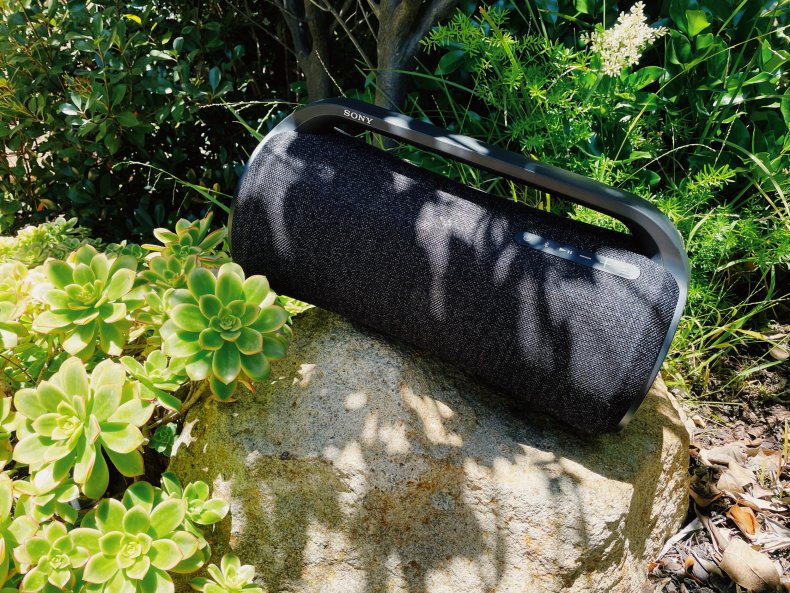 I was extremely impressed with the outside performance of this speaker. It's a hard environment for a speaker, but this one is up to the task. Turning up the volume to 90 percent didn't faze the speaker or cause it to peak. It can fill a small suburban backyard and would be loud enough to annoy grumpy neighbors. For this kind of personal use, the volume level was sufficient. To take it to the next level, the SRS-XG500 is capable of linking with 99 other Sony speakers in a Party Connect mode. I didn't have the opportunity to test this but would welcome the chance in the future.
Should You Buy The SRS-XG500?
The Sony SRS-XG500 Bluetooth speaker is both an easy sell and a hard one. On one hand, it can provide enough sound for most modest outdoor gatherings. It's resistant against the elements, and it has plenty of neat features built-in, including a microphone or guitar input.
On the other hand, it's large enough that you might not be able to bring it everywhere you'd like to. It's also expensive enough to price it out of the impulse-buy territory. Still, if a loud, well-balanced outdoor sound is what you want and need, it delivers.
Newsweek may earn a commission from links on this page, but we only recommend products we back. We participate in various affiliate marketing programs, which means we may get paid commissions on editorially chosen products purchased through our links to retailer sites.