Sonya Deville Is Ready to Turn 'SmackDown' Upside Down, Starting With Mandy Rose
One of the WWE superstars who has shined during the pandemic is Sonya Deville. The cagey fighter has not only put her mixed martial arts skills on display in the ring, she's also killed it every time she takes the mic.
Deville, whose real name is Daria Barenato, has used this time to become one of the most talked about superstars on Friday Night SmackDown.
"I feel like I'm finally coming into my own and finally getting to say what I want to say and feel what I want to feel and do what I want to do," Deville told Newsweek recently. "Everything is on Sonya's terms now and I'm just loving having all that control and power."
The New Jersey native was brought into the WWE as a part of Tough Enough before signing with the NXT brand in 2015. She was then called up to the main roster with her tag team partner and friend Mandy Rose, but for years they were stuck in creative limbo. All of that changed, though, when Mandy was put into a storyline with Otis and Dolph Ziggler, and the resulting betrayal from Sonya made both women the focal points of the story.
"This industry is weird and timing is everything. You never know what's going to happen or never know when things are gonna fall into place, but when you get an opportunity, it's about making the most out of it, grabbing and running with it," Deville said. "It's an opportunity that I've been asking for and pitching for probably a year or two now, and it finally came to fruition during this time, so I feel like we just took the ball and ran with it."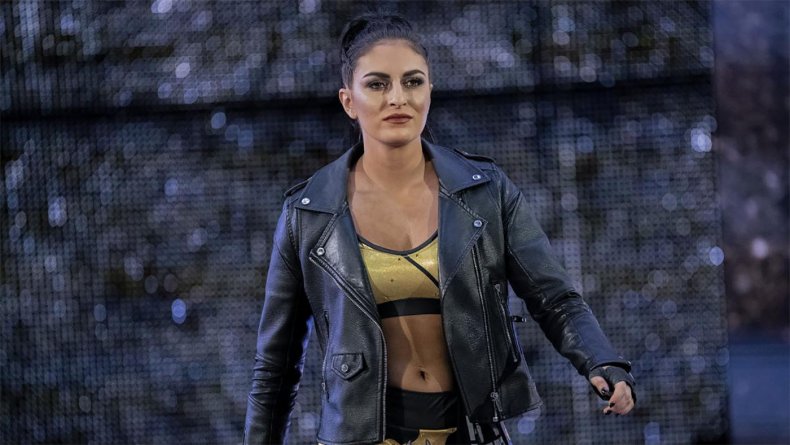 Now that she's been given this opportunity, Deville has excelled in every part of her game. But recently, she was off television for weeks, for reasons that aren't public and that she didn't discuss with Newsweek. The hiatus hasn't stopped Deville, though, or her momentum.
"I'm a very motivated, dedicated person and I'm a very patient person," she said. "I've been thinking about this for five years, so four weeks out of the game is nothing. If anything, it gives me time to calculate and motivate, regroup and figure out what my next move is. I always have a plan and I'm very disciplined, so I don't think [my time away is] an issue."
Besides being a world-class athlete, Deville is also an advocate for the LGBTQ community. She's the first openly lesbian wrestler in the WWE, and she has her own LGBTQ- and suicide-prevention-forward clothing line, which is called Rainbow Love.
When Newsweek spoke to NXT superstar Tegan Nox in July, the Welsh wrestler said that Deville helped her come out to her fans, but Sonya downplays her role.
"I'm no expert in any of this, all I know is my own journey," Deville said. "Tegan is this awesome woman and she came to me just to talk about experiences and kind of how my journey was and she was sharing her journey with me, and so it was kind of just a really cool conversation between two friends that eventually, you know, led to her coming out. So, I'm so proud of her and I'm so happy for her."
Deville points to Nox and NXT superstar Jake Atlas as important wrestlers in the WWE because they represent the LGBTQ community, and she wishes she had other people in that community when she was first coming up. But Deville is happy to be in a place where people feel comfortable to be who they are, and that there's strength and unity between them.
When asked if she sees herself as a locker room leader, Deville downplayed that notion, too.
"I do what I do and if anything I'm a firm believer of leading by example," Deville explained. "If people like the way that I conduct myself and they feel that it's impressionable or inspirational in any kind of way then, yeah, they can take notes, but I just I just try to do me and be a good person. Hopefully, people can see that and do good themselves."
When Deville returned from her brief hiatus away from television, she continued her feud with Mandy Rose. It was escalated, however, thanks to a brutal backstage assault. Deville attacked Rose, which ended with her cutting some of Rose's hair.
While she admits she doesn't have any experience as a hairdresser, she confidently says that she did a good job and that Rose looks good with her fresh soccer mom haircut.
This new, unhinged side of Deville has drawn comparisons to former WWE superstar Victoria, who Deville admits she didn't grow up watching. She did hear the comparisons online, though, and went back to watch Victoria's work.
"We do have some similarities, but no, this is all just from what I've been feeling and what I've been thinking and it just kind of has come out organically," Deville said. "It's not like I plan to go out there and grab my hair and scream like a crazy woman. It's just what I'm feeling at the moment. I guess that's just the effect I have when people piss me off."
As wrestling convention dictates, whenever scissors or shears are brought into a feud, that usually leads to a hair vs. hair match, wherein the loser gets their head shaved.
"I don't care what the stipulation is. I don't care what kind of matches or where it is, I'm gonna end Mandy Rose," Deville said. "I should have put the nail on the coffin a couple weeks ago. I thought she was down and out after the haircut, but clearly she has a little bit more fight, which honestly I was shocked by, but once I'm done with her I'm gonna move on with my life—move on to bigger and better things and go get the championship."
That championship lies with Bayley, who has held the SmackDown Women's Championship for over a year. Her opponent for next week's SummerSlam will be decided Friday in a triple-brand battle royal consisting of superstars from Monday Night RAW, SmackDown and NXT. The last woman standing will earn a shot at Bayley's title.
Deville reiterates that her focus is on destroying Mandy Rose before capturing the title, but that doesn't mean she can't do both. She's also quick to point out how, despite Bayley and Sasha Banks appearing on both Monday Night RAW and SmackDown, Deville has yet to cross paths with them, which is a good thing for the champs, because Deville has plans for when she does meet them.
"I'm going to turn this place upside down," Deville said. "I'm gonna give this women's division something that it's never seen before, something fresh, something new and you're gonna see the most undeniable dominant champion you've ever seen. That's a promise."
That's not the only thing that Deville promises.
"I'm going to destroy Mandy Rose, I'm going to end her career. I don't want her anywhere near me. I don't want her in the same division as me. I don't want her anywhere near my life, even in this conversation right now—like, I'm so sick of hearing you bring up her name," Deville said. "I'm the star now, I get the ratings, I trend every single week. It's about Sonya Deville. It's my time, this is my world we're living in now, so anyone who wants to be in my division, they need to open up their eyes and respect me because in a matter of months, in a matter of months I will be running this show."
Watch Sonya Deville on SmackDown every Friday night starting at 8 p.m. EDT on Fox.
Sonya Deville Is Ready to Turn 'SmackDown' Upside Down, Starting With Mandy Rose | Sports