Sony's LSPX-S3 Glass Sound Speaker Is Funky and Fun, but Not for You
The Sony LSPX-S3 Glass Sound speaker is anything but boring. I love that it provokes instant emotion, in a way most other Bluetooth speakers just don't nowadays. And by doing something different, like using glass or adding flickering candle-like light, it's not going to be a speaker for everyone. So is it the best way to listen to music? Is it practical? Nope. But also, maybe surprisingly, those questions aren't relevant here.
What does matter is that the Sony LSPX-S3 speaker sounds good enough and looks even cooler. This is the speaker for people who care what their speaker looks like just as much as how it sounds. The LSPX-S3 is a unique chance for someone to be delighted in a new way.
That said, Sony's nearly $350 funky speaker is not for most people. But that's its charm. It is not trying to be a speaker for everyone—or even a lot of people.
TL;DR
Pros:
Speaker and light combo can set a mood
Having a sleep timer button is handy
Cons:
Pricey for its size and volume
Confirmation sounds can be disrupting
Some features can be complicated to use without the app
Buy at Amazon.
Features
Sometimes, with unique products, I like to guess how they came to be. In this case, a passive radiator resides at the base for low-frequency sounds and a small 46 millimeter up-firing speaker is above, lending itself to a natural vase-shaped object. From there, I can see how the idea to add a long glass tube extending upward could come about. It's all conjecture, of course, but I do think this product's features are a result of its shape—unlike other products that may have a boring shape to pack in more features.
Complementing its shape, the speaker has 360 degrees of sound. There's no front or back other than defined by whether you want to see the buttons and charging port or not.
There's a candlelight mode and flick-free light mode that can be used as a night-light. And best of all, there's an 8-hour battery inside so that it can sit on a coffee table or anywhere, no matter if there's an electrical outlet around or not. If you want to use it next to your bed at night, until you drift off to sleep, there is a button on the bottom to activate a 60-minute sleep timer.
The Pros and Cons of This Sony Speaker
Out of the box, this speaker is both heavier and smaller than it seems like it would be from photos. It's a dense little decor piece that can fit on a fireplace mantel, nightstand, bathroom counter or pretty much anywhere. Without the glass tube, it could possibly be a travel speaker, but having this typically fragile material means the speaker is only suitable for home use—or nearby, like a patio.
It's great that there are physical buttons for power, answering a phone call, volume, sleep timer and a touch strip for the light control. I found the buttons easy to use and handy for controlling the device without my phone around.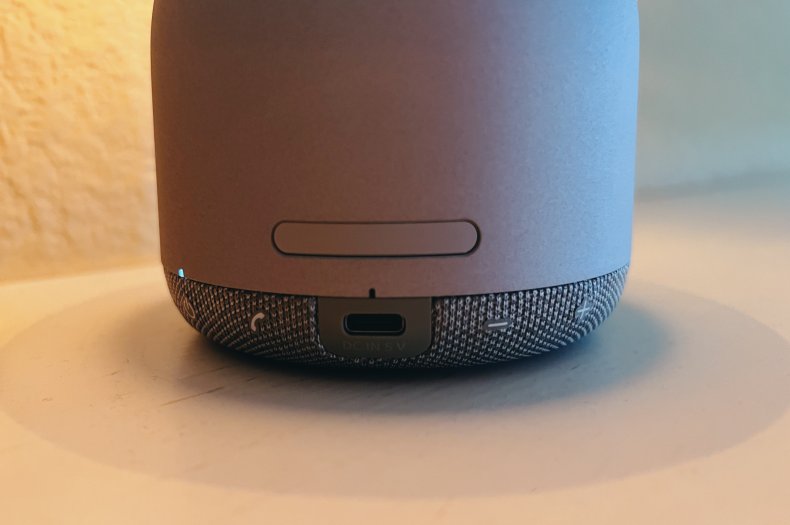 There is a built-in microphone so it can be used as a speakerphone. I don't know how common this use will be, but I tried it, and my wife could hear me well from the other end of a call.
The sleep timer button is located on the bottom of the device and pressing it once will set a 60-minute timer. Pressing it again will turn the timer off. The intention is good and it works, but without any display, it can be hard to keep track of whether you enabled it or not.
This is similar to changing the light settings. Tapping and holding the touch strip toggles between candlelight mode and the standard lighting mode. But even the written instructions that come in the box make mention that it could be difficult to determine which mode you're in.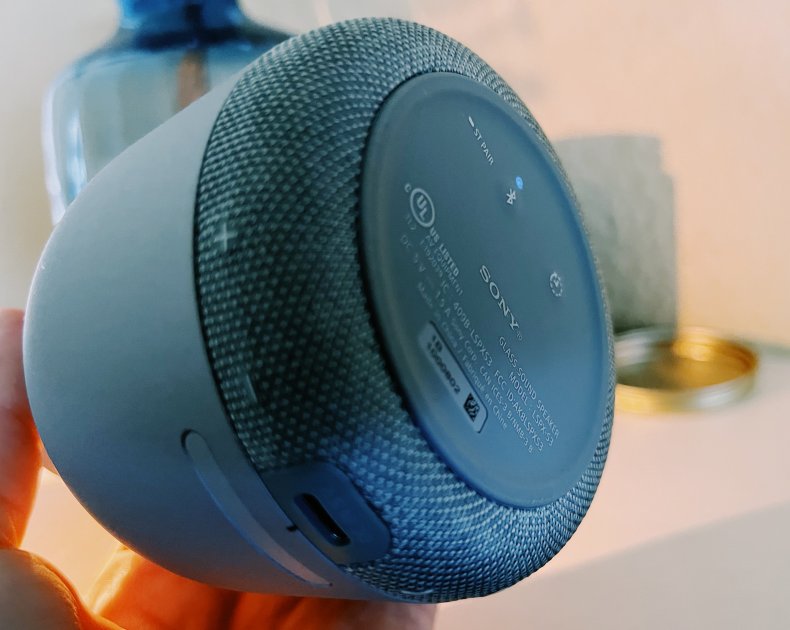 To try to combat this, Sony plays a sound to indicate the different settings. A chime plays when switching between lighting modes, for instance. A chime plays when activating the timer. A chime also plays when you reach the lowest and highest brightnesses. Again, the intention is good here, but the chime also creates a slight pause for the audio playing. It can be disruptive and annoying if you're adjusting the settings frequently.
I did appreciate that almost every feature was available via the speaker itself, without needing to use Sony's mobile app, the Music Center. The app mostly just makes the features more convenient and visual.
The light has 30 plus steps of brightness and multiple flickering patterns. I didn't feel the need for that level of preciseness, but the app did make it easy to select a very specific brightness level.
I used the speaker as a nightstand light and was impressed. This is a solid use case for the product. It doesn't have a room-filling light though, so don't expect to replace a lamp with this speaker. It will provide a candle's worth of light, give or take. A perfect amount of light to fall asleep.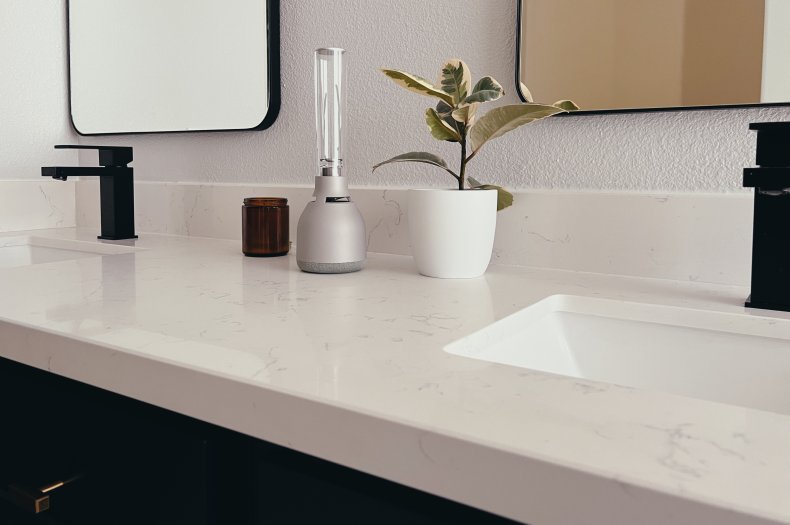 The first album I listened to on the speaker was Adolescence from Baynk. The electronic music played to the speaker's strengths of punchy bass and clear treble. Inside the Music Center app, there's a setting to turn on Bass Boost. Turning it on enhances the sound, making most songs a bit fuller. The only reason I see for not keeping this setting on all the time is if you're using the speaker at night while falling asleep. But, outside of that, you should keep it toggled on. Without the Bass Boost, the speaker feels even weaker.
The overall sound falls somewhere between a pro or con. Songs are certainly clear and detailed, but they lack midrange frequencies and depth, especially at louder volumes. I compared this Sony speaker directly against a Sonos Roam, and they are well-matched on the sound front. The biggest difference is about $170.
I really wish Sony would have really leaned into this speaker even more and made it physically bigger. I think it could have been a really great bedroom or living room speaker with rich, full sound. As it stands, the sound is only respectable for its small size. Comparatively, among the Bluetooth speaker market, you can buy better sounding speakers for the money.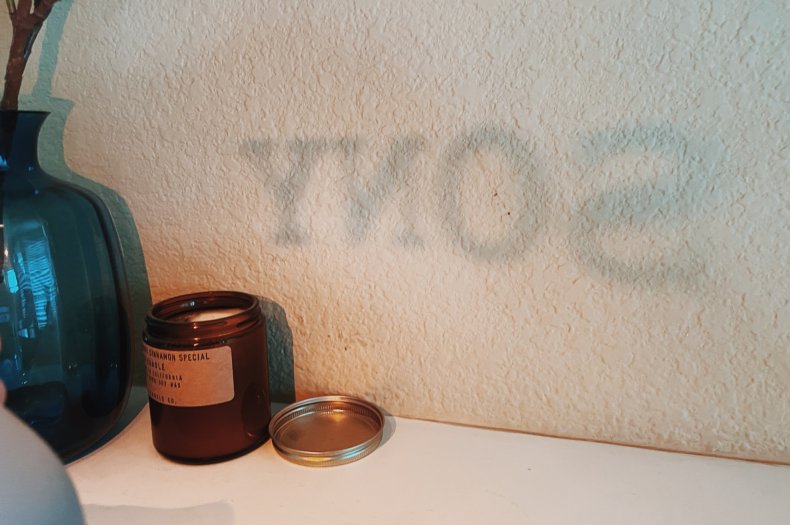 Should You Buy the Sony LSPX-S3?
The thing with the Sony LSPX-S3 glass speaker is that it's a great product, but not a great value. It's a luxury item. The sound is crystal clear—and no, I couldn't go the entire review without making the pun. The lighting feature is fun and unique. Battery life was also excellent and in line with the advertised 8 hours. All told, it's just a cool product.
So, even though this speaker is style over substance, that doesn't diminish that it could be a good fit for the right person. It just won't be a fit for most people.
Buy at Amazon for $348.
Newsweek may earn a commission from links on this page, but we only recommend products we back. We participate in various affiliate marketing programs, which means we may get paid commissions on editorially chosen products purchased through our links to retailer sites.