Sony's New X-Series Bluetooth Speakers: 4 Features You Need to Know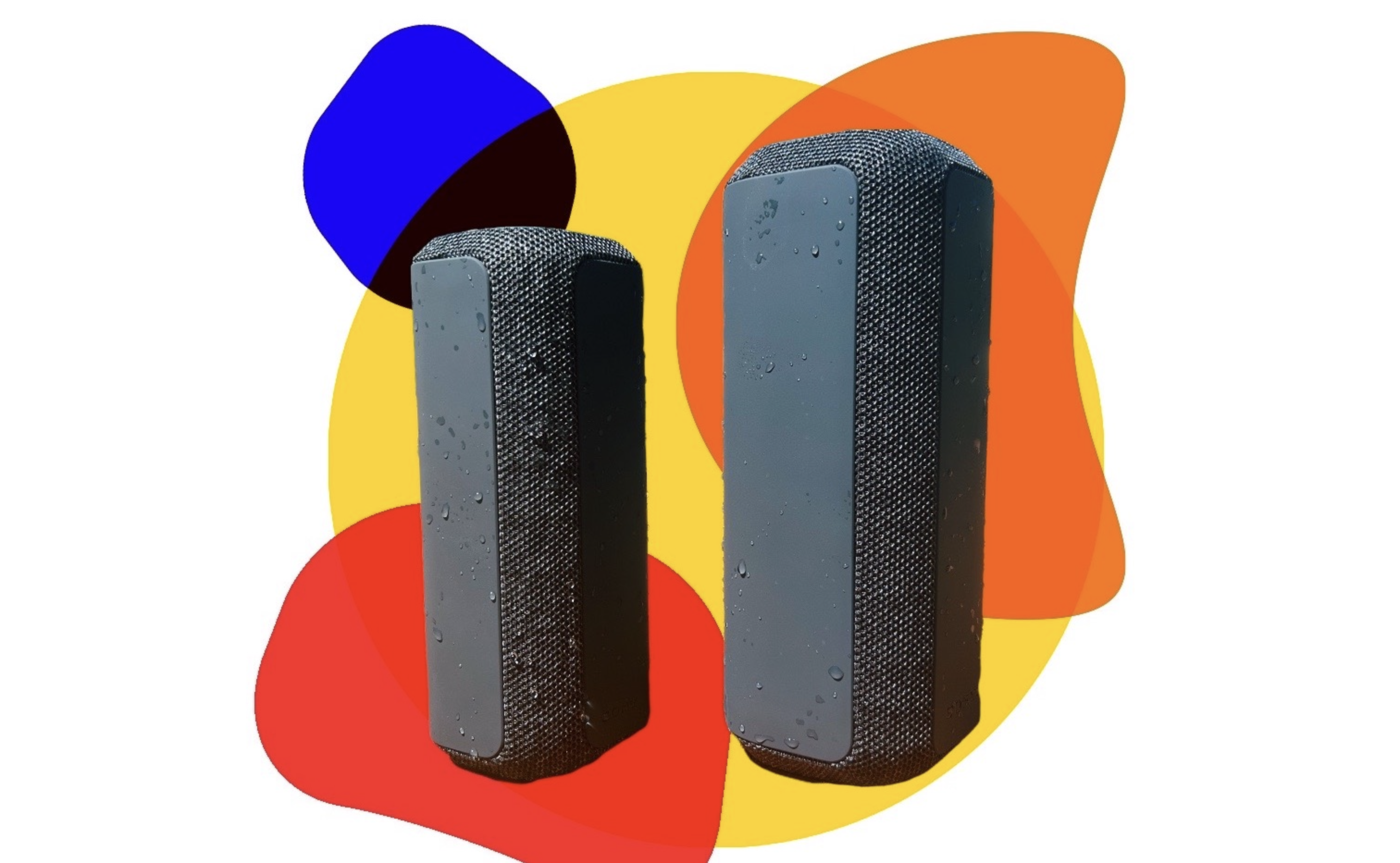 Sony is introducing three new Bluetooth speakers in its X-Series line. From biggest to smallest they are the XG300, XE300 and XE200. These speakers are different enough to justify their presence, but they still have common themes that tie them together. The XE200 and XE300 share a similar shape and design; the largest, the XG300, still emphasizes portability like the others. These speakers are made to be toted around, used at the pool and generally pushed to the limit—all while pumping out jams.
The Bluetooth speaker market is never-ending, so in my first, initial testing of these new Sony speakers, I also pit them against ones from JBL and Sonos to see how they fare. Mostly though, I think these new speakers can be grouped by their features—four of which stand out to me.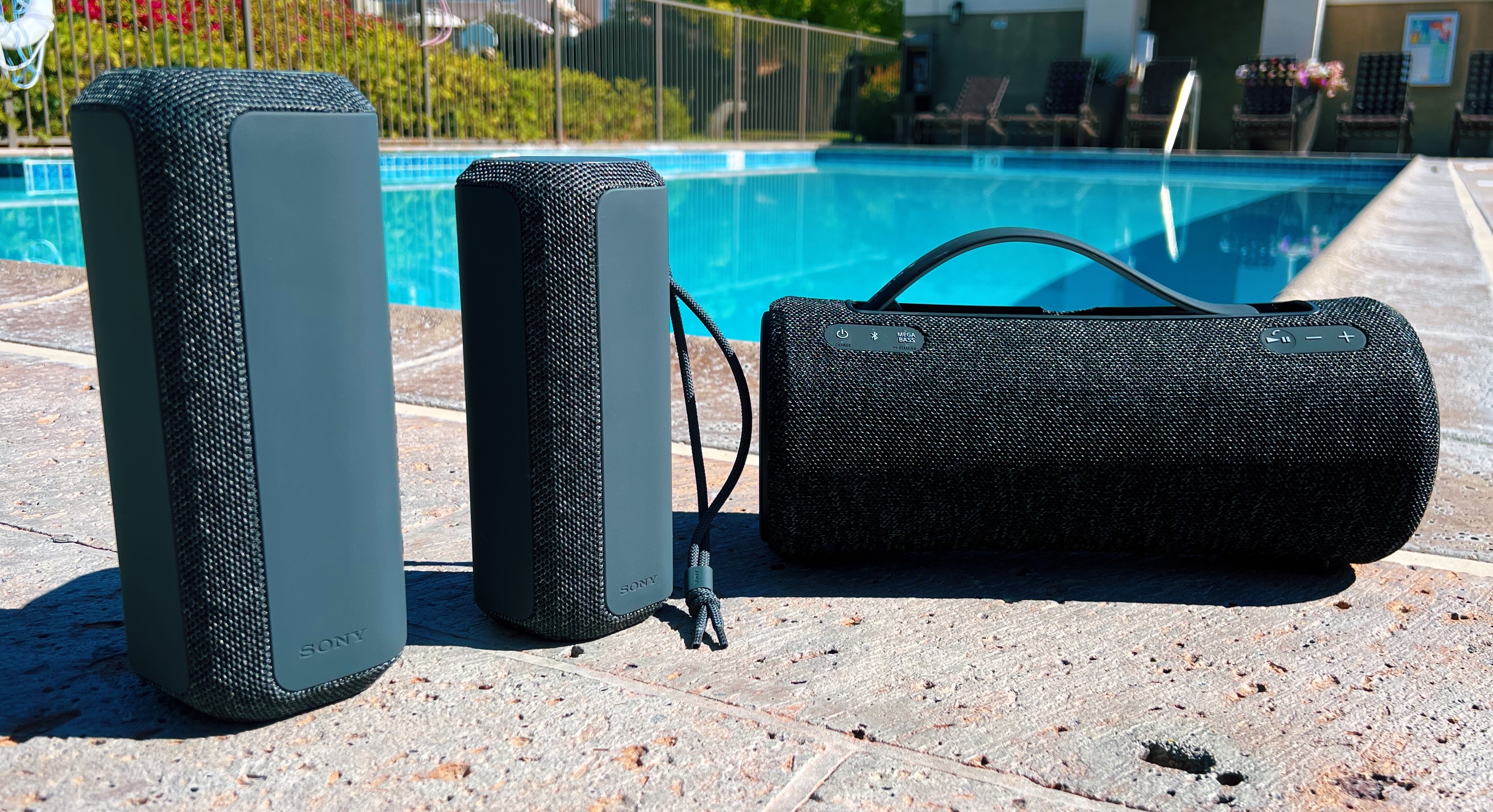 Speaker Overview
Buy at Sony.
1. Ruggedness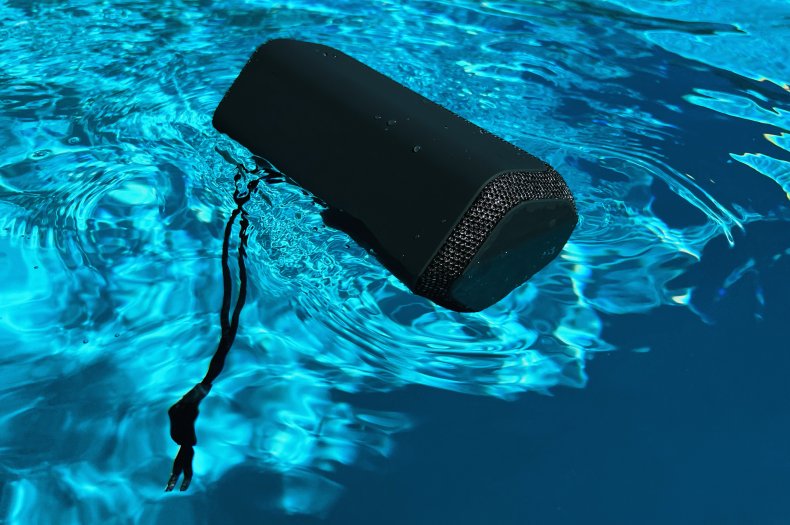 All the speakers carry an IP67 rating that makes them heavily resistant to water and dust. These speakers will be at home near a pool, spa or in the wilderness. I tossed my review units into a pool to confirm their claims. Bluetooth won't transmit a signal in water, so the speakers stopped playing when they were dunked, but once they were set on solid ground again, they worked as they did before.
I would call all the speakers rugged, but the XE200 and XE300 both go beyond the IP67 rating and also add shockproof to their resume. I knocked these off a bench to test that aspect and didn't see any harm from the 2-foot fall. Of course, the true test of these speakers' ruggedness comes from their experiencing plenty of natural accidents over time. But in my initial hands-on, I liked what I saw.
2. Portability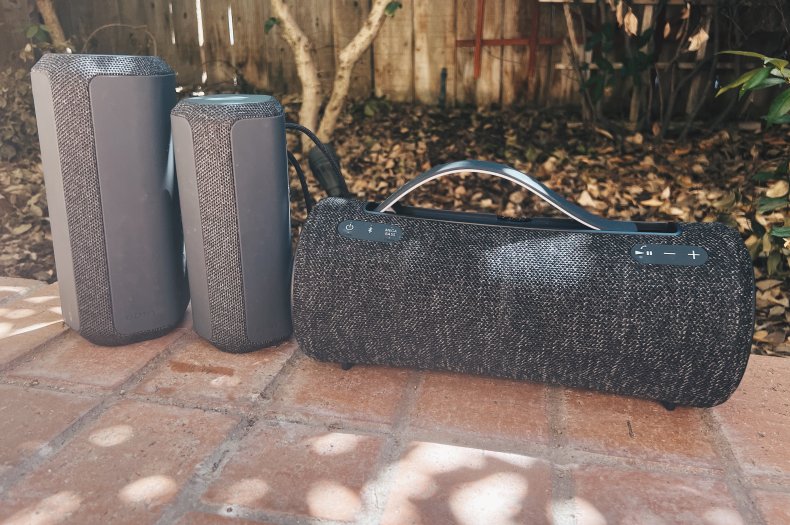 The portability of each of these speakers varies, but they all can be reasonably moved around without much effort. The XE200 is the obvious choice if you need a wireless speaker that can be packed for trips or carried throughout the day. Its size and rope strap make it great for taking places.
Surprisingly, the largest XG300 speaker is also pretty easy to tote around with its pop-up, retractable handle. The rubber handle slides to the left and clicks into place, so it can be held with a single hand. It is the heaviest of the bunch, but it still comfortably resides in the portable camp.
The XE300 is small enough to toss in a beach bag or put in a car trunk without thinking about it, but I see it more as a speaker that gets used at home and transported around the house. I used it throughout my backyard and across multiple rooms with little problem. I wouldn't want to pack it for air travel, but I haven't minded moving it around my home.
3. Sound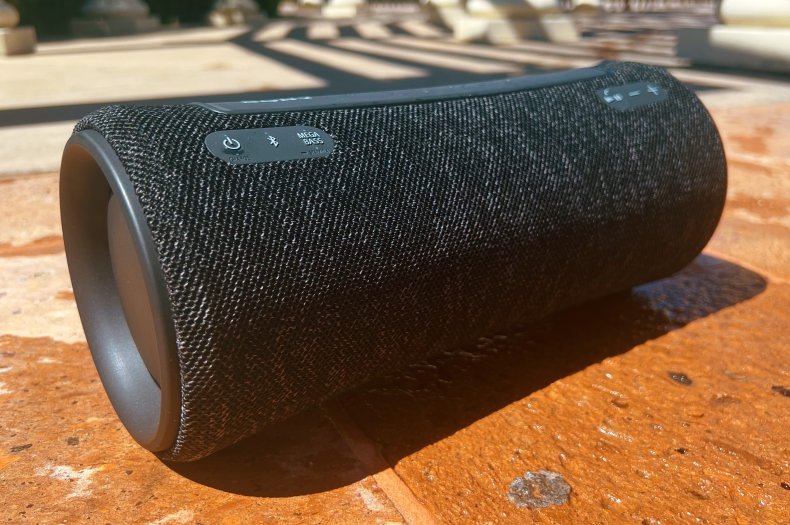 Each of the speakers sounds nice with bass that's appropriate for its size. Obviously, though, the little XE200 doesn't produce the same audio depth and fullness as the XG300. I think most people will be satisfied with the sound quality each of these speakers provides. The real task for potential buyers will be matching the environment in which the speaker will be used in order to select the one with the right sound profile.
The smallest of the series, the XE200, for instance, is best for intimate settings. This would suit a group of four to eight people sitting around a campfire or relaxing in a hot tub, for example. The XE200 can provide enough volume for a small, 500-square foot backyard or a picnic happening on one or two close blankets. Beyond these scenarios, I think it's worth stepping up to the XE300.
For a bigger yard or a more spread-out group gathering, the XE300 is the speaker to choose. I noticed that it gets surprisingly loud and packs audible bass outside. Although the biggest XG300 speaker can get louder, the difference in volume between the two isn't as wide as I expected. What the middle-size XE300 missed out on, when I was comparing it with the XG300, was more accurate music details across the frequency spectrum when turned up and pushed harder.
The XG300 filled my 1,500-square foot backyard with plenty of sound, but it didn't have much more to give beyond that level. It probably won't be able to satisfy the needs of a huge party. Sony has other speakers that can fulfill that duty, but the XG300 is really made to pack a punch on the go.
I compared the XE200 and XE300 with the JBL Charge 5 and Sonos Roam. Both of the speakers sit right between the Sonys and retail for about the same $179. Sonos Roam is the smallest of the bunch and sounds brilliant for its ultraportable size. It makes the XE200 sound slightly muffled compared to its clarity. Roam doesn't boast the same mid-frequencies though. The JBL Charge 5 provides much more depth and volume than the XE200 but not quite as much oomph as the XE300.
Compared with this limited set of competitors, neither of the new Sony speakers were best in class overall. They do each have value, however. The XE200 shines for its low price, while the XE200 gets loud with a capable soundstage.
4. Made for Work
In an interesting twist, each of these speakers can pull double duty and be used for play and work. The speakers all have microphones built in, along with technology to help cancel noise around you. Sony says its Echo Noise Canceling feature can help eliminate when people's voices are cut off during a conversation on a video call—if two people talk at the same time. The XE200 and XE300 each offer a mute button, as well.
I used the mic to record some audio, and it was fine. The feature is certainly better here than it will be on any generic Bluetooth speaker. I'm also glad this option exists and can imagine plenty of scenarios to use it while hanging outside of the house.
Extras
The XG300 features lights on each side of the speaker that bounce to the music.
The XE200 has a battery life of up to 16 hours, the XE300 gets up to 24 hours and the XG300 could see 25 hours of battery life.
Both the XE200 and XE300 feature a line-shaped diffuser for a wide-area listening field, close to 180 degrees.
I tried several times to get the speakers to connect with each other for Sony's Party Mode but didn't have any luck. The speakers would connect, but the audio would only play bits and pieces, cutting out for long periods of time. No software updates were available at the time, either.
Buy at Sony, from $129.99.
Newsweek may earn a commission from links on this page, but we only recommend products we back. We participate in various affiliate marketing programs, which means we may get paid commissions on editorially chosen products purchased through our links to retailer sites.