Soon-to-be Emmy Host Jimmy Kimmel Under Fire for Blackface Comedy Sketches
Late-night talk show host Jimmy Kimmel is receiving blowback after a recent unearthing of previous recordings in which he used the n-word and imitated two Black performers, comedian George Wallace and rapper Snoop Dogg.
Kimmel has yet to publicly address the recordings or earlier cable TV sketches in which he wore blackface. The recordings and videos have upset fans amid the ongoing racial justice protests nationwide. It's unclear whether the recordings will impact ABC's decision to have Kimmel host the Emmy Awards on September 20.
Kimmel imitated Dogg's voice for an original song on a comedic 1996 Christmas album entitled, A Family Christmas In Your *ss. Kimmel wrote all of the comedic material and co-produced it with "Kevin & Bean", a DJ duo who hosted a radio show from 1990 to 2019 on KROQ-FM in California.
In the expletive-filled Christmas track, a singer calls Santa a "fat [n-word] in a sleigh giving sh*t away" and references a "[n-word] in the manger."
"Me and my [n-word] down in LBC, we'll smoke that m*therf*ck*ng Christmas tree," one of the song's lyrics said.
In a January 2013 podcast, Kimmel admitted to comedian Adam Carolla that he had once phoned the president of Comedy Central by posing as Wallace over the phone. The prank call occurred after Kimmel and his friends had been drinking.
In the podcast, a guest asked Kimmel, "Jimmy, do you only do black people?"
"I prefer them, yes," Kimmel responded.
At another point in the podcast, Carolla said that Kimmel used a "crazy black voice" to impersonate Wallace.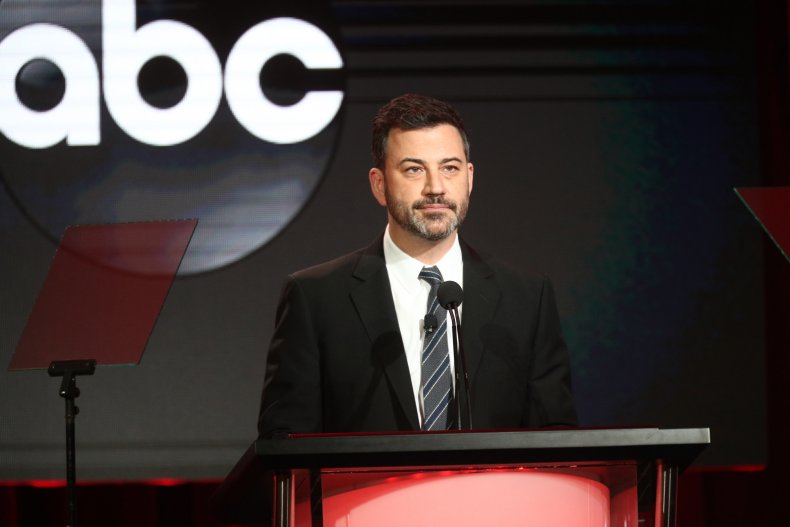 These recently unearthed recordings follow the resurfacing of sketches from Comedy Central's "The Man Show" in which Kimmel wore blackface to portray NBA star Karl Malone and large-bodied talk show host Oprah Jimfrey in a spoof of "The Oprah Winfrey Show."
Kimmell's impression of Malone, which occurred in a regularly recurring sketch where Malone shared his thoughts on different topics, included an attempt at imitating African-American Vernacular English (AAVE). AAVE is a form of English which includes grammar and pronunciations derived from rural dialects of the Southern United States.
"Karl Malone read on TV about white people being deducted by alien, stickin' all kind of hell up they butt," Kimmell said in one of the blackface sketches. "Karl Malone ain't never seen no flying saucer himself. If he do, that's gonna be a spooky time."
In response to the recordings and videos, commenters on Twitter have been calling for Kimmel's late-night talk show, Jimmy Kimmel Live!, to be canceled.
On June 18, Kimmel announced his intention to take a summer vacation. "I've been doing this job for almost 18 years," he said. "I've done 3,130 shows. And there's nothing wrong, my family is healthy, I'm healthy, I just need a couple of months off."
Newsweek reached out to ABC for comment. This story will be updated with any response.