Soon-Yi Previn Dismisses Woody Allen Sexual Assault Claims, Says Mia Farrow Abused Her
Soon-Yi Previn has broken her silence about the controversy surrounding her husband, Woody Allen, and adoptive mother Mia Farrow in a new bombshell interview with New York Magazine.
In the profile of Previn, posted by Vulture over the weekend, the actress revealed details about her childhood, explained how her relationship with Allen was ignited and addressed allegations that her husband molested Dylan Farrow, the adoptive daughter he shared with ex-wife Mia Farrow.
"What's happened to Woody is so upsetting, so unjust," Previn said. "[Mia] has taken advantage of the #MeToo movement and paraded Dylan as a victim. And a whole new generation is hearing about it when they shouldn't."
Previn then goes on to accuse her adoptive mother, Mia Farrow, Allen's ex-partner, of abusive behaviour toward her during her formative years. "Mia wasn't maternal to me from the get-go," she said. "I was never interested in writing a 'Mommie Dearest,' getting even with Mia—none of that.
"She tried to teach me the alphabet with those wooden blocks. If I didn't get them right, sometimes she'd throw them at me or down on the floor. Who can learn under that pressure?" Previn continued, adding that Farrow would sometimes hold her upside down because she believed that it would make her smarter. "Of course, she slapped me, you know the way of things," Previn said.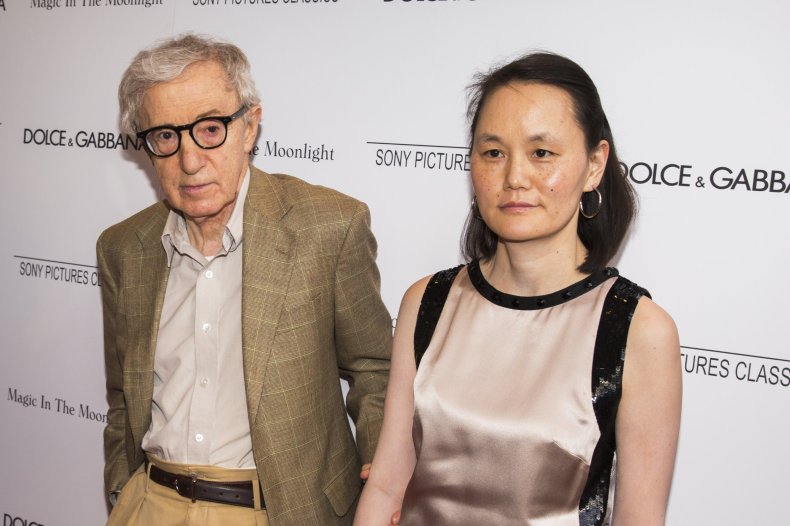 Shortly after the article was published, the Farrow family, including Dylan Farrow and Ronan Farrow, denounced the report as inaccurate and one-sided.
Dylan Farrow shared a statement on Twitter clarifying her allegations of "abusive touching" by Allen and detailing her account of their childhood.
"Woody Allen molested me when I was seven years old, part of a documented pattern of inappropriate, abusive touching that led a judge to say there was no evidence I was coached and that it was unsafe for me to be in Woody Allen's presence," Dylan Farrow wrote.
"When New York Magazine contacted me, they described multiple obvious falsehoods. The author even suggested that my mother bribed me to lie with a doll that was not manufactured until years later. Thanks to my mother, I grew up in a wonderful home, filled with love, that she created.
"I have a message for the media and allies of Woody Allen: No one is 'parading me around as a victim'—I continue to be an adult woman making a credible allegation unchanged for two decades, backed up by evidence."
Dylan Farrow also condemned the profile's author, Daphne Merkin, who admits she's been a long-time friend of Allen's, and questioned her ability to be impartial in the report.
"The author has written about her friendship and infatuation with Woody Allen," Farrow explained. "The idea of letting a friend of an alleged predator write a one-sided piece attacking the credibility of his victim is disgusting."
Merkin detailed her admiration for Allen in her 2014 book of essays titled "The Fame Lunches."
Journalist Ronan Farrow, who broke the sexual assault allegations against Harvey Weinstein in his New Yorker investigation last year, called the profile a "hit job."
"As a brother and a son, I'm angry that New York Magazine would participate in this kind of a hit job, written by a longtime admirer and friend of Woody Allen's," he wrote on Twitter. "As a journalist, I'm shocked by the lack of care for the facts, the refusal to include eyewitness testimony that would contradict falsehoods in this piece, and the failure to print my sister's responses."