Black Panther Gallery Paintings Spotlight Political Prisoners During Black History Month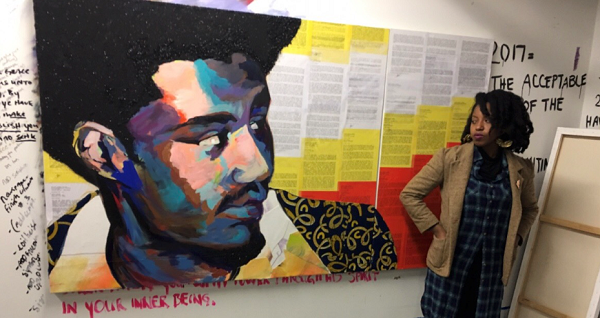 When America talks about the Black Panther Party, it's usually without the same kind of reverence given to other Civil Rights movements.
The organization, founded in Oakland, California, by Huey P. Newton and Bobby Seale in 1966, was flashier—and more provocative—than groups like Martin Luther King's non-violent Southern Christian Leadership Conference or the venerable NAACP. With upraised fists, Black Panthers took the streets across the country in black everything: berets, sunglasses, jackets, shirts, pants, shoes. They stood for equality and justice for black Americans, as well as economic and political empowerment.
But Black Panthers didn't stand for being assaulted by police or waiting patiently for equal rights. They fought back—in word, deed and, yes, violence. And with a vocal message of Black Power, which could be often be laced with chants of "off the pigs" and very visible displays of firepower, the party was seen as a threat by the white establishment. The government tried to break the group by infiltrating it, assassinating members and launching waves of raids and arrests.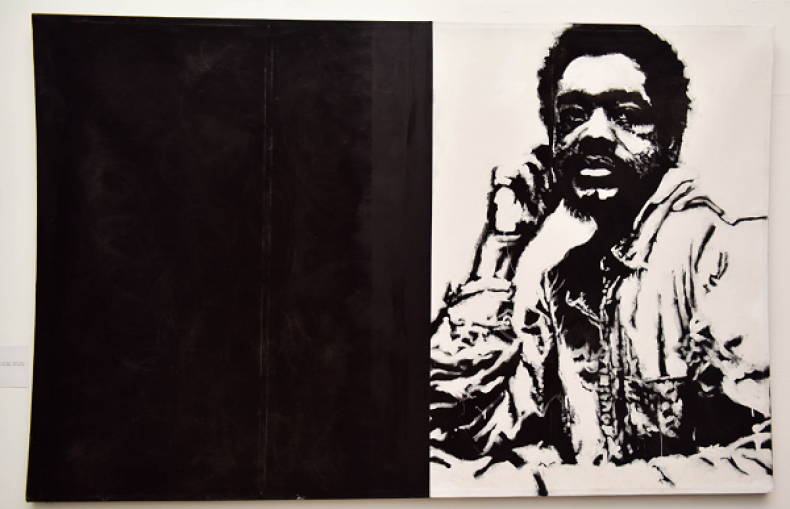 The plan worked—even if only to diminish and tarnish the party's place in the Civil Rights narrative. There's little to no national acknowledgment of the Panthers's community food banks or health clinics, free meal programs for children or the leaders who nearly succeeded in bridging gaping racial divides. Ask someone if they know the name Fred Hampton, and you're likely to get a blank stare.
"The Panther movement was one of the most successful movements in this country. Why did the FBI get involved? Because they were actually changing things," Sophia Dawson, a Brooklyn-based artist, told Newsweek.
In her own way, Dawson, 29, is trying to change how we think about the Panthers.
On February 3, she opened her latest exhibition, "Correspondence," at the Okay Gallery in Brooklyn. The show, on view until February 24, explores the narratives of more than 20 political prisoners who were incarcerated for crimes related to their activism in the Black Panther and Black Liberation movements in the 1960s and 1970s. It includes larger-than-life portraits of political prisoners, as well as written correspondence and words of encouragement from a number of Dawson's subjects during their prison stint.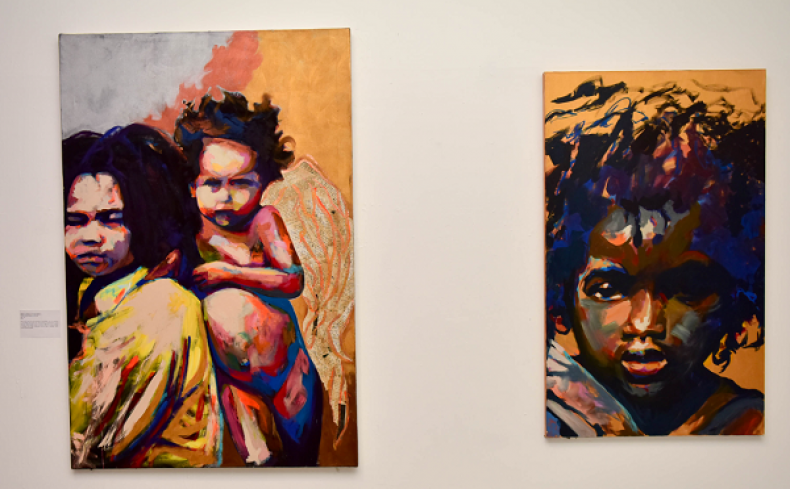 A single mom, Dawson—whose paintings have hung in the Brooklyn Museum, Bronx Museum, Corridor Gallery and Rush Arts Gallery—became enamored with the history of the Black Panthers after watching a documentary on the revolutionary group while a student at New York's School of Visual Arts.
"It was the first time I saw men and women standing up and risking their lives for our generation in such a profound way," she said. "I've experienced being pregnant, being hungry, being broke and being in an abusive relationship. I was a complete product of the system. The only thing that was different was that I was in college. I saw this movement led by so many people I was unfamiliar with, and I thought, 'Damn, these people went through all of that so I wouldn't' have to go through this. And yet here I am.'"
She began painting her subjects eight years ago, and since then some have gained their freedom. One is Maliki Shakur Latine, a former New York City Panther who was arrested in 1981 on an attempted murder charge. The court later overturned the decision and Latine was released in 2016, but only after he spent 37 years behind bars. Still, he was considered a leader in his close-knit Bronx neighborhood for helping to develop educational programs based on history, spirituality and philosophy for underprivileged members of his community.
Others featured in the exhibit are still serving lengthy sentences behind bars. Dr. Mutulu Shakur, for example, is a Panther who co-founded two clinics in New York in the late 1970s dedicated to improving the health of black community and treating addiction. But in 1986, he was arrested for orchestrating a series of armed robberies that resulted in the deaths of three people. Two years later, he was sentenced to 60 years in prison for his role. Shakur has long denied participation in any killings—his supporters say he's a political prisoner—but he has taken responsibility for the role he played in the conspiracy that resulted in the crimes.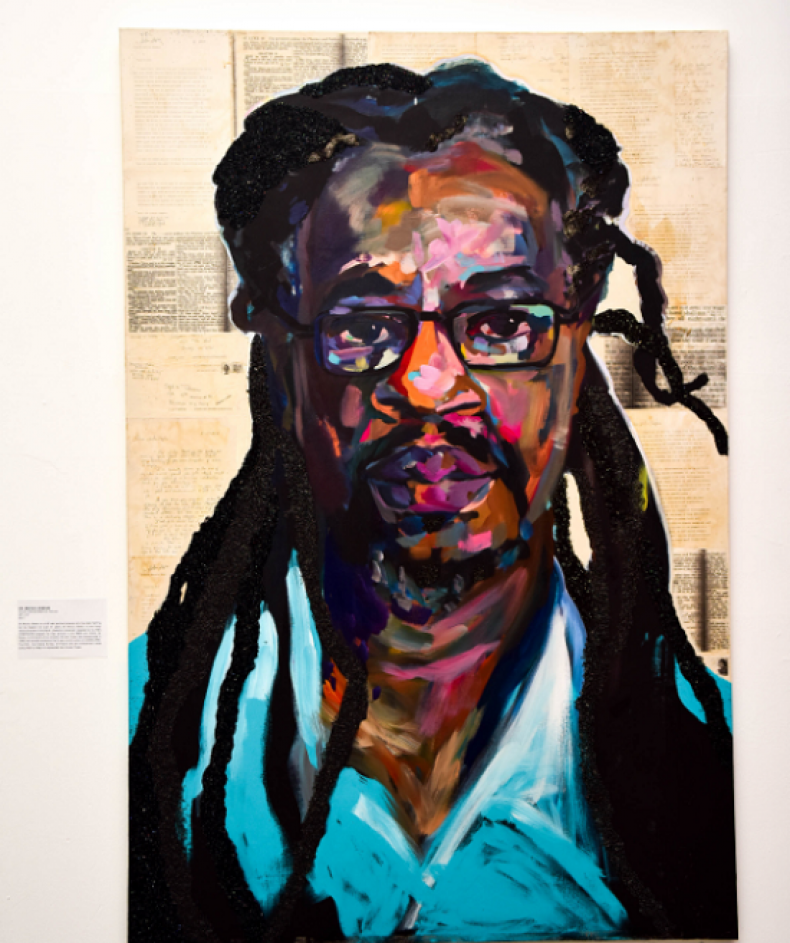 Through her paintings, Dawson pays homage to the hardships and sacrifices her subjects made in their efforts to advance civil rights and equality—and interrogates their complicated relationships with local and national communities. But she said she wanted her art to also show how similar today's battles against racial injustice are to the ones fought by the Panthers decades ago.
"I think it's interesting that all this is happening right now with [football quarterback] Colin Kaepernick, NFL [kneeling] protests and protests against the shooting of black men," she said. "It's no different from 1968 when the Black Panther Black Power salute occurred in the Olympics [in Mexico City]. Tommie Smith and John Carlos were stripped of their medals for raising their fists in solidarity, a sign of the police brutality and inequalities their community was facing at the time."
"I just think it's important for people to know this isn't history from 100 years ago," she added. "This is living history."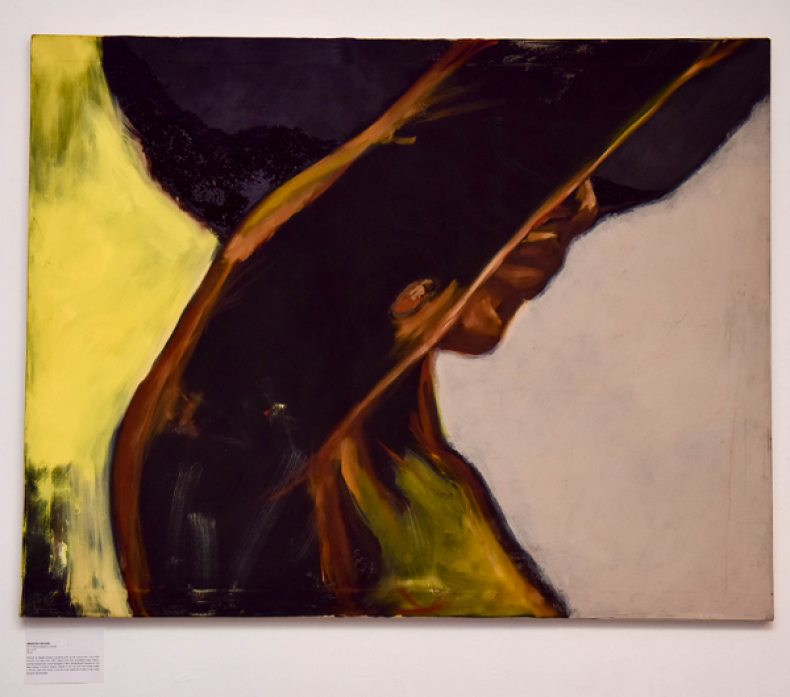 The subjects of Dawson's paintings are undeniably controversial. But both the people and the art serve as a crucial link between the activists who took to the streets in the '60s and '70s and the organizers leading movements like Black Lives Matter and the Women's March today.
"If you're doing all of this wholeheartedly and you don't know what happened to people who did this type of work before, you risk repeating their mistakes. You risk being in the same predicament they're in now," she said. "If this whole generation was dead and gone, that would be another story. While they're still here, why aren't we asking them for advice? Why aren't we tapping the people who were being active first?"
"I think it would really benefit people if they look back, take from the past and learn before stepping into the future because we're bound to repeat the same mistakes."