Sorry, Democrats: We're Stuck With Joe and Kamala | Opinion
It was the meme of the week: Joe's gotta go. It felt like every liberal news outlet took part in a week of scathing critique of President Joe Biden and Vice President Kamala Harris, with many even from the President's own party suggesting he commit to not running in 2024.
It's not just wishful thinking. If the Democrats successfully push President Biden to retire, they will be doing something that Republicans refused to do after two impeachments, a horrendous pandemic response, and a detailed attempt to undermine American democracy: They will be tacitly admitting they picked the wrong person to run the country. It's hard to see how they recover from that politically for generations to come.
This is not to say that Joe Biden's presidency has been entirely successful. Many feel he has been unable to secure important legislative victories or fulfill campaign promises, despite having a majority in both the House of Representatives and the Senate. President Biden also failed to secure voting rights or police reform, both big issues for African Americans, who also happen to be the Democrats most loyal and important voting block.
The President also appears helpless in the fight to protect bodily autonomy and healthcare for women and girls in the wake of the reversal of Roe v. Wade, while Biden's signature piece of legislation, Build Back Better, died in the Senate, where he couldn't even rally consensus within his own Party. And it's unlikely that the President will be able to deliver much of anything in the final two years of his term, as Republicans are likely poised to take the House of Representatives.
These failures have been compounded by unforced errors like the sloppy exit from Afghanistan and subpar messaging on the successes and direction of his administration. President Biden is quickly losing the confidence of people who voted for him to return the country to normalcy and work across the aisle. His approval ratings are sinking.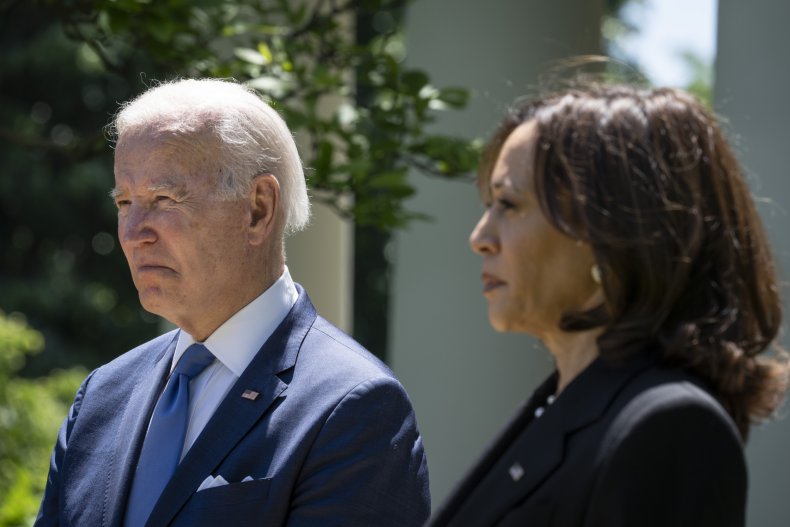 And yet, the truth remains that Democrats chose Biden and Harris to lead them. Quickly casting them aside would be politically disastrous because it would signal to the rest of the country that the Democrats by their own admission can't choose someone to lead the nation.
And this logic holds not just for President Biden but for Vice President Harris. Like Biden, Harris is not the strongest communicator and could face an uphill climb in an open primary against polished extemporaneous speakers—people like Transportation Secretary Pete Buttigieg or California Governor Gavin Newsom, whose names have been floated as alternatives to Biden in 2024. Other insiders have suggested bringing back 2020 Democratic primary candidates like Senators Amy Klobuchar and Elizabeth Warren.
But if Democrats put their weight behind any of these candidates, they risk upsetting Black women, the party's most loyal demographic base. When Biden nominated Harris, it was with the understanding that she was the Democratic Party's future. Her nomination was in part a nod to Black women's vigilance at the ballot box and devotion to the party nationwide. Harris was an example of a world to come under Democratic leadership, where qualified Black women get their due.
If the party abandons that symbolic gesture at the first sign of trouble, then it was never anything more than short term pandering.
Some Black people, especially Black women, will feel that they are again being passed over and taken for granted by Democrats should Vice President Harris be forced into early retirement. And that would be a disaster for the party. If even a small percentage of Black women stay home on election day in Fulton County, GA or in Philadelphia or Detroit, the gains made in 2020 will quickly disappear, setting up a potential electoral college blowout in 2024.
Moving on from Harris also sends the message that Democrats made a mistake, and that she was actually not prepared to be president on day one.
The most recent Biden replacement to be floated has been former Secretary of State Hillary Clinton. But it should be obvious that running Secretary Clinton would be an enormous mistake. Not only is there no evidence that Clinton is any more popular than Biden or Harris, but at a time when young voters are increasingly disillusioned with Democrats, backing Clinton sends them a message that we have no new ideas or leadership. She is also a figure that energizes Republican opposition as few others are able to. If Biden is not the person to lead the Party forward into the future, it would make no sense to try and replace him with another decades-long Washington insider.
Sorry, Democrats, but we are stuck with President Biden and Vice President Harris. We chose them, and now we need to stick with them. The cost of abandoning them is simply too great to bear.
Dr. Jason Nichols is an award winning senior lecturer in the African American Studies Department at the University of Maryland College Park and was the longtime editor-in-chief of Words Beats & Life: The Global Journal of Hip-Hop Culture. He cohosts the "Vince and Jason Save the Nation" podcast.
The views expressed in this article are the writer's own.