Sorry, Kevin McCarthy: The Truth About January 6 Will Be Known | Opinion
On Tuesday, House Minority Leader Kevin McCarthy threatened telecommunications companies that comply with the House's Jan. 6 investigators. The Select Committee to Investigate January 6th asked 30 companies, including Apple, AT&T and Verizon, to turn over phone records relevant to the riot, and in response, McCarthy tweeted that if the companies complied, a future "Republican majority will not forget" what he called a violation of federal law.
But former federal prosecutor Glenn Kirschner argued that McCarthy is actually the one violating federal law, "criminally obstructing a congressional proceeding."
Indeed, the House committee's request to the phone companies is not only not illegal but routine, according to Impeachment Lead Counsel and former federal prosecutor Daniel Goldman. "Congress under both Democratic and Republican control has routinely subpoenaed records from telephone companies, as it is a standard investigative tool," Goldman wrote on Twitter. "Does @GOPLeader truly want to undermine his own authority to issue subpoenas in the future? Still, he has no recourse here."
It's a good question. What would motivate such a baseless attack by the minority leader?
We already know McCarthy called Trump during the insurrection; during that cll, McCarthy begged Trump to call off the rioters, a request Trump flatly refused. "Well, Kevin, I guess these people are more upset about the election than you are," Trump replied, according to multiple Republicans briefed on the call, to which McCarthy replied by shouting, "Who the f**k do you think you are talking to?"
This call is a perfect example of why the records are necessary to the House inquiry—and why McCarthy might want those records kept secret. We need to know the exact details of this call and any others, as well as any emails, texts and conversations pertinent to that day. We need to know everything about what Trump did and said. We need to know about everyone he talked to and everyone who was around him. We need all information on everyone involved in any way with the "Stop The Steal" rally as well.
We need it because this is a terrorism investigation (keep in mind it's been reported that the FBI already seized congressional phone records related to January 6). And to the extent that any Republican was involved or complicit, they must be held to account.
Ditto for anyone impeding the process and obstructing justice.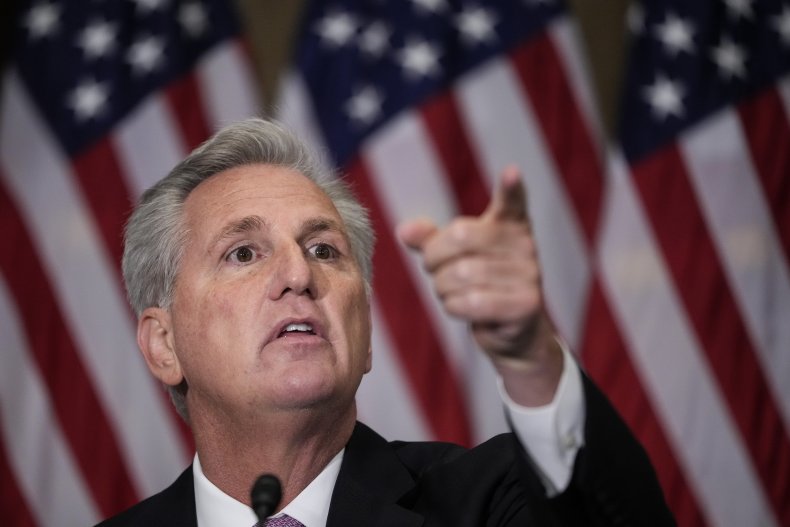 McCarthy is one of the Republicans who has been most in touch with Trump since the insurrection. We know he's been repeatedly summoned to Mar-a-Lago, Trump's Palm Beach resort, on three separate occasions. He has clearly tied his horse to the Trump cart, and sees his role as protecting Trump from the consequences of his actions.
We cannot allow this act of political insanity to impede our pursuit of justice—one doubly important as the fate of our democracy hangs in the balance.
We've been more than patient in seeking answers about what happened on January 6. Now we need immediate action. It's the only way to stop these threats and ensure an insurrection never happens again—or Republicans will make sure it does; some have already made that more than clear. "If our election systems continue to be rigged and continue to be stolen, then it's gonna lead to one place and that's bloodshed," GOP freshman Madison Cawthorn said just last weekend.
I've had enough of crimes going unpunished. Haven't you?
It's on us, the American people, to turn up the pressure and contact our elected officials and the White House, to make it clear that every stone must be unturned in seeking justice for the crimes committed on that infamous day.
No one should get a break or special treatment. No more playing with white gloves. No more deals. It's time for justice to be served by the DOJ and for these criminals to be prosecuted so they deter others from committing the same crimes again.
We cannot let these cowardly loudmouths win. The truth must be fully exposed and justice swiftly and publicly served; these are the only ways out of this mess. Failing to do so would mean we could end up with Trump in the White House again—and this time, he may never leave.
Scott Dworkin is an author, and serves as Executive Director of The Democratic Coalition. He was a deputy director for the 2009 Presidential Inaugural Committee and the 2012 Democratic National Convention, and a senior adviser to the Draft Biden and Run Warren Run campaigns. Follow him on Twitter: @funder
The views in this article are the writer's own.