After an offseason of hype, Aaron Rodgers' 2023 NFL season ended in the blink of an eye.
During the New York Jets' Week 1 date with the Buffalo Bills, the veteran QB absorbed a seemingly innocent sack and stayed on the turf. In what felt like a slow-motion car crash, he was helped off the field, ushered into the blue tent and then carted to the locker room. It was eventually disclosed that he had suffered a season-ending Achilles tendon injury.
Whether you were a Jets fan or a neutral observer, it was an emotional experience. No one wants to see anyone, let alone a star player, get hurt. Add in the details—Rodgers' trade was the move of the offseason, and his campaign ended after four snaps—and it was reasonable to be a bit speechless.
But what was it like for the guys wearing green?
Allow receiver Garrett Wilson and his halftime encounter with the injured QB to explain.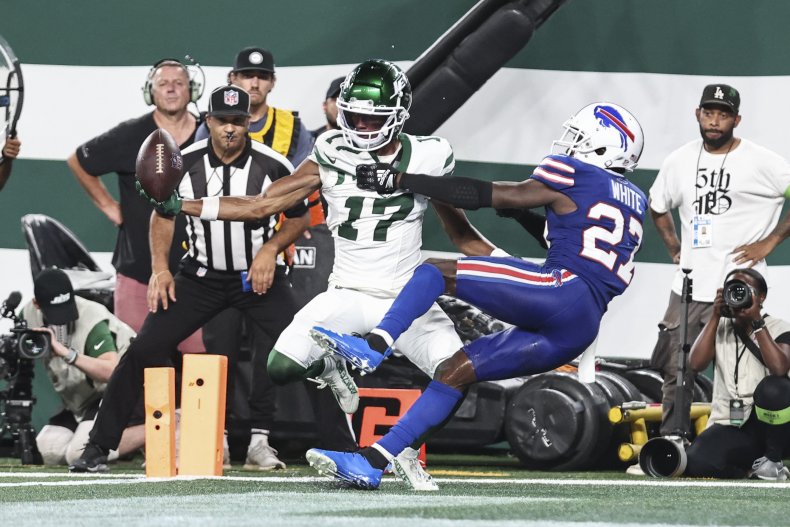 Rodgers, Wilson Shared a Touching Moment
As the cliché says, the show must go on. And while the Jets-Bills game wasn't going to stop after Rodgers left the field, that doesn't mean his teammates could ignore what had happened.
Take Wilson as an example of that reality. When New York headed into the locker room for halftime, he made sure to seek out his injured quarterback.
"At halftime, I just went in to check on him in the training room," the receiver told ESPN Radio's Bart & Hahn show. "And, you know, just made sure I gave him a hug, told him I love him. You know, it really hurt my heart."
The encounter wasn't a one-way street, though. Rodgers had a few words for his teammate too.
"He told me just, 'Sorry, kid,'" Wilson said. "You know, just like that, he said, 'Sorry, kid.' You know? And said he loved me back, and that was it. Just truly heartbroken, for real. And my emotion at that moment was, you know, similar to how it is now. Just really felt for the man and, you know, for our whole team. You know, we love Aaron."
The Emotional Challenge Facing the Jets
While it's easy to think of NFL players as anonymous gladiators who compete for our entertainment, both Rodgers' injury and Wilson's words are reminders that there are real people underneath the helmets. And that reality will shape the Jets season moving forward.
On one hand, losing a star player is crushing. Wilson spoke about the emotional impact of what happened on Monday night, and he seemed to still be affected the following day during his interview. In that context, it is conceivable that the Jets' collective minds have wandered. Whether they were feeling sorry for themselves, wondering what the future held or anything in between, it would be understandable to think about things other than football.
On the other hand, though, Rodgers' injury could become motivation.
Wilson alluded to that reality, telling Bart Scott and Alan Hahn that "[Rodgers] brings a certain energy with him, and, man, we were trying to imitate it. We were trying to imitate it when he went down and, you know, win for him, man, 'cause, you know, he deserved to be out there."
And while that can be a positive, playing with emotion can also go too far.
The Jets will obviously be motivated to "win one for the Gipper" and prove their doubters wrong, but that can't cause anyone to play hero ball. Having fire in your belly is one thing, but forcing a bad pass or leaving your position to try to make a big play won't help anyone.
And that's an underrated tightrope for head coach Robert Saleh and his Jets to walk. Playing the rest of the year without Rodgers will be tricky enough, but striking the right emotional balance can't be overlooked, especially in the immediate aftermath of the injury.
These are pro athletes we're talking about, but they're real people too.
Uncommon Knowledge
Newsweek is committed to challenging conventional wisdom and finding connections in the search for common ground.
Newsweek is committed to challenging conventional wisdom and finding connections in the search for common ground.
About the writer
Joe Kozlowski is a Newsweek reporter based in New York City. His focus is reporting on trending sports stories. Joe joined Newsweek in 2023. He is a graduate of NYU's Gallatin School of Individualized Study. You can get in touch with Joe by emailing j.kozlowski@newsweek.com.
Languages: English.