U.S. Supreme Court Associated Justice Sonia Sotomayor on Thursday said the high court shouldn't be thought of as an "institution of entertainment" amid growing attention on the bench that has caused it to bleed into pop culture.
SCOTUS has faced increased attention in recent months as it has considered high-stakes cases involving issues like abortion and vaccine mandates.
Sotomayor, an Obama administration-era appointment and one of the last liberal justices on the court, was appearing virtually on the Tamron Hall Show when she was asked about the popularization of SCOTUS. In response, Sotomayor noted that Americans "live in a society of pop culture" and "fame holds some importance to young people."
But it's "important" not to think about the court in that light, she said.
"We are there engaged in a very serious inquiry with parties who have very significant cases before us and they want to ensure that we are not playing to a larger audience but that we are really concentrated on them and their issues," she said. "And I think the camera could change that."
Abortion rights activists rallied outside the Supreme Court building on Saturday, which marked the 49th anniversary of the landmark Roe v. Wade decision that legalized the procedure throughout the U.S. The day before, anti-abortion rights activists held their own rally with the hopes that it would be their last "March for Life" should the court decide to overturn Roe v. Wade in 2022.
Justice Stephen Breyer's retirement announcement this week focused attention on the court as the nation awaits President Joe Biden's first Supreme Court nominee pick, which he said will be a Black woman.
Outside the recent issues that have seen the court frequently plunged in public attention, SCOTUS has become increasingly polarized and ingrained in politics, despite its main function "as guardian and interpreter of the Constitution," according to its website.
SCOTUS has also left its mark on pop culture, particularly when it comes to its few female justices.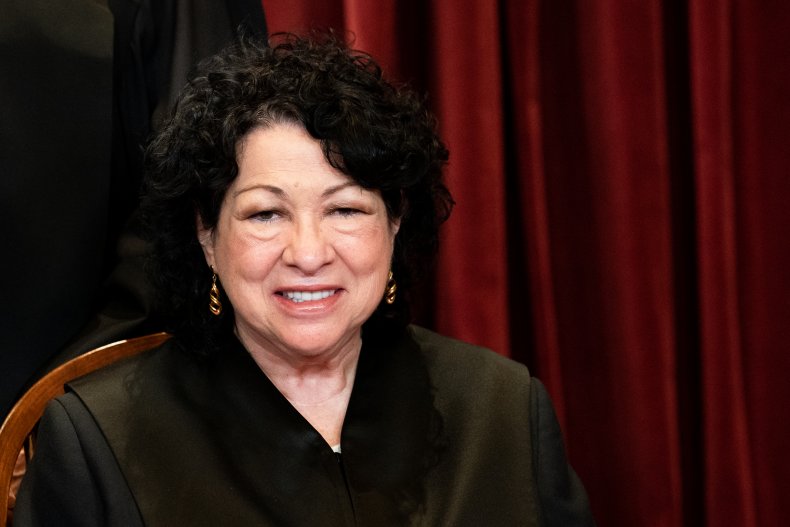 Ruth Bader Ginsburg, who served as a justice on the court for 27 years before she died in September of 2020, gained the title "The Notorious RBG" for some of her stinging dissents and opinions during her long tenure.
The moniker inspired a book of the same name, penned by Shana Knizhnik and Irin Carmon, large numbers of "Notorious RBG" merchandise on a variety of sites, the RBG documentary and the 2018 biographical film On the Basis of Sex.
Sotomayor, Justice Elena Kagan, former Justice Sandra Day O'Connor and Justice Amy Coney Barrett have also been featured on shirts, stickers and other merchandise.
Protesters once evoked pop culture in a protest against Barrett's nomination for the bench. A group dressed in red nun habits inspired by the television show The Handmaid's Tale, which features a dystopian world where women have no reproductive rights, gathered outside the Supreme Court building in October of 2020 ahead of her confirmation hearing, Variety reported.