SoulCycle, Equinox to Require Proof of Vaccination Before Entry
The Equinox Group, which owns SoulCycle and other luxury fitness brands, announced on Monday that customers and staff must show one-time proof of vaccination.
In a press release, the company said the effort would start in New York City this September, coming in wake of Governor Andrew Cuomo's call earlier today that private companies require verification of COVID-19 vaccination status.
"We have always made the health and safety of our communities our top priority, and we will continue to do so in partnership with infectious disease experts as well as local governments," Harvey Spevak, Equinox Group executive chairman and managing partner, said. "We have a responsibility to take bold action and respond to changing circumstances with urgency. We encourage other leading brands to join us in this effort to best protect our communities."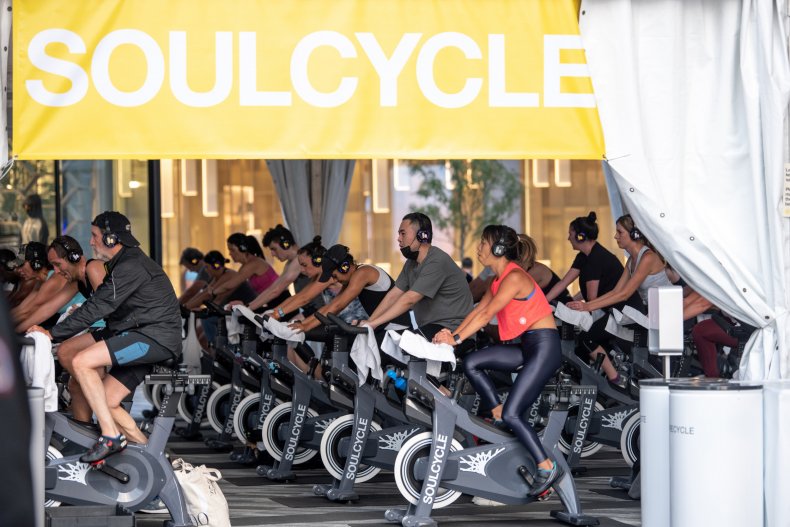 Ninety-six percent of Equinox fitness members reported being vaccinated along with 89 percent of staff, according to a survey launched by the company. Furthermore, "an overwhelming majority of members" said they supported requiring proof of vaccination at Equinox clubs.
New York has 40 of Equinox's 106 worldwide clubs. Over the past month, coronavirus cases have surged in the state, with Cuomo saying daily cases increased "four-fold" to more than 2,000 reported instances.
Reports indicate restrictions by private companies may serve as a motivator for unvaccinated individuals to get the shot. In a recent survey conducted by the New York Times and Kaiser Family Foundation, 41 percent of individuals surveyed indicated they may get the vaccine if it were required to fly and 40 percent said they may get the jab if vaccination was needed to attend large gatherings.
According to New York State's COVID-19 Vaccine Tracker, 57 percent of people in the state are fully vaccinated and 63 percent have received at least one shot. The Mayo Clinic writes that in order for "herd immunity" to be achieved, 70 percent of the American population would need to be vaccinated or have recovered from COVID-19.
New York's drive to boost vaccination rates has seen New York City Mayor Bill de Blasio offer a $100 incentive to those who get the shot at a city-run site. Similarly, Walgreens offered a $25 cash reward promotion for those getting the vaccine, with it applying to New York state.
Leadership in Washington continues to promote the vaccine as a key for getting the nation out of the pandemic.
"The vaccines are highly effective and we have enough for everyone to get fully vaccinated," Biden said in a public address. "The only pandemic we have is among the unvaccinated,"