One of Sound of Freedom's producers and actors spoke to Newsweek exclusively about why he wants to be the next president of Mexico.
Eduardo Verástegui officially filed the paperwork to run as an independent candidate for Mexico's 2024 presidential race after many people kept telling him he would be perfect for the job.
If approved as a candidate, he will run on a platform of "God, Fatherland and Family," and Verástegui explained he wants to use the momentum from his successful film to enter the world of politics because his "goal is to put an end to child trafficking" once and for all. Sound of Freedom follows the story of U.S. Homeland Security officer Tim Ballard (Jim Caviezel), who left his government job to form Operation Underground Railroad (O.U.R.), an anti-child-trafficking organization.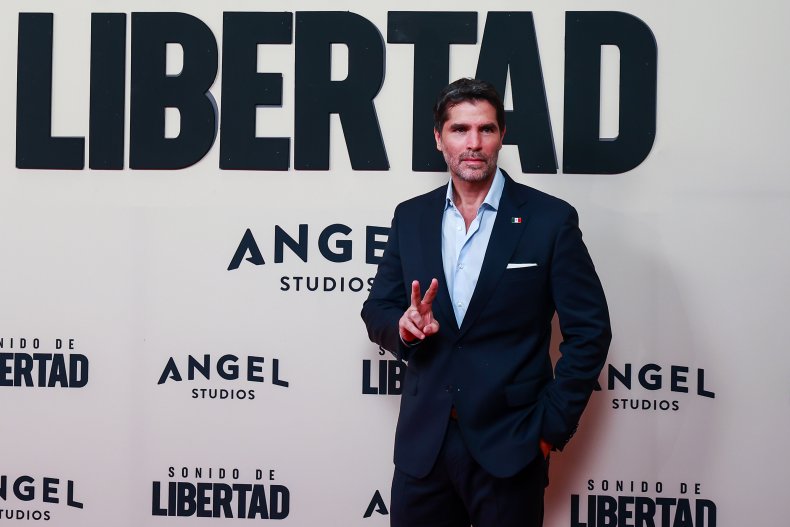 "The most important thing from this film is that we need to leave behind a permanent legacy and change legislation to ensure countries cooperate better in ending child trafficking," he told Newsweek from Vatican City after having a private audience with Pope Francis where he asked the Pontiff to bless his film.
The 49-year-old Mexican actor and singer was a big hit on soap operas before turning his hand to conservative and Christian activism. First, he used his role as producer to convey the message that "God's children are not for sale" in Sound of Freedom and next is the political stage.
Wanting to create a better system for tracking and reporting child trafficking across borders if elected, Verástegui uses a powerful analogy to demonstrate the limits in the current processes.
In 2016, one in four victims of modern slavery were children, which is about 10.1 million children, according to research by the International Labour Organization. The most common form of trafficking is sexual exploitation, which makes up 79 percent of all trafficking, based on statistics from the United Nations Office on Drugs and Crime.
"Say there is a house on fire with children in it and you have one fire truck coming from this direction and another fire truck coming from the other direction," Verástegui said.
"But then one driver tells the other, 'no this is my territory,' and they start arguing and the children end up dead. What you want is for them to both use their fire hoses to put out the flames to save the children and they can have their arguments later."
"In real life we have real children 'on fire,'" the producer said of the children trafficked each year.
After conquering the "American dream" as a successful actor and producer—Sound of Freedom is currently the 10th highest grossing film in the U.S.—Verástegui heeded the call to return to his homeland and enter a new chapter in his career.
On Friday, he headed to Mexico's National Electoral Institute (NEI) to file his interest to run as an independent candidate and now needs 1 million signatures endorsing his candidacy to be approved by the NEI as an official candidate.
"Mexico is not doing well, there's more poverty, more security issues, more crime, just more and more bad things... it really broke my heart," Verástegui said and after becoming a famous face there, more people started inviting him "to put together an independent movement and run for president."
"I was not raised to be a politician but people said, 'that's why we should do it, people are tired of political powers.' They don't believe in politicians and they don't believe in these false promises."
Verástegui explained: "If you really want to do something for your country, you need to have the army, the police, the funds, the intelligence, the technology, and you only have those if you become president."
He has from September 15 to January 6 to raise the signatures ahead of the June elections and promises if he wins office, "I'm willing to do anything for my country."
"I worked 20 years of my life, to achieve what?" he mused, and said he made the decision to try to run for president before the success of Sound of Freedom. "I have to let go of everything I fought for 20 years, even though it's my passion to make movies, in order to give life to my country."
But what if Verástegui can't raise enough signatures by January 6 and his hopes of running for president are dashed before they could even begin?
"Well, then it was not up to me," he said philosophically.
If he does get the green light to run for president, his campaign faces an uphill battle from the outset as both major political parties have already chosen their candidates for the June elections. For the first time in history, two women will battle it out for the top job.
Former Mexico City Mayor Claudia Sheinbaum is currently leading in the polls as the candidate for Mexico's leading party, Morena. While Senator Xóchitl Gálvez will represent the center-right National Action Party.