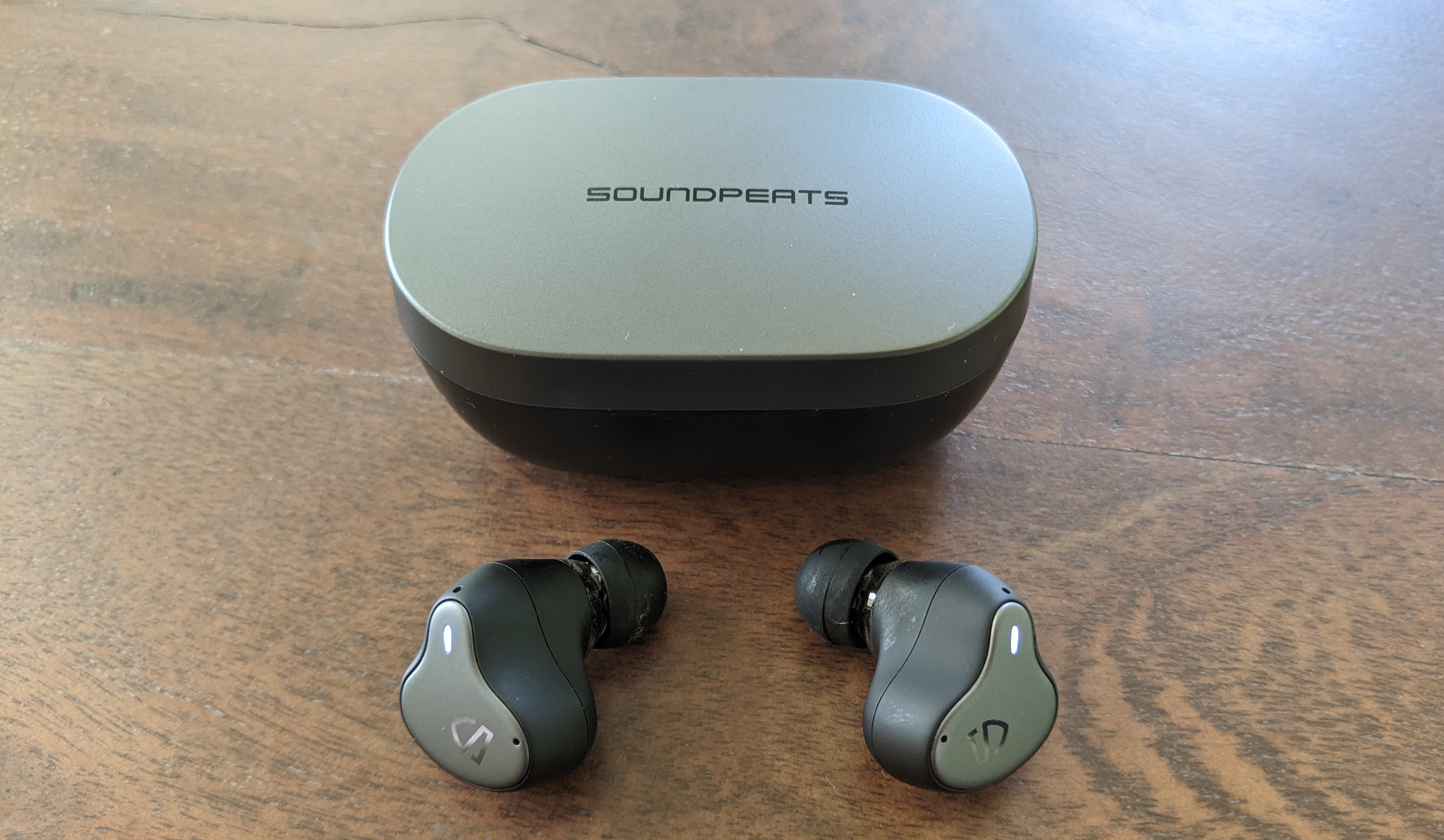 Not so long ago, wireless buds costing less than $100 either didn't exist or couldn't maintain a consistent connection. But wireless earbuds have come a long way in the last few years. And now there are a plethora of competent bargain (and higher end) buds to choose from.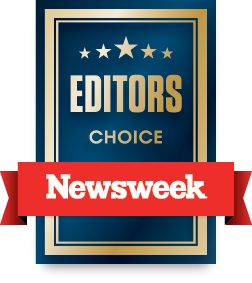 In fact, about 30 or 40 pairs adorn my testing shelves right now. So when I first learned about the existence of Soundpeats just a few weeks ago, I was skeptical. But their H1 model's features and specifications piqued my curiosity. And after trying them out, they actually wound up surprising me (in a good way).
A Tale of Two Drivers
The first thing that impressed me is that these $80 earbuds offer a dual-driver array. Whereas in most headphones, a single dynamic driver produces the entire sound range, hybrid systems like this relegate the dynamic driver to the low end (bass) and utilize one or more balanced armature drivers (or BAs) to more accurately reproduce higher frequencies (the treble). It's a feature I wouldn't expect to find in sub-$100 wireless earbuds; and in my subsequent research, I couldn't find any reputable multidriver wireless earbud alternatives near this price level.
Other Top Features and Specs
The next three unexpected, high-value features that jumped out at me were:
Bluetooth 5.2
Wireless charging case
40 hours of total playtime
Having the most current iteration of Bluetooth means good things for connection reliability, greater distances from the source player and extended battery time. I can vouch that the Soundpeats H1 never cut out on me at close range—only when I took over 25 steps from my phone and closed a door along the way.
I honestly haven't been tracking the playtime. They're supposed to get 10 hours of uptime on their own and three extra charges from the case. After a week of listening various amounts each day (and storing the earphones in the case in between sessions), the case still shows two out of four dots of power from its original charge. When I do eventually need to recharge, I'll enjoy not having to look for the little cable that was included, in lieu of just placing the case on a nearby wireless charging pad.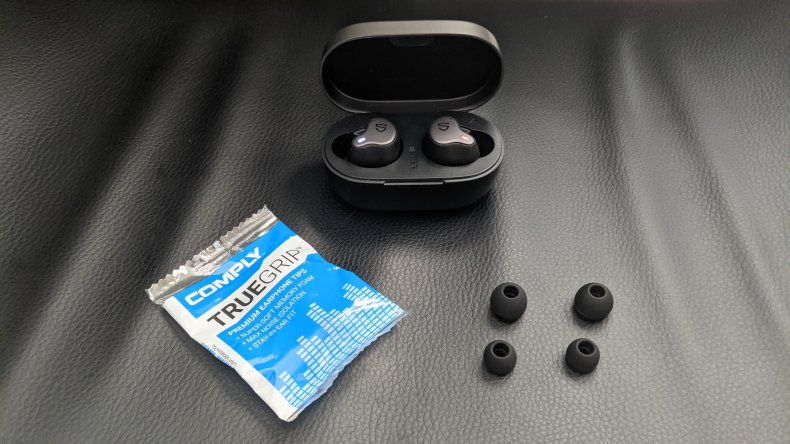 Let's Talk Sound Quality
Naturally, all that connectivity and battery power don't mean much if this gear can't actually convey decent audio quality. But this is where the H1 surprised me the most.
I tested in two phases. First, I listened to the Soundpeats H1 exclusively to see how they performed across a range of genres, including classic rock, hip-hop, jazz, classical, reggae and electronica. And then I compared them side by side with several other wireless earbuds priced from $40 to $300 on a smaller selection of songs with which I'm very familiar. I judged that there was a much more noticeable jump in quality from the less expensive models up to the Soundpeats H1 than from the Soundpeats H1 to the much more expensive ones.
Ultimately, I couldn't believe how precise the Soundpeats H1 were. Rather than rumbling or rambling in the lower registers, these earphones delivered deep, warm, well-defined bass. For example, 17 seconds into Metallica's "Enter Sandman," the H1 forged a distinction between the bass guitar and kick drum that jump in together. And similarly, 10 seconds into Lady Gaga's "Bad Romance," these buds (unlike many) maintain a noticeable separation between the bass and main synth sounds as that anthem builds into a fervor. Even on LL Cool J's classic "Going Back to Cali," the serious bass that drops 44 seconds in is heavy but well-contained.
I could similarly effuse about the merits of the BA drivers' providing clear vocals and tight instrumentation across the top end. But instead, I'll briefly mention that this particular product revealed tiny details I don't remember noticing before in songs I've heard often—such as how Ozzy smacks his lips right after the first kick drum beat in "Iron Man"; or how a woman in the background can be heard to say "Cake by the Ocean" seven seconds into that pop song.
On a sidenote, I was given positive feedback about phone call quality, ranging from good to excellent. Most folks were surprised when I told them I was talking on wireless earbuds.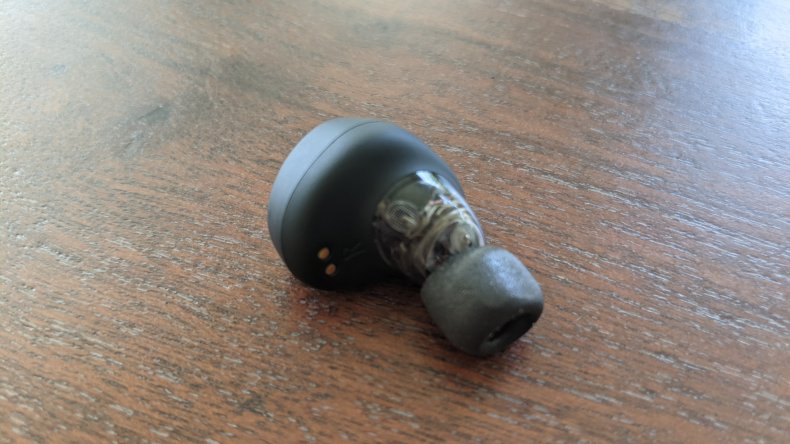 Intuitive Controls
It's no small feat that I found the earphones easy to control. Given I had already paired them and turned on Bluetooth, but whenever I took the buds out of the case, they turned on and then quickly connected with each other and my phone. I never had a problem using the gesture controls. I liked that one tap on either earbud adjusted the volume (left for down, right for up) because that makes it less likely that I'll accidentally pause the music (requiring a double-tap on either bud). Once I got the hang of all the tapping combos and how long to hold on either side to skip the track (left for back, right for forward), I enjoyed the convenience of not having to find or extract my phone to perform these actions.
To Comply or Not to Comply
The pre-installed medium silicone tip felt fine in my right ear, but I swapped in the large silicone tip to create a better seal in the left. After a gentle back-and-forth rocking to get them situated, I was privy to the aforementioned bass. I used that experience to benchmark and compare it against one with the Comply foam tips. Those required some more work: rolling the foam between the thumbs and forefingers each time before inserting, waiting a bit for them to expand and then working them into the ear a little more. Although I enjoyed the increased passive noise cancellation, I decided to go back to the H1's silicone tips for general ease of use. But if I wanted to shut out external noise while traveling, I'd definitely reach for the foam.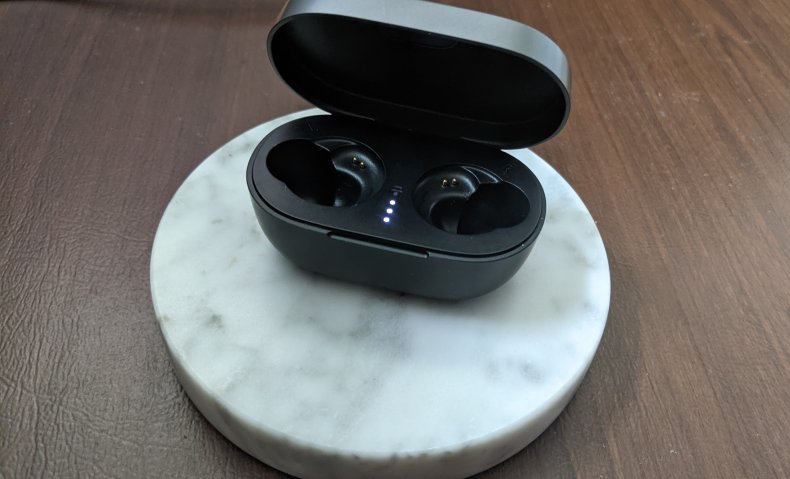 Mirroring and Game Mode
The Soundpeats H1 can be split up and paired separately (each in mono) to two different sources, and it's interesting that when used in stereo (which I did exclusively), one earbud paired to the source and mirrored the signal to the other earbud. I didn't notice a significant lag between the earbuds while listening to music or watching movies in regular mode. I activated Game Mode, which supposedly decreases the lag time even further to an industry-leading 60 milliseconds. I didn't notice a difference between the two modes, though I'm admittedly not an avid gamer.
Should You Buy Soundpeats H1?
Having a transparency mode would be nice, but I wouldn't want to risk the tradeoff in price. And I can live without active noise cancellation, which tends to accompany that feature, decrease battery life and degrade sound quality.
Soundpeats also offers an H1 Premium model that allows users to accept or reject calls using voice commands. But for me that's not enough of a reason to upgrade and spend more, especially when triple tapping the regular H1's right earbud activates a fully fledged Amazon or Google virtual assistant.
Bottom line: For the price, these wireless earbuds provide unsurpassed clarity and detail in music, movie and game audio, making them super easy to recommend.
Buy at Amazon.
Newsweek may earn a commission from links on this page, but we only recommend products we back. We participate in various affiliate marketing programs, which means we may get paid commissions on editorially chosen products purchased through our links to retailer sites.