South Africa's ANC Targets Corruption, Infighting to Salvage Support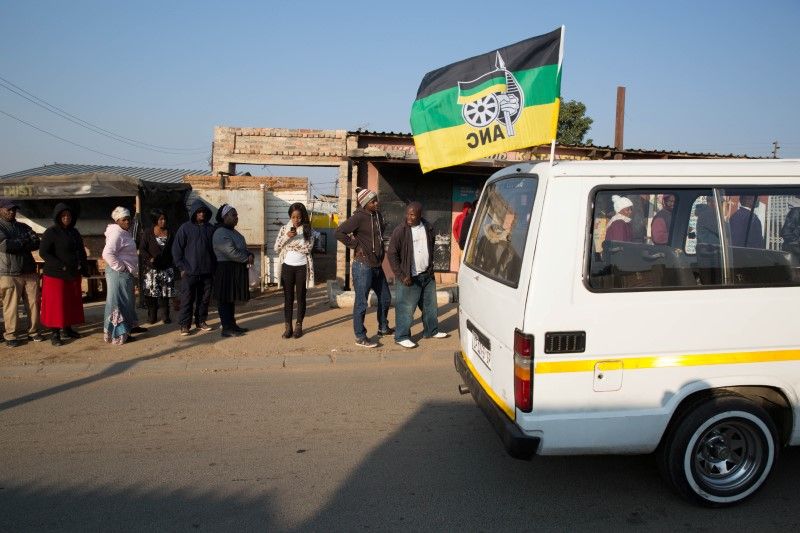 South Africa's ruling African National Congress (ANC) needs to end corruption and party divisions, and deliver on promises to tackle poverty if it is to halt a decline in voter support, a party policy document said on Sunday.
The report was produced by the party leadership and comes as the ANC prepares to select a successor to President Jacob Zuma this year. It warned that the party which has ruled virtually unopposed since the end of apartheid in 1994 now faced "declining fortunes."
The ANC has been under severe pressure to respond with new policies after municipal elections last year when it lost its grip on cities including Pretoria and Johannesburg.
More than two decades after the ANC ended white-minority rule with Nelson Mandela at its helm, inequality festers. Black people make up 80 percent of the 54 million population, yet the lion's share of the economy in terms of ownership of land and companies remains in the hands of white people, who account for around 8 percent of the population.
The ruling party has also been damaged by deep discontent over high unemployment as well as scandals surrounding Zuma, who was alleged in a government corruption report last year to have granted undue influence over his cabinet and state companies to a business family. Zuma has denied the allegations and is set to challenge the report in court.
"The ANC faces declining fortunes," said the strategy paper, released publicly ahead of a policy conference on June 30. "Internal squabbles, money politics, corruption and poor performance in government all conspire to undermine its legitimacy in the eyes of the broader public."
While the discussion paper talked broadly about reducing unemployment and inequality, as well as ending government corruption and improving economic growth, it contained few specific policies.
Zuma called this month for the constitution to be changed so white-owned land could be redistributed to black South Africans without compensation for owners, a measure long-proposed by the left wing Economic Freedom Fighters (EFF), and supported by many poor voters.
The ANC, which lost some votes in last year's municipal elections to the EFF, has not made this an official party policy in a sign of divisions within the party.
'Insidious Infighting'
In the policy documents the ANC acknowledged that it was in the grip of the "insidious impact of" factional fighting.
Zuma's term as ANC leader ends at the end of the year, and the party will hold a conference then to chose a new leader. The party's constitution does not bar him from standing for a third term, but he has repeatedly said he will not.
Analysts say jockeying between factions backing rival candidates to replace Zuma as party leader has seen the ANC government take its eye off much-needed policy implementation.
They say this has played a role in the country is teetering on the brink of a credit downgrade, with all three major rating agencies citing political uncertainty and low economic growth as major risks.
Zuma is widely expected to back outgoing African Union chairwoman, and his ex-wife, Nkosazana Dlamini-Zuma for the leadership of the party and ultimately the country, while some in the party regard Deputy President Cyril Ramaphosa as the rightful heir.
"There are a number of competing discourses inside the ANC, with the more populist message coming from Zuma and his supporters, versus a centrist group that sees the constitution as the final arbiter," said director of Political Futures Daniel Silke.
"These voices will get louder as we move closer to succession, and will almost certainly lead to serious factional schisms by year-end."