South Africa in Focus at Johannesburg Photo Festival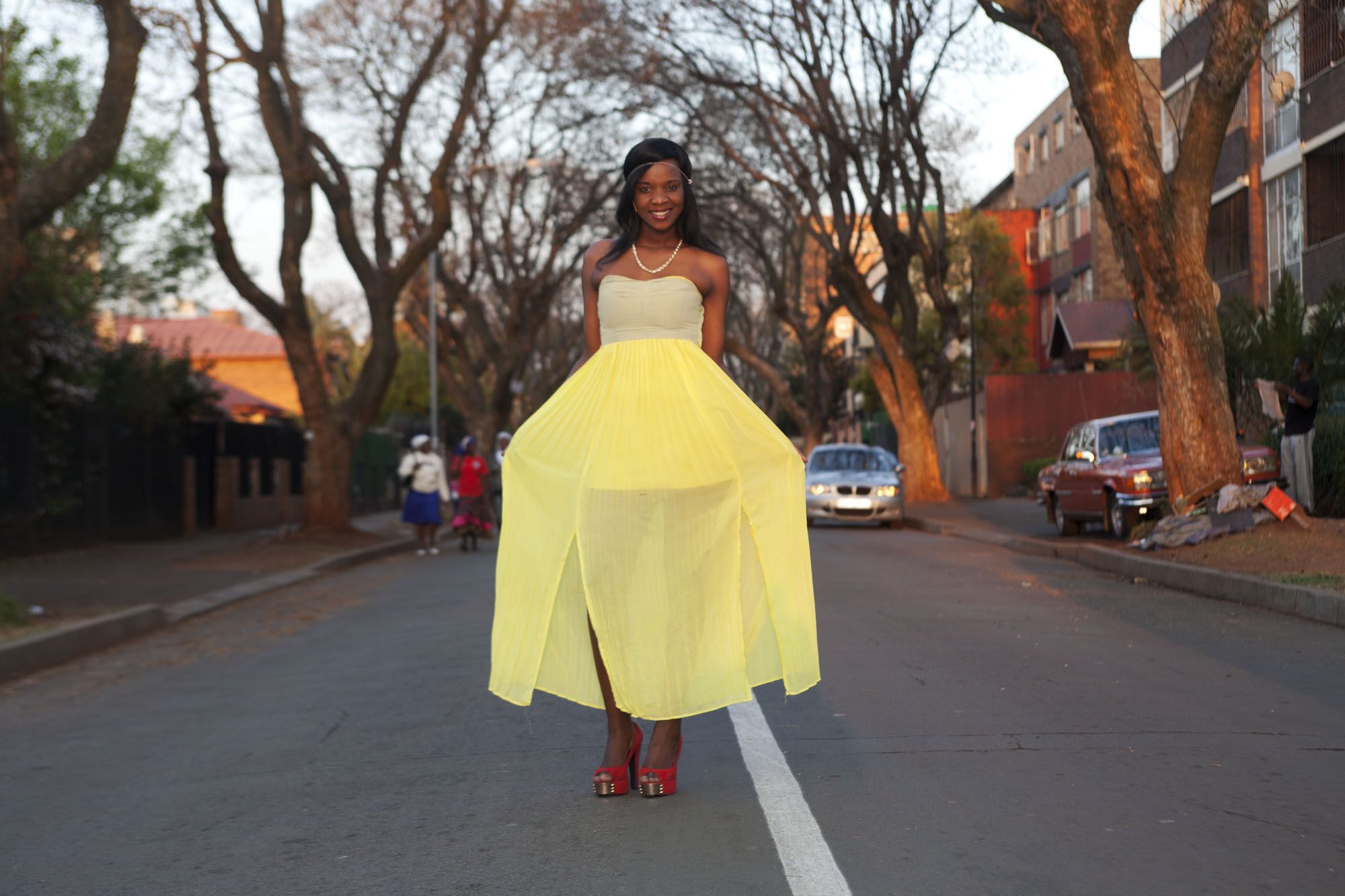 Dahlia Maubane, a 26-year-old South African photographer, started photographing street hairstylists in Johannesburg two years ago when she was drawn to the variety of hairstyles they created, and their calls to customers of "Woza, sisi!" (Come here, sister!).
Over time she learned how the women organize themselves in their informal market space in Johannesburg's city center, seated on chairs with cardboard signs depicting the styles they can create. She discovered the ways they helped each other, and heard about the changes they'd seen take place in the sprawling city over the past 20 years.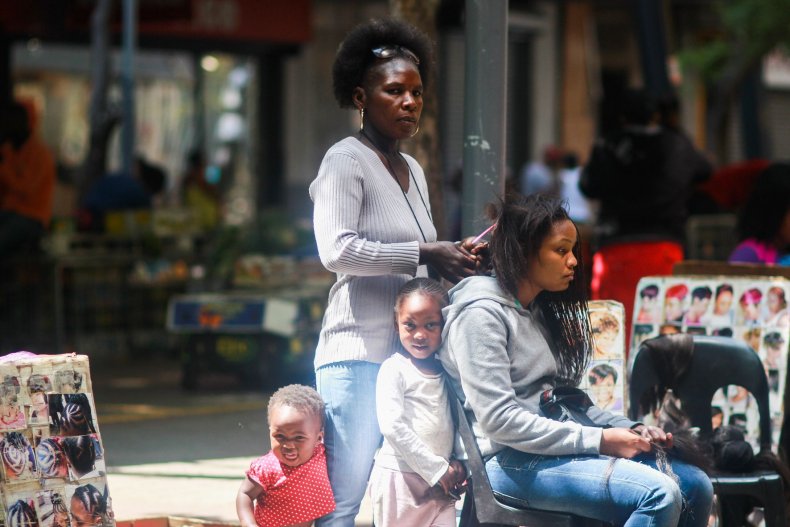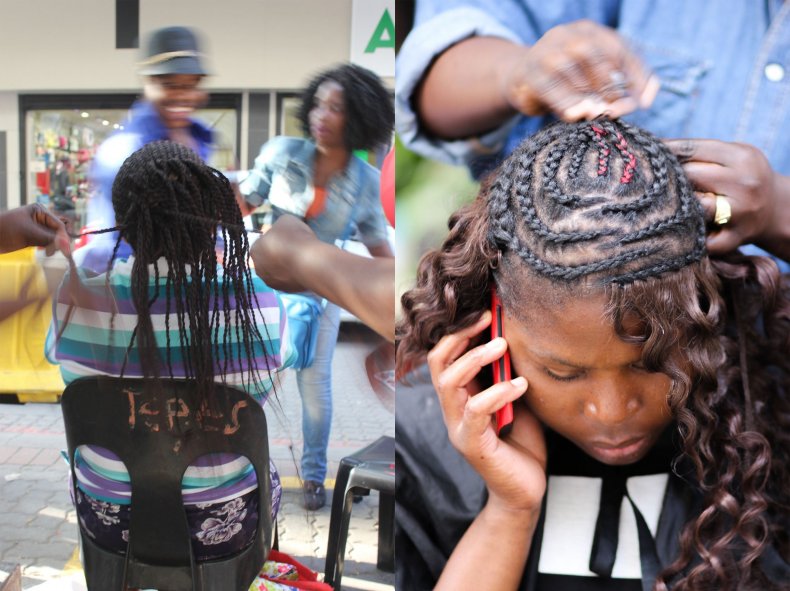 "They share skills, they work with each other," Maubane says. "They've seen [Johannesburg] evolve." Maubane recently exhibited her colorful photographs of the hairstylists as part of a monthlong photo festival called the Joburg Photo Umbrella, which runs through November 30.
Community engagement like this is what the festival's organizer, the Market Photo Workshop, a Johannesburg-based photography training institute, hoped would occur. Featuring talks, workshops, public exhibitions and a reality-TV-style "photomarathon," the Joburg Photo Umbrella is a showcase of images from all corners of South Africa's largest city.
"For us, that breadth was very important," says John Fleetwood, head of the Market Photo Workshop. "Photography needs to be understood in its multiplicity rather than wanting to close it down into a gallery or just in a publication."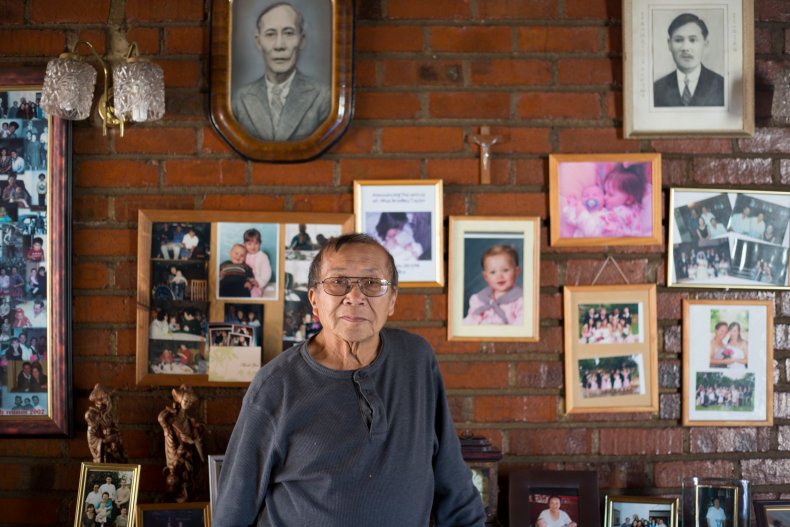 The festival's focus has also been on bringing around 30 projects by more than 150 Johannesburg-based photographers to communities that might otherwise not be exposed to the genre. Maubane's project, which she called "Woza Sisi!," and "Sunday Best" by Antony Kaminju, exhibited in a public library, are two examples of the 10 "Open Call" projects showcasing new photographers and exhibited in public venues around the city.
Other Open Call projects for the festival include portraits of suburban dog walkers, a project documenting the sand dumps created as a byproduct of mining and a comic book-style series of photos called "Up Jump the Boogie With Nunchucks of Fury."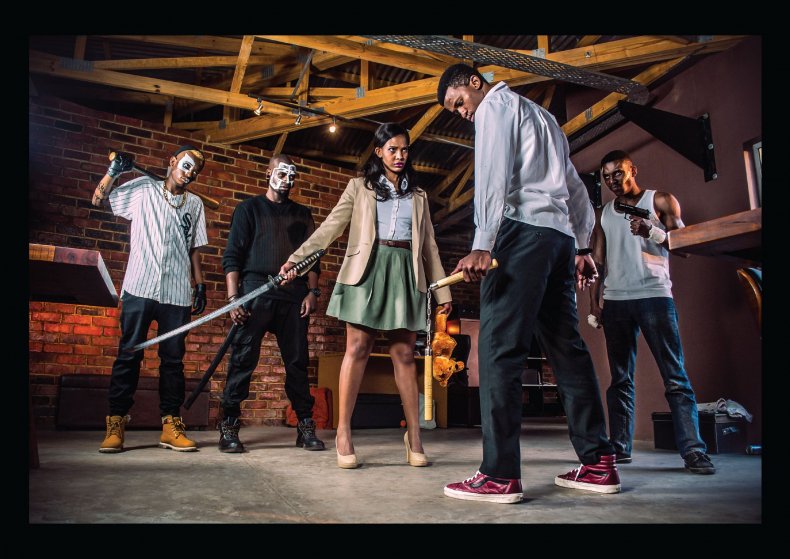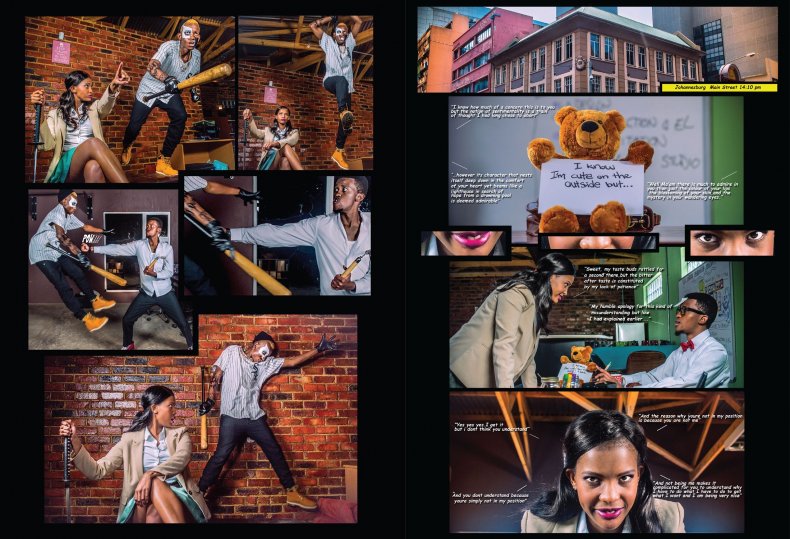 Johannesburg, a city of around 4.4 million people, is a microcosm of South Africa, with immigrants and South Africans living in close quarters, and wealth and poverty only steps apart. Development and gentrification continue against a backdrop of high crime rates.
For Kaminju, a photographer from Kenya, the city's energy gives him an "oomph of creativity," which he put to use in his portraits of people parading through their city on Sunday, decked out in their best formal attire. "Jozi is vibrant, this body of work tells us that it's not always ugly," Kaminju says. "If these women are walking with their gold earrings, nice shoes, it tells you that life can be lived in Jo'burg."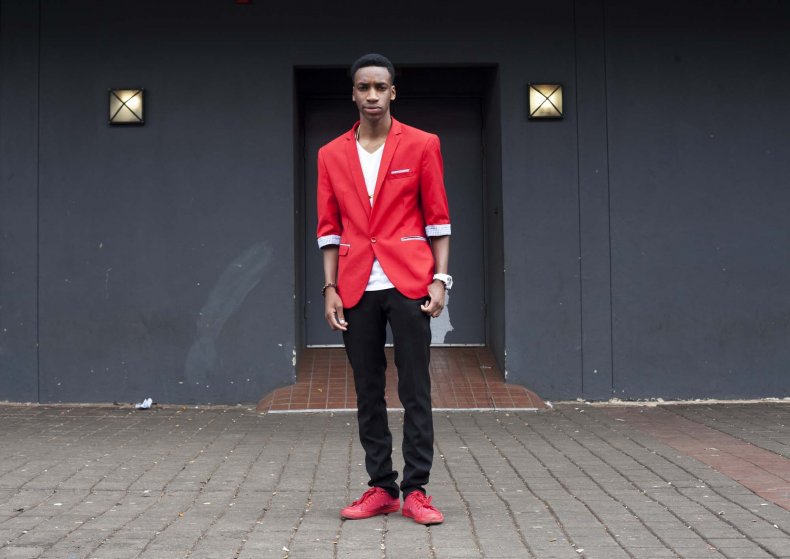 Documentary photography and photojournalism have played an important part in South Africa's history, helping to capture the daily realities of the brutal racial segregation of apartheid, not only for the outside world but also for the many South Africans who were unaware of the degrading circumstances under which many of their fellow citizens lived.
The Market Photo Workshop was founded in 1989 by David Goldblatt, one of South Africa's famed apartheid-era photographers. Goldblatt's goal with the school was to help those interested in the craft who couldn't access training at whites-only institutions or universities.
The Joburg Photo Umbrella is supported by the British Council in collaboration with the Brighton Photo Biennial, an international photography festival organized by the U.K. organization Photoworks. The festival's main commission is a collaboration between British photographer Kalpesh Lathigra and South African Thabiso Sekgala, which they worked on for nine months. The work was shown in Brighton in October and co-curated by Fleetwood and U.K.-based curator Celia Davies.
Fleetwood says the pairing of Lathigra and Sekgala, who photographed Indian communities in locations in Brighton and Pretoria, was one of the most intense and collaborative he has seen in his work as a curator. "This was really the first project where I can truly say the status of collaboration, or collaborative intention, was achieved."
Titled "A Return to Elsewhere," the work by the two photographers was exhibited in a slick indoor lightbox exhibition in Brighton before being shown outside in a public square in Johannesburg this month.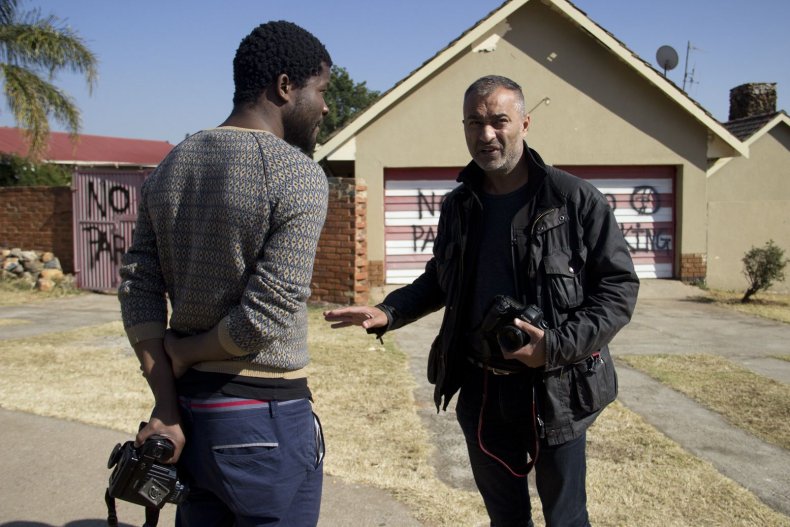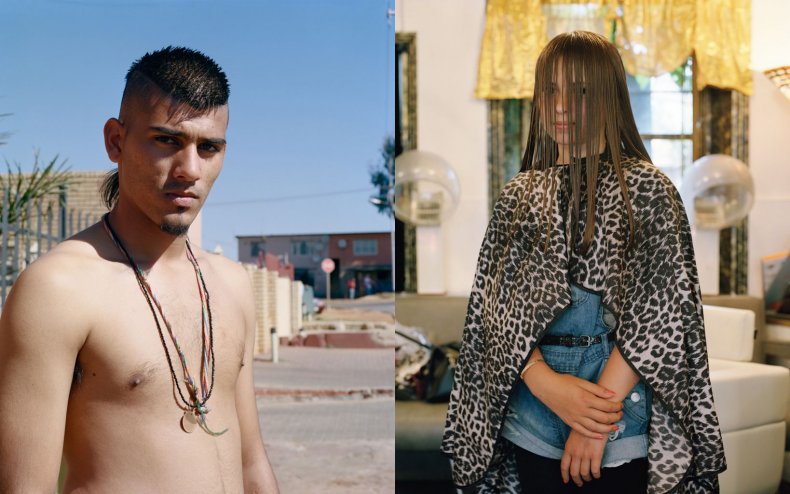 But the fruitfulness of the collaboration was overshadowed by the news in October that Sekgala, 33, had committed suicide, the same month that "A Return to Elsewhere" was exhibited in Brighton.
Fleetwood says Sekgala's death came as an "incredible shock."
Writing after the news of Sekgala's death, journalist Sean O'Toole said that the young photographer had much weighing on him, including the recent death of his grandmother, who had raised him. There were also the challenges of being a photographer in South Africa: "the subtle vagaries of a white-dominated art market and, perhaps the most pressing, the economic difficulties of forging a career as a photographer in a country where this vivid and democratic medium is not widely collected," O'Toole writes.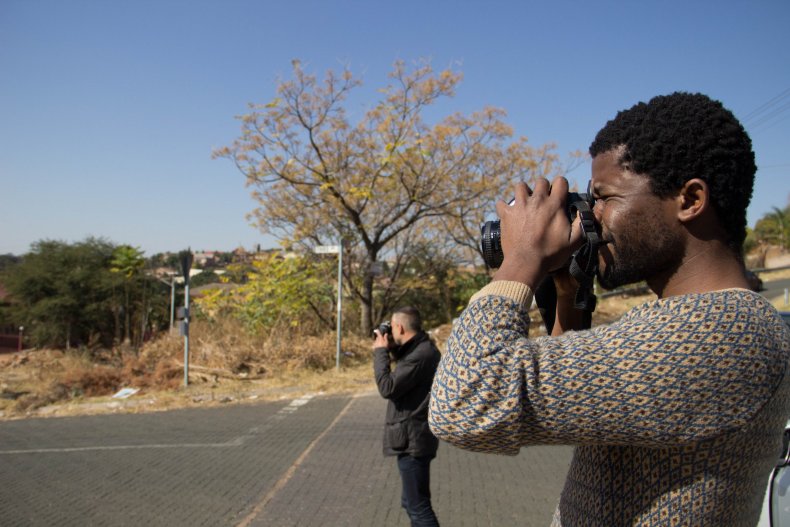 South African photographers are still dealing with the remnants of the country's long run of apartheid, although now documentary photography has been joined by different, experimental styles of images, including narrative photography, photo series and multimedia. Still, there's no getting away from the country's past policies.
"I think one can't be a photographer in South Africa without taking care that you are aware of those histories," Fleetwood said.
But, he adds, facing a troubled past is not a uniquely South African problem. "As many challenges there might be conceptually, I think one should look at them as opportunities," says Fleetwood. "Photographers do that."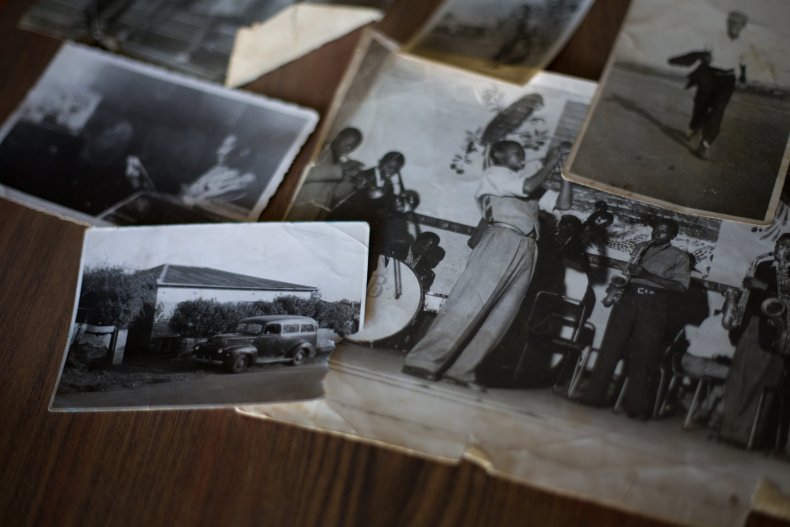 Correction: This article originally misspelled the last name of Eve Tagny in a photo credit.