South Africa Grapples With Resurgence of Xenophobic Attacks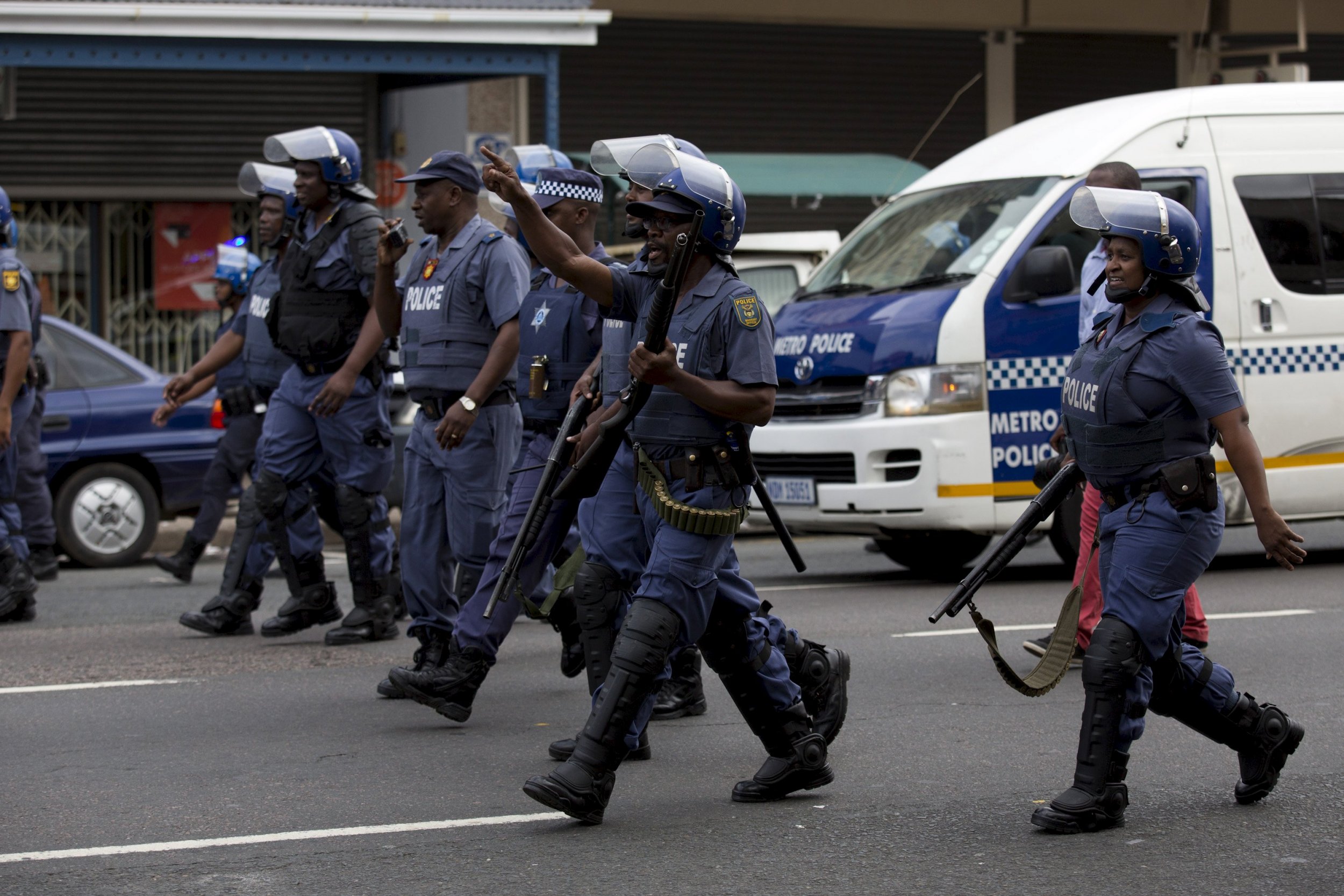 At least five people have been killed and dozens arrested in South Africa in recent days as residents of the coastal city of Durban began attacking foreigners, their homes and places of business.
The anti-foreigner violence in the busy port city, which continued on Tuesday, is reminiscent of the 2008 attacks in Johannesburg that killed more than 60 people and displaced thousands. Since Friday, police have clashed with protesters, and stores owned by foreign nationals have been targeted and looted, the BBC reports. A teenager was among those killed since the fighting started two weeks ago, the South African Police Service said Wednesday.
Disgruntled locals have harassed and attacked foreigners living in Durban, saying they cause social and economic harm and should leave, South African newspaper The Mail and Guardian reports. According to Bloomberg, police say the attacks began after a group of Durban residents accused a supermarket of replacing its workers with foreigners.
In recent weeks, the violence has forced foreigners living in the towns of Isipingo, Chatsworth, Umlazi, KwaMashu and Sydenham, all near Durban, out of their homes. Many have ended up in transit camps set up by nonprofit groups. Between 1,272 and 1,472 people are now living in three camps, Police Minister Nkosinathi Nhleko told reporters.
A peace march will be led by religious and political leaders to Durban City Hall on Thursday "as an expression of commitment to ending this kind of violence and to protecting lives," Thami Ngwenya, a spokesperson for the KwaZulu-Natal government, said Tuesday.
Around 200 people on Tuesday stoned migrant-owned shops in Durban, the South African Times Live reports. Migrants have started arming themselves with machetes, axes and sticks to defend themselves. Reuters reported that some foreign business owners in Johannesburg closed their doors for fear the attacks would spread to the city.
The South African government says it has assured diplomats from Nigeria, Somalia, Malawi, Mozambique and Ethiopia, where many of the migrants come from, that their citizens will remain safe.
Alleged comments made by Zulu King Goodwill Zwelithini, who was reported to have said that migrants should "should pack their bags" and leave, have also been blamed for the attacks, but Zwelithini says his remarks were taken out of context.
South African President Jacob Zuma has assigned a team of three ministers to end the attacks and has strongly condemned the violence. But he is refusing to call the attacks xenophobic because the violence is not directed at all nationalities. The South African Human Rights Commission is reportedly investigating the president's son, Edward, for remarks he made about immigrants. Edward Zuma told local news outlet News24 on Tuesday that he condemned the attacks but was sticking to his view that South Africa is a "ticking time bomb" of foreigners seeking to take control of the country.
South Africa's police minister echoed the president's comments during a press conference on Wednesday.
"I can tell you now that this so-called xenophobia is not that. It's more 'Afrophobia.' It's ideologically driven. But we are on top of it. We are in control and are handling the situation well," Police Minister Nkosinathi Nhleko said during a briefing on the attacks.
"It is African-on-African. It is not on other nationalities," said Nhleko.