South African Court Rules Against $76 Billion Russian Nuclear Plan in Blow for President Zuma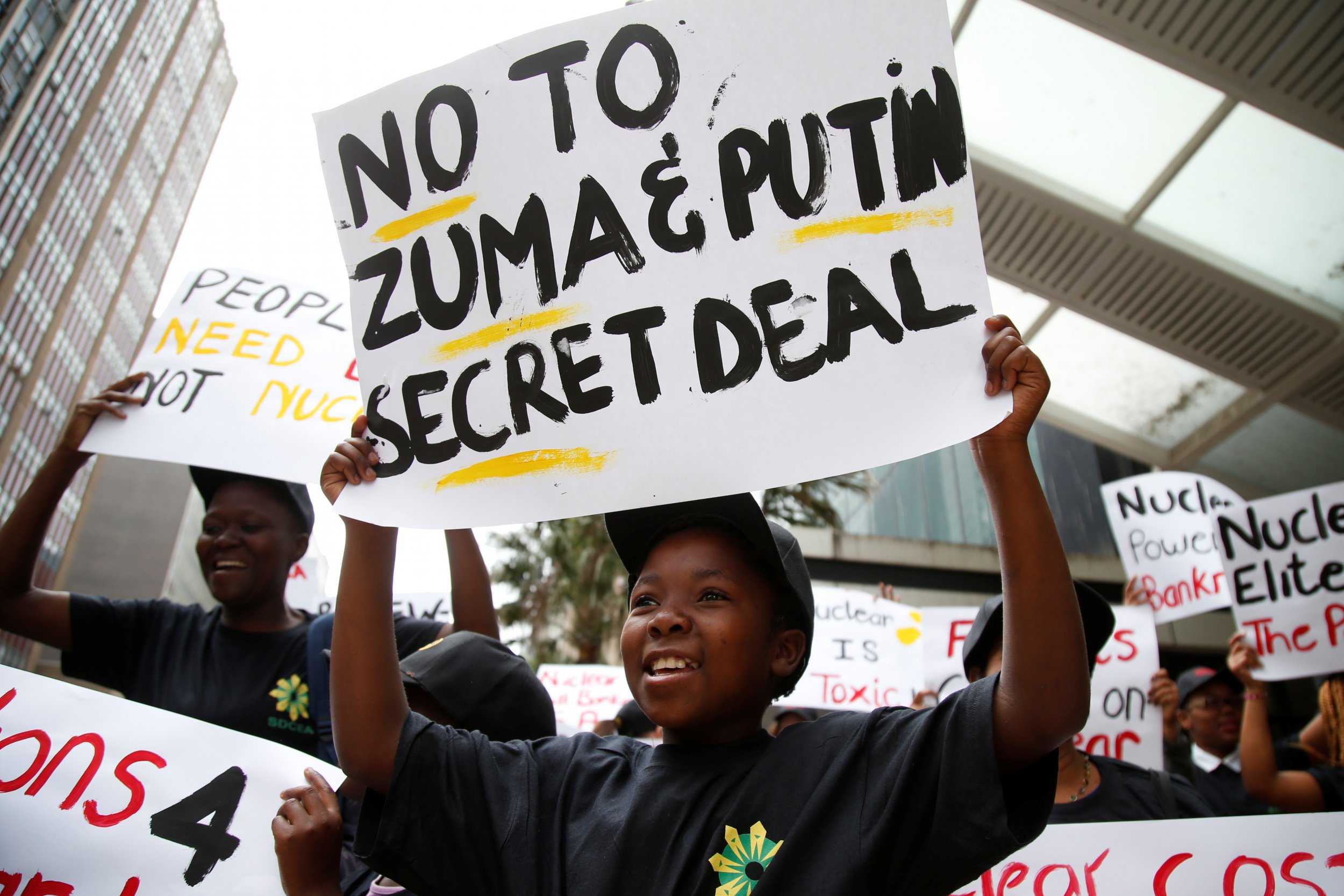 A South African court has ruled that a deal signed with Russia to build a set of nuclear power plants at an estimated cost of 1 trillion rand ($76 billion) is unlawful, a significant setback to a deal personally championed by President Jacob Zuma.
The country's former energy minister signed a pre-agreement with Russian state nuclear firm Rosatom in 2014 for the procurement of 9,600 megawatts (MW) of nuclear energy in South Africa. The agreement was not put before South Africa's Parliament for approval.
Zuma has backed plans to expand South Africa's nuclear capacity. The country is currently home to Africa's only nuclear reactor but is heavily reliant on coal-fired plants for its energy.
A judge at the High Court in Cape Town ruled Wednesday that the decision not to put the Russian deal before Parliament for approval was "unconstitutional and unlawful and it is reviewed and set aside," Reuters reported.
South Africa's former energy minister, Tina Joemat-Pettersson, tabled the agreement in Parliament in 2015, but it was not subject to debate.
The court also overturned nuclear agreements signed by the government with vendor countries—an agreement with the United States signed in 2009 and one with South Korea signed in 2010, South Africa's Mail & Guardian reported.
The legal challenge to the Russian agreement was brought by environmental group Earthlife Africa and the Southern African Faith Communities' Environment Institute (SAFCEI) in October 2015.
Liz McDaid of SAFCEI said that the judgement was proof that "everybody in South Africa needs to know what's going on" if the government was going to spend 1 trillion rand on the nuclear project. "If the government wants to push through any other deals, they have to come through Parliament and be done properly. Any idea that we might go nuclear is off the table right now," said McDaid, according to South African broadcaster eNCA.
"Justice has prevailed," SAFCEI tweeted after the ruling was given.
The South African energy department has not commented on the ruling and not stated whether it intends to appeal.
Zuma has expressed public backing for expanding South Africa's nuclear capacity, which currently only meets 3 percent of the country's energy needs, according to the International Energy Association. The president said in his 2016 state of the nation address that the government would procure nuclear energy "on a scale and pace that the country can afford." But the plans have been opposed by environmental and civil society groups, while critics have questioned whether South Africa's ailing economy could afford the deal.
Opposition to the nuclear deal was reportedly a factor in Zuma's decision to fire Nhlanhla Nene, a former finance minister, in December 2015, replacing him with an unknown backbencher, David van Rooyen, who lasted less than a week in post before he was replaced with Gordhan, the immediate ex-finance minister. Gordhan was also cool on the nuclear deal, saying that the treasury would only spend money it had under his administration.
Zuma removed Gordhan in a massive cabinet reshuffle in March to widespread criticism, even from senior members of his own party, the African National Congress. The reshuffle was followed by mass protests by opposition activists, calling for Zuma to stand down.
South Africa's government had asked state power utility Eskom to head up the nuclear energy procurement. Eskom did not comment on the court ruling.