Watch: South African MPs Brawl With Security Forces After Interrupting Zuma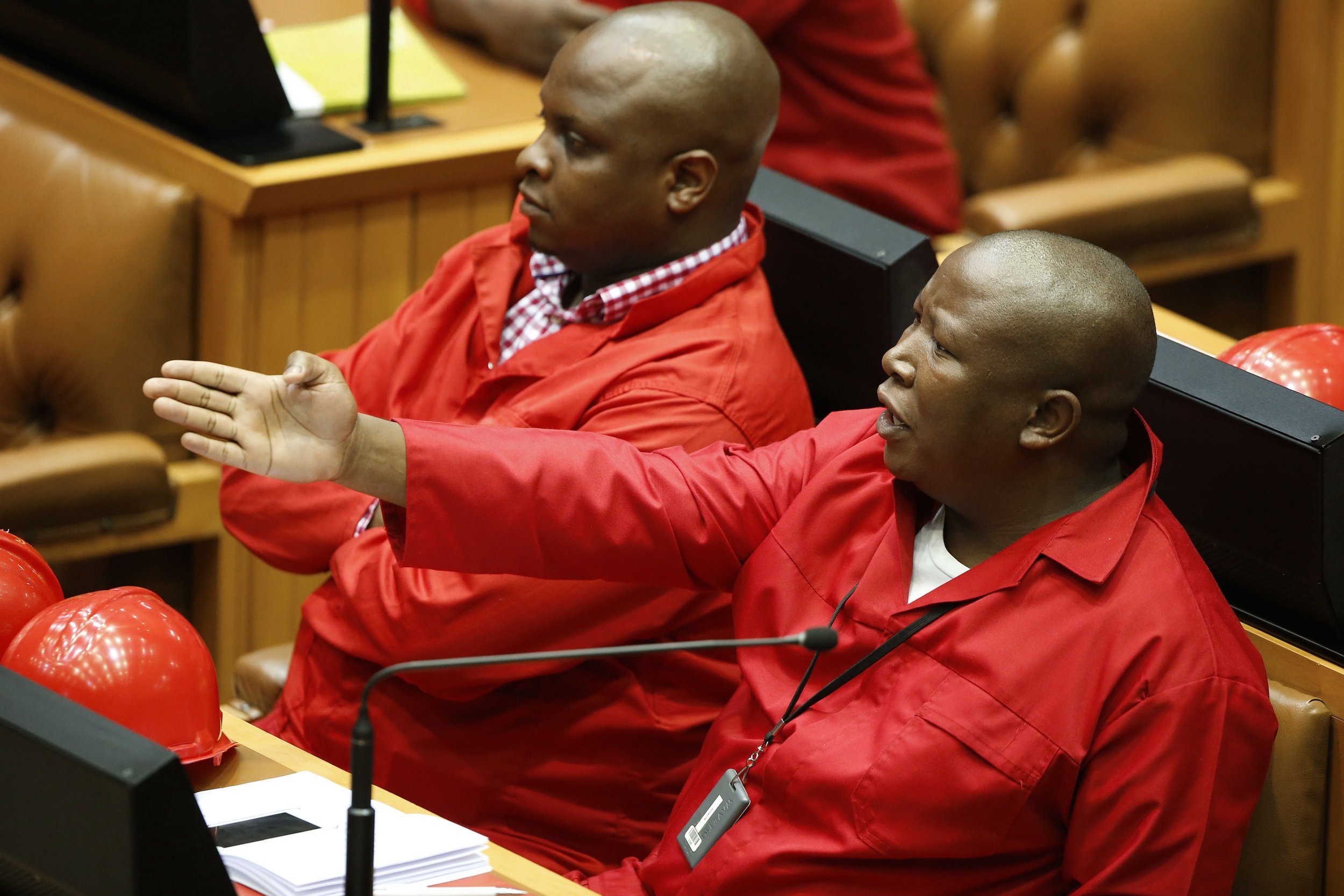 South Africa's parliament witnessed a brawl between security forces and leftwing MPs intent on stopping President Jacob Zuma speaking.
Members of the Economic Freedom Fighters (EFF)—the country's third-biggest party led by firebrand politician Julius Malema—disrupted Zuma as he attempted to address parliament on Tuesday. After asking the EFF members to quieten down, the speaker of the house Baleka Mbete ordered security forces to eject the MPs, who were dressed in their trademark red boiler suits and hard hats. An ugly fight ensued, with EFF members throwing water bottles and a hard hat at the guards.
Malema, a former leader of the youth wing of Zuma's African National Congress (ANC), vowed to "physically stop" Zuma from addressing parliament again following a ruling by South Africa's highest court in March that the president had failed to uphold the constitution. The ruling was in relation to Zuma's failure to heed a 2014 report by Public Protector Thuli Madonsela, which found that the president had unduly benefited from the use of around 246 million rand ($23 million at the time) in public funds to upgrade his homestead at Nkandla, in South Africa's coastal KwaZulu-Natal province.
Speaking outside the parliament building in Cape Town, Malema said that the party would continue to disrupt parliamentary proceedings until Zuma resigned. "Every time he comes here, the same thing will happen," said Malema, according to South African news site Times Live.
Malema and the EFF are no strangers to controversy. The EFF leader promised to remove the ANC government "through the barrel of a gun" if the governing party attempted to rig elections. The EFF have several times disrupted parliament in 2016, with Tuesday's chaotic events being the second parliamentary brawl in May alone.
Zuma's position as president and leader of the ANC has come under scrutiny following a string of scandals. Besides the Nkandla case, South Africa's deputy finance minister Mcebisi Jonas alleged in March that he had been offered the position of finance minister by the Guptas, a wealthy business family with close links to immediate relatives of Zuma. The Guptas have denied Jonas's claim.
South Africa's High Court also ruled in April that Zuma should face corruption charges in relation to a 1999 arms deal negotiated when Zuma was vice-president. The country's National Prosecuting Authority now has to decide whether to take up the case against Zuma. Despite the controversies surrounding him, the ANC has continued to give Zuma its backing and says it is not looking to replace him as party leader.