Pastor Who Fed Snakes to Followers 'Converted' by Nigerian Celebrity Preacher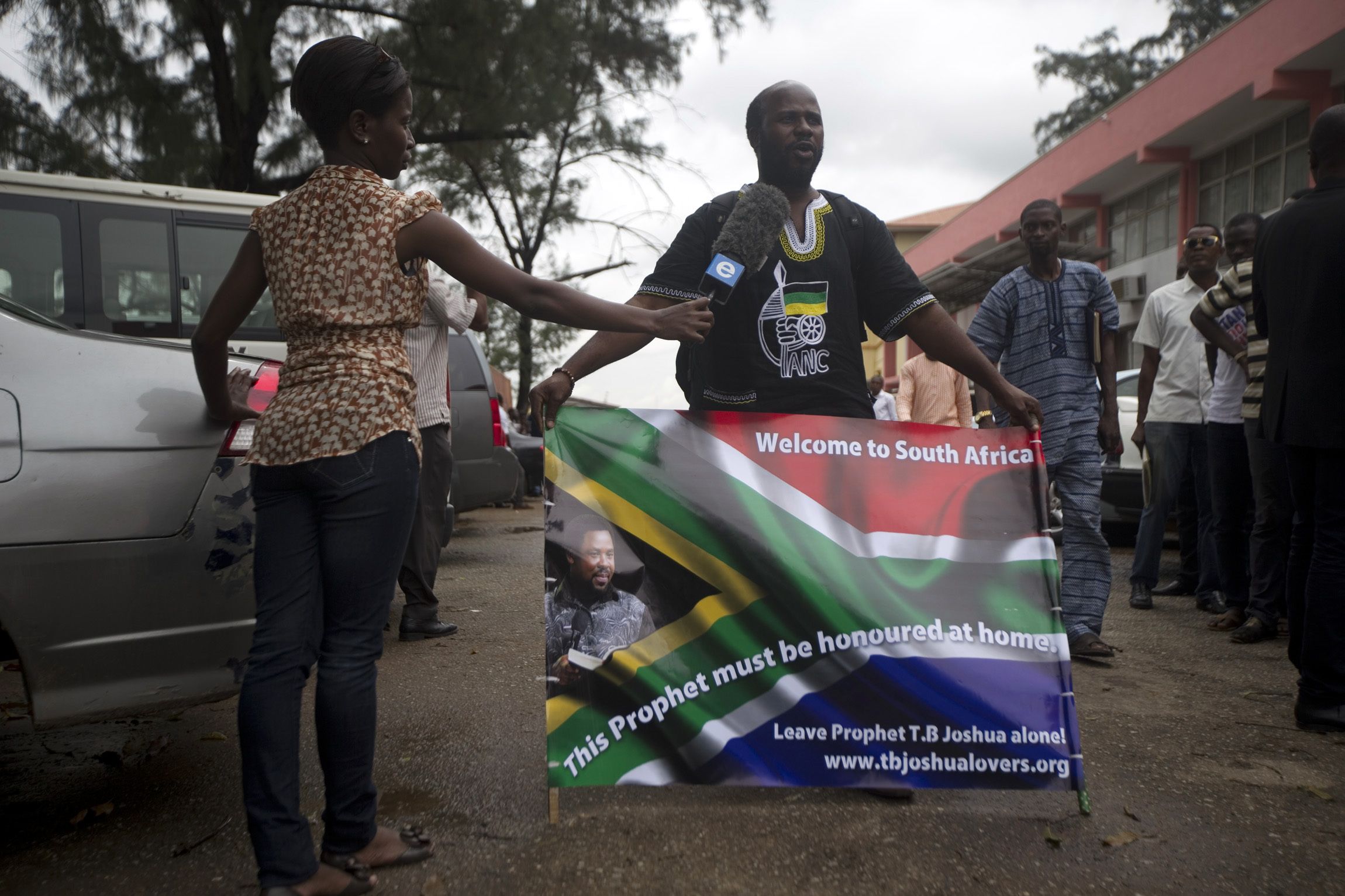 A South African preacher who sparked outrage by allegedly forcing his followers to eat live snakes says that he has been converted from the practice by listening to T.B. Joshua, one of Nigeria's most popular pastors.
Penuel Mnguni, who calls himself the general overseer of End Times Disciples Ministries in a township around 30 miles north of South Africa's capital Pretoria, attended a service of Joshua's Synagogue Church of All Nations (SCOAN) in Lagos, Nigeria, on Sunday.
Mnguni gave a testimony at the service, claiming that he had been healed from his former ways by listening to the self-styled Nigerian prophet.
The South African preacher said that he began the practice of feeding live snakes to his followers after misinterpreting several passages in the Bible, one of which states that believers shall "take up serpents, and if they drink any deadly thing, it shall not hurt them" (Mark 16:16-18).
Mnguni also admitted to feeding live rats and underpants to congregants and driving over members of his church with a car.
South African police arrested Mnguni in 2015 following a complaint from the Society for the Prevention of Cruelty to Animals (SCPA), but the case was later dropped due to insufficient evidence.
In his testimony at the Nigerian church, Mnguni said: "Listening to Prophet T.B. Joshua, I came to realize that what I was doing is not scriptural and I came to realize that it's an attack. I came to see the man of God, Prophet T.B. Joshua, to deliver me."
Joshua himself tweeted in recognition of Mnguni's testimony, stating that the South African had come to realize that the practice was "not biblical."
Mnguni is one of several South African church leaders using controversial practices with their congregants. Lesego Daniel, the leader of Rabboni Ministries in Pretoria, has previously instructed his followers to drink petrol; another pastor, Lethebo Rabalago, was condemned by mainstream churches for spraying worshippers with pesticide in purported healing services.
Joshua is a controversial figure himself. The Nigerian pastor, estimated to be worth between $10-15 million by Forbes in 2011, has faced legal battles since a guesthouse belonging to the SCOAN in Lagos collapsed in 2014, killing at least 115 people, mostly South Africans who had traveled to see the preacher. Joshua's trial for criminal negligence has faced multiple delays.
The pastor was also left red-faced after publicly predicting a Hillary Clinton victory in the 2016 U.S. presidential election. Joshua predicted that the race would be won by a "woman," without naming Clinton—a forecast which proved to be incorrect.