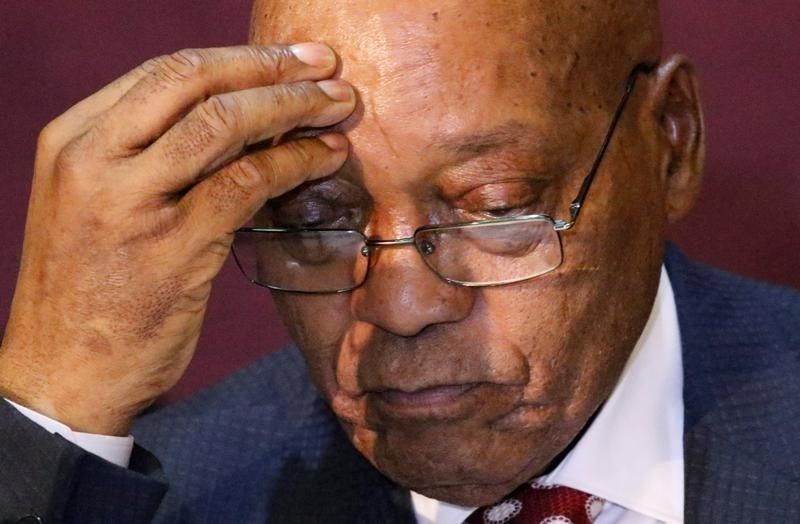 In his first public appearance since investigators documented signs of government corruption, South African President Jacob Zuma told supporters on Saturday he wasn't scared to go to prison because he had been jailed during apartheid.
The Public Protector, an anti-graft watchdog, said in a report last week that a judge should investigate whether Zuma, cabinet members and some state companies acted improperly in their dealings with wealthy Indian businessmen.
The Gupta brothers, Ajay, Atul and Rajesh, who are friends of Zuma and work with his son, have been accused of influencing cabinet appointments and securing sweetheart government tenders. Zuma and the Guptas deny any wrongdoing.
Thousands of protesters called for the president to resign after the 355-page probe was released and some opposition politicians said Zuma should face criminal charges.
"I'm not afraid of jail. I've been to jail during the struggle," Zuma told a cheering crowd in his home Kwa-Zulu Natal province. Zuma spent 10 years as a political prisoner on Robben Island with Nelson Mandela during white-minority rule.
"There's no longer any space for democratic debate. The only space there is for court arguments by lawyers. That's not democracy," Zuma added.
The Public Protector's investigation stopped short of saying crimes had been committed, but recommended a judge take the investigation forward.
In one case, the report cited "extraordinary and unprecedented" government intervention in a private business dispute involving Zuma's friends and his son.
This, it said, may have created "a possible conflict of interest between the President as head of state and his private interest as a friend and father."
Zuma faces a no-confidence vote in parliament next week. He has survived two similar votes this year, backed by the support of his African National Congress (ANC) which controls about two-thirds of the assembly.
Since taking office in 2009, Zuma, 74, has overcome several corruption scandals with the backing of top echelons of the ANC.