South Africa President Zuma Wins Backing of His Party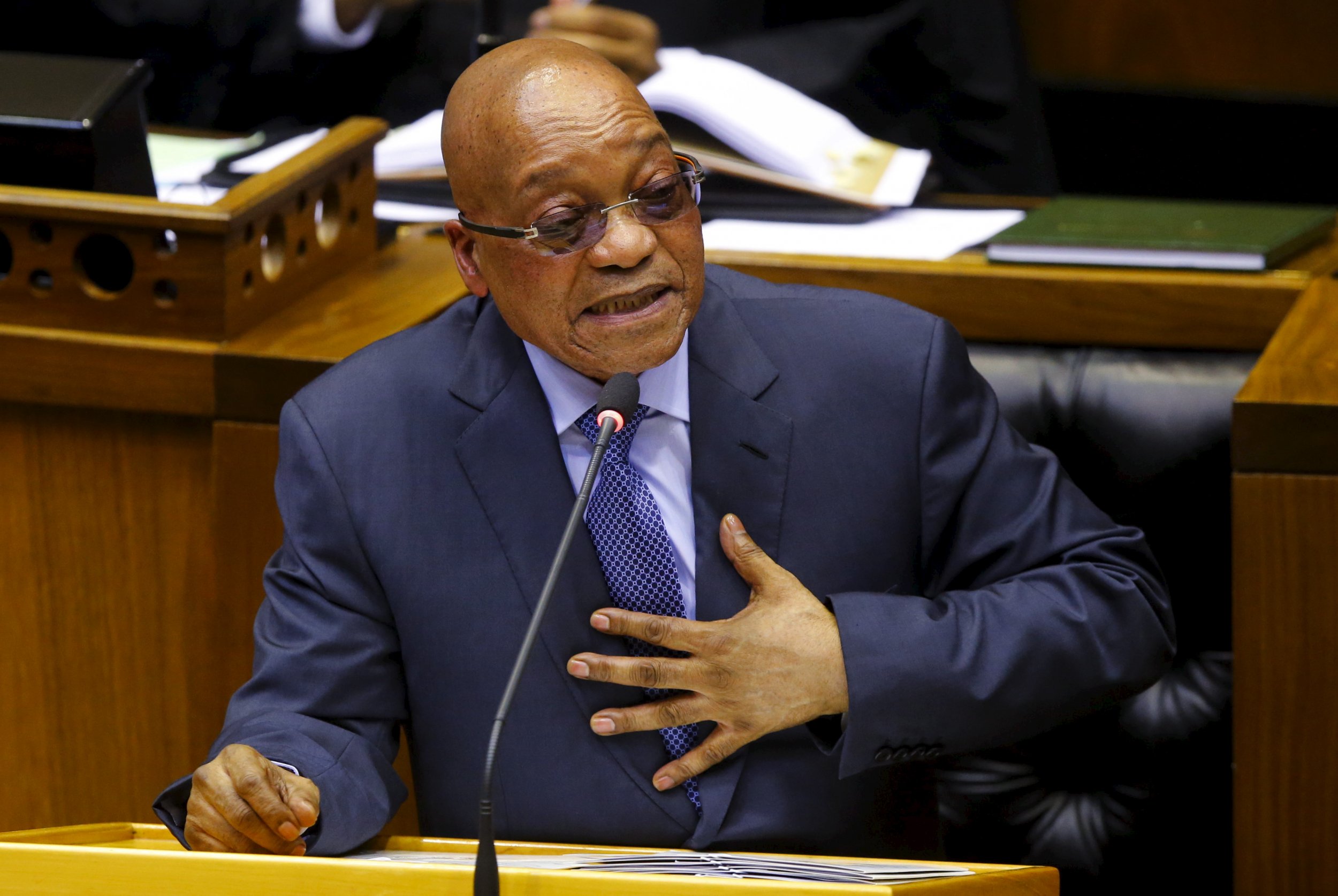 PRETORIA (Reuters) - South Africa's ruling party said on Sunday it had full confidence in President Jacob Zuma after a three-day party summit following mounting claims of political interference by the leader's business friends.
Pressure on Zuma intensified when former cabinet spokesman Themba Maseko told the Sunday Times newspaper that the president asked him in a 2010 phone call to meet the Guptas—a family of Indian-born businessmen who relocated to South Africa in the 1990s—at their home in Johannesburg and to "please help them."
Zuma has so far insisted his ties with the Gupta family are above board, but investors fear further political uncertainty could hasten a credit ratings downgrade, potentially into "junk" territory, and sharply raise South Africa's borrowing costs.
Zuma's son, Duduzane, is a director—along with Gupta family members—of at least six companies, documents show.
The allegations have reinforced concerns over governance and stability in Africa's most industrialised country. The opposition has called on Zuma to resign.
Gwede Mantashe, secretary general of the ruling African National Congress (ANC), said the party's National Executive Committee held "frank and robust discussions" over claims the Guptas had influenced the appointment of ministers and deputies.
"The appointment of ministers and deputy ministers is the sole prerogative of the President of the Republic, in line with the Constitution. To this end, the ANC continues to confirm its full confidence in our President," Mantashe told a nationally televised news conference.
Mantashe said party officials had not discussed Zuma standing down from the presidency during the summit. The 73-year-old president has survived several scandals over the years.
In the past week, senior officials have accused the Gupta family of wielding undue influence in government activities. The Guptas say they are pawns in a plot to oust Zuma.
Maseko said he met two Gupta brothers who wanted his help in directing government advertising to a newspaper that the family was launching, the report said.
The Gupta family rejected Maseko's accusations.
"We are bemused by Mr Maseko's six-year-old allegations, which are totally unfounded," Nazeem Howa, CEO of Oakbay Investments, the holding company for the Gupta family's businesses in South Africa, said in a statement.
The presidency made no comment on the claims, but in a statement rejected local media reports of an impending government reshuffle this week as "mischievous."
Deputy Finance Minister Mcebisi Jonas said on Wednesday that the Gupta family had offered him former finance minister Nhlanhla Nene's job shortly before Zuma abruptly dismissed Nene in December, sending South Africa's rand down nearly 10 percent. Another ANC official also said last week that she had been offered a cabinet position by the Guptas.
Zuma has said in parliament that only he appoints ministers to the cabinet and dismissed Jonas's account.
Mantashe said the party also had full confidence in Finance Minister Pravin Gordhan, who has been involved in a prolonged confrontation with the elite police unit Hawks. Gordhan has repeatedly said an investigation into a surveillance unit set up at the revenue service when he headed the agency was a smear campaign aimed at tarnishing his credibility.
The ANC said it had also discussed this year's municipal elections in which it faces stiff competition from the opposition, notably in the commercial hub of Johannesburg and the capital of Pretoria.