South Africans Send Off Mandela With a Hallelujah Chorus of Approval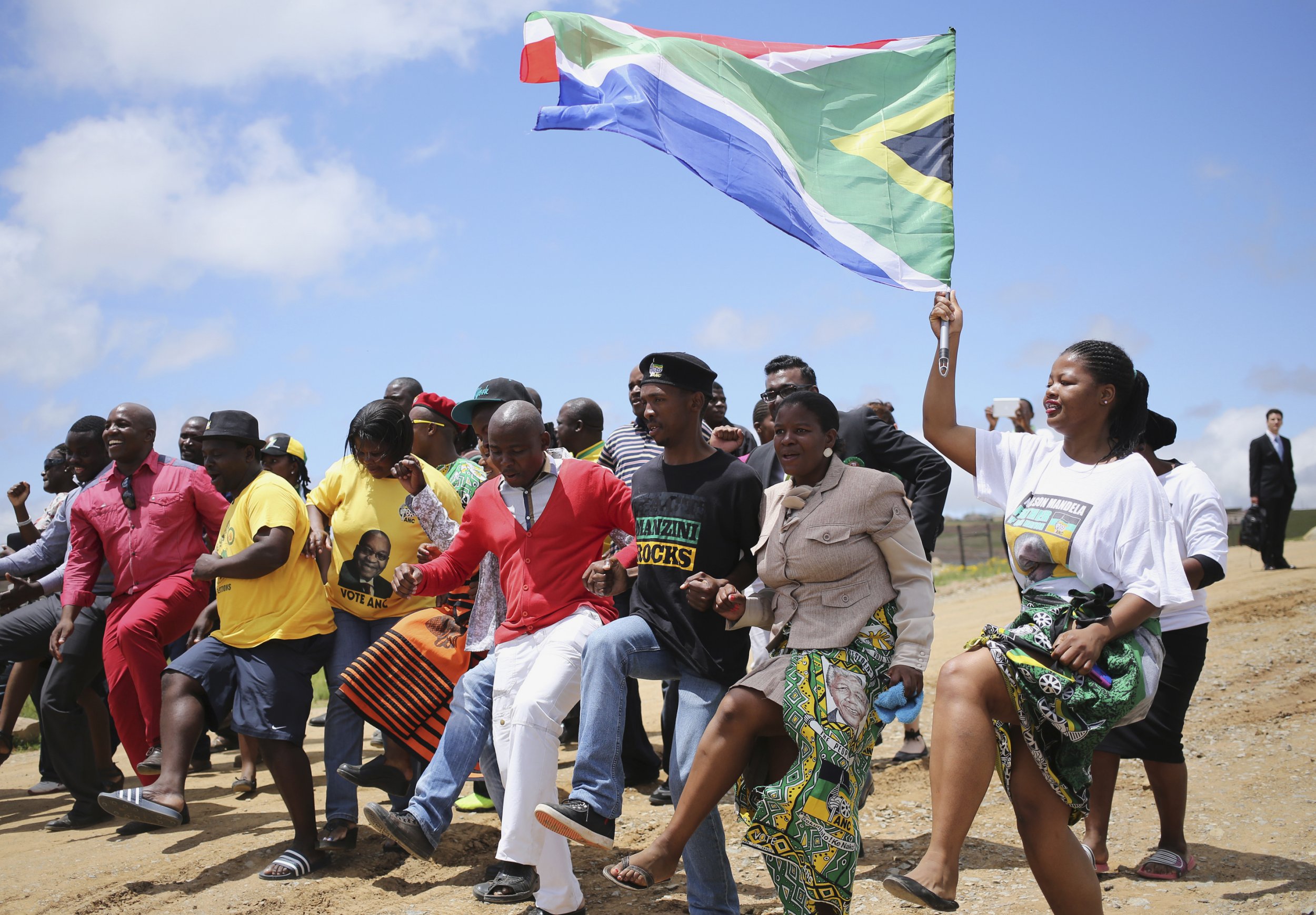 Qunu, South Africa—From mournful hyms to jubilant protest songs, South Africans' 10-day farewell to Nelson Mandela, which concluded Sunday with his burial in the ululating hills of his childhood home, came with its own soundtrack.
As a packed train rumbled from central Johannesburg to the memorial service in Soweto Tuesday, passengers sang, "Siyaya siyaya e FNB!" – "We Are Going to FNB Stadium!"
As the train approached the sports ground, they kept singing, drawing inspiration from the sounds of the liberation movement that Mandela helped to lead: "Oliver Tambo, theta no Botha, kukhululwe u Mandela," – Oliver Tambo, Talk to Botha, Free Mandela," an old favorite that refers to former African National Congress president Tambo and apartheid-era president P.W. Botha. And they sang the South African national anthem, "Nkosi Sikelel iAfrica," or "God Bless Africa".
When the mourners reached the stadium, the singing continued for five hours, through the driving rain, until the service began. "Mandela, My President," they sang over and over.
From train cars to the streets, concert halls to sports venues, South Africans sang their final farewells to Mandela, just as they crooned throughout the liberation movement that helped to free him and bring about the country's first democratic election. South Africans sing at just about every occasion -- from weddings and funerals to circumcisions -- so, fittingly, they gave Mandela a musical goodbye.
"Throughout the years of struggle, music was the glue that kept communities together," said Sibongile Khumalo, the first lady of South African song, who performed at Mandela's memorial service last Tuesday and organized a memorial concert Wednesday night at the State Theatre in Pretoria. "Singing and dancing is ubiquitous to our life experience. It provides both a channel of release, as much as it provides spiritual and uplifting energy."
Singing and dancing became one of the most prominent expressions of struggle from the 1970s throughout the early 1990s, Khumalo said. The music both released the people's pain and gave South Africans hope that they could defeat apartheid. With public meetings banned, songs often contained hidden political messages, too.
"Music was a way of expressing our feelings and camouflaging the messages," said Neo Rampa, 38, a banker who grew up in Soweto at a time when singing and protest dances – toyi toyis – were everyday occurrences. "At the time even the name Mandela was banned. You couldn't say it without getting arrested. So you'd say it in song instead."
And from the moment word spread that Mandela had died, South Africans began singing and dancing. "Nelson Mandela, Akekho Ofana Naye" or "Nelson Mandela, There's No One Like Him" became an unofficial national anthem of the mourning periods. Tens of thousands of South Africans belted it out as they waited for Mandela's state memorial service to begin. They sang it again as a motorcade brought Mandela's body back to a military hospital; when they were turned away from seeing his body because of overflowing crowds; and at the Pretoria memorial concert, where Khumalo herself led a round to kick off the show.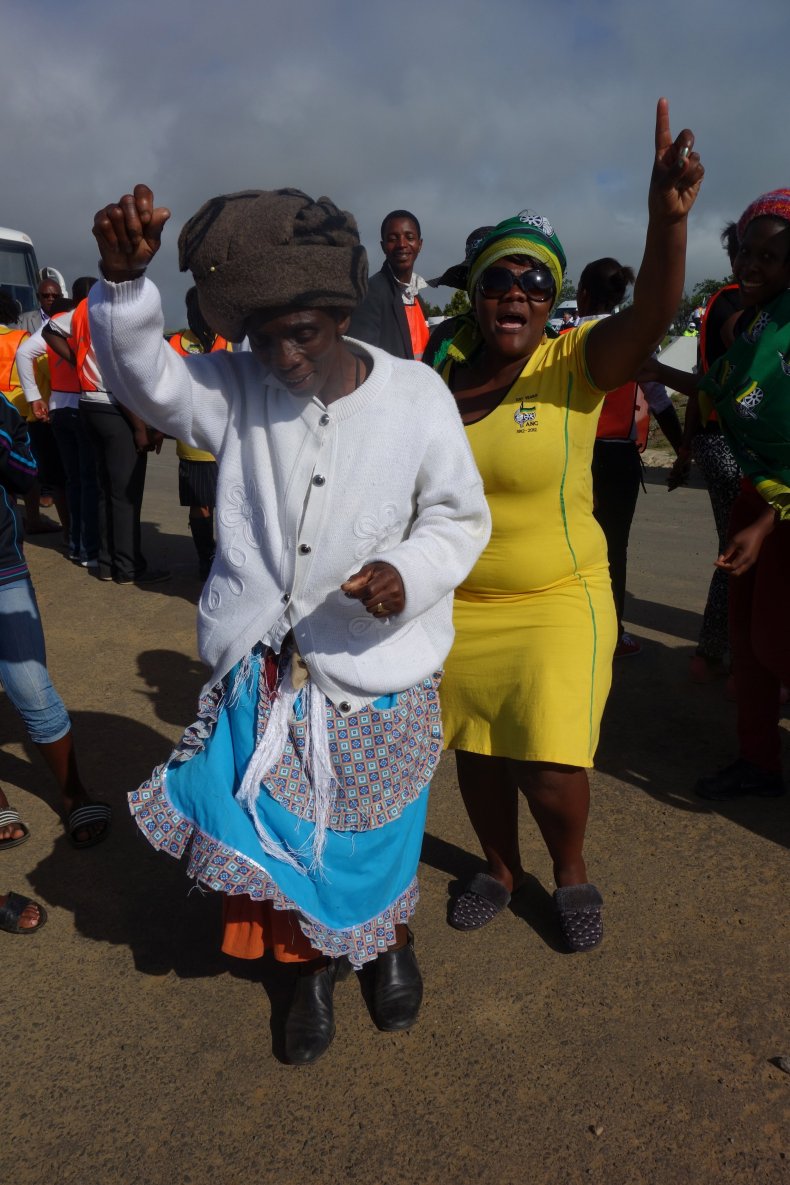 At the memorial concert in Pretoria, the crowd sang along to a cover of Brenda Fassie's "Black President," raising their fists in the air. And at a tribute in Johannesburg at the Nelson Mandela Foundation, Johnny Clegg's rendition of "Asimbonanga u Mandela thina Laph'ekhona Laph'ehlilikhona" – "We Haven't Seen Mandela, Where He Is, Where He's Staying" – a reference to when he was incarcerated for 27 years – got the 82-year-old Archbishop Desmond Tutu out of his seat, shaking his hips.
"We can't remember Madiba without music and song and dance," said Joe Phaahla, deputy minister of the Department of Arts and Culture.
Even callers to radio talk shows have been moved to compose musical tributes to South Africa's lost leader. A woman who identified herself as Thlabane called a station and sang her own song to the former president: "You worked for the world. You sacrificed everything. Your work is immeasurable, beautiful."
As the scene shifted to the Eastern Cape Saturday, with Mandela's body arriving in his home province, the music continued. Throngs lined the road from the airport in Mthatha to his childhood village, singing and toyi toying as his body was brought home in an elaborate procession.
"Lihambile iqhawe lamaqhawe," they sang after the procession entered the Mandela family compound, or "The Hero of Heroes Is Gone."
As the official mourning period for Mandela came to an end at his funeral Sunday, strains of struggle music mixed with traditional choral hymns.
The program opened with a choir singing the solemn hymn "Lizalis' idinga lakho," or "Fulfill Your Promise," as pallbearers brought Mandela's body in for the service. Before offering his eulogy, President Jacob Zuma, sang "Thina Sizwe," a mournful freedom song about blacks being dispossessed of their land, mourners joining in after a few solo bars.
When he finished his speech, he segued right into the more joyful "Mandela, He's One of a Kind."
And as the service neared an end, mourners watching on a giant screen in a nearby field sent Mandela off with a song of the African National Congress armed wing, Umkhonto we Sizwe: "Hamba Kahle, Umkhonto we Sizwe," they sang, "Go Well, Spear of the Nation."