South Africa's Jacob Zuma Faces ANC Debate on His Future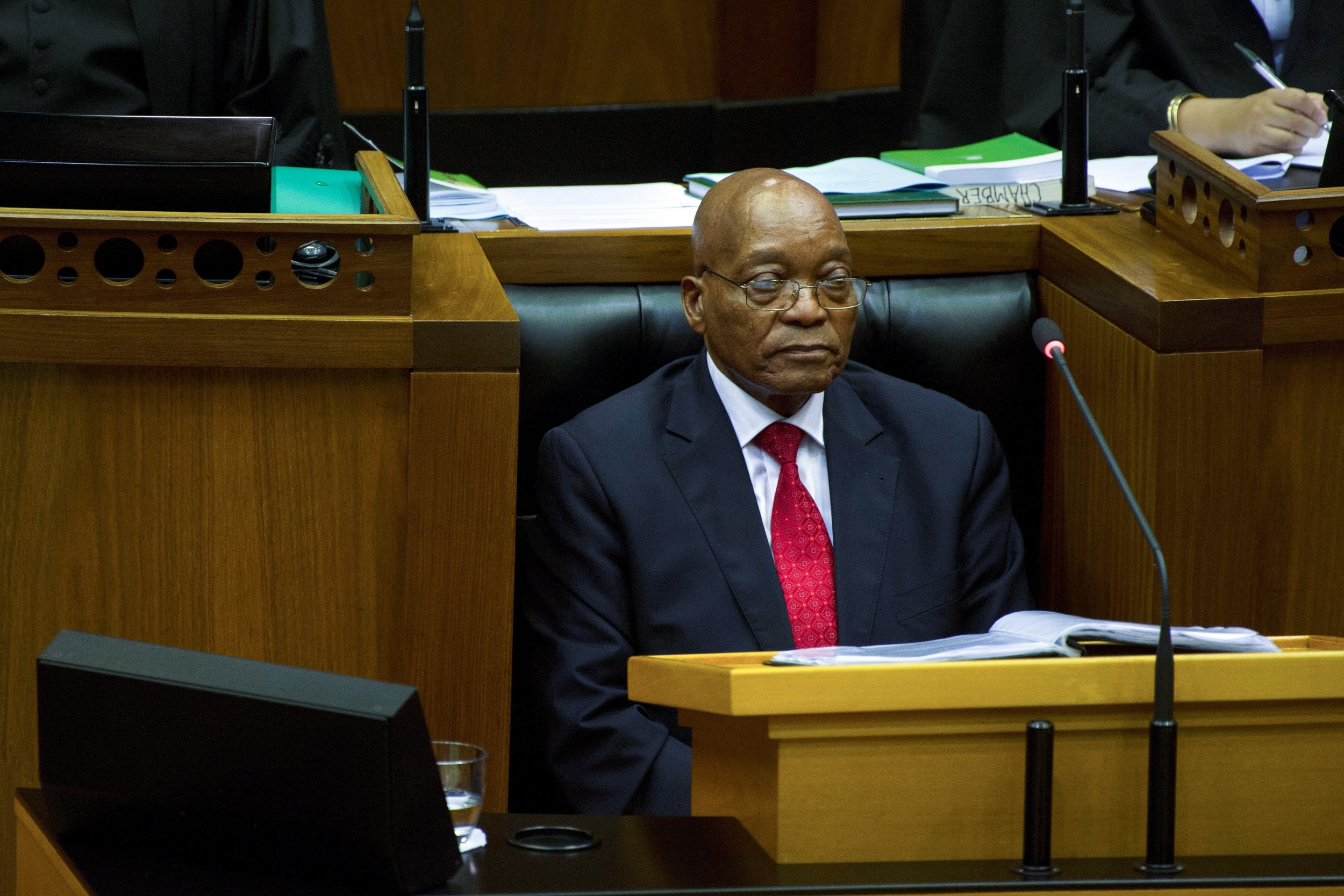 South African President Jacob Zuma is facing a revolt within his own party after one of his ministers proposed that he step down as leader of the African National Congress (ANC).
The ANC extended its national executive committee meeting into a third day on Monday following the proposal by Tourism Minister Derek Hanekom. The minister put forward a proposal to vote on Zuma's suitability to continue in the role, which is being discussed by the party's leadership on Monday, South Africa's Sunday Times reported. Several other ministers are thought to have backed Hanekom's motion.
Zuma's credibility appears to have hit an all-time low following a series of scandals and the ANC's worst election result since 1994 in August's local government polls, a result many blamed on the president.
The president has survived three no-confidence votes put forward by the opposition since 2015, but this is the first time the ANC has debated the future of its party leader.
Senior ANC officials have become increasingly vocal in their criticism of Zuma, who is constitutionally barred from running for a third term in 2019's presidential elections. The party's chief whip, Jackson Mthembu, recently said that the entire ANC leadership should step down, while Winnie Madikizela-Mandela—the former wife of Nelson Mandela, the first ANC leader to become president of South Africa—said that the party required "introspection" to determine "where we went so wrong," and suggested that a "whole layer of fresh leadership" would help.
Should the ANC decide to go ahead with a confidence vote in Zuma, the key issue will be whether a secret ballot is used, according to Gareth Newham, a governance expert at South African think tank the Institute for Security Studies. "Zuma supporters are trying to prevent a secret ballot because they fear that, if there is, the majority of the national executive committee will vote against him," says Newham. "However, if it's not a secret ballot, then he'll be able to identify those who are turning against him and, if he wins the vote, he can then use the power of the state to punish them."
If a vote of no confidence is passed in Zuma, he will be required to step down as ANC leader but would remain president of South Africa. It is likely that Zuma would immediately resign as president but if he fails to do so, the ANC would have to bring a parliamentary motion to have him removed, says Newham. Zuma's predecessor as South African president, Thabo Mbeki, resigned in 2008 after the ANC withdrew its support from him.
The ANC lost control of key metropolitan areas—including the economic hub of Johannesburg and the capital Pretoria—in August's local government election, as well as taking less than 60 percent of the national vote for the first time since the end of apartheid in 1994.
Zuma has faced several personal scandals, and in March a court ruled that he failed to uphold the constitution by refusing to pay back state funds spent on improving his residence in Nkandla, in South Africa's eastern KwaZulu-Natal province. The country's former Public Protector Thuli Madonsela released a report on November 2, calling for a judicial inquiry into possible corruption after investigating Zuma's relationship with the Guptas, a wealthy business family accused of wielding undue political influence. The Guptas have denied any wrongdoing.
But the president still has strong backing from some segments of the ANC. The president of the influential ANC Youth League, Collen Maine, called on military veterans to "take up arms" to defend Zuma at a rally in October. Maine's comments were condemned by the ANC as "reckless" and "irresponsible."