During a panel with former President Bill Clinton and other world leaders Wednesday, South Africa's President Cyril Ramaphosa stressed that his African National Congress (ANC) has a mandate to push through land reform in his country.
"We're trying to undo what was set in place by colonialists. One of the reasons the ANC was formed was to deal with the land issue," Ramaphosa told Clinton. "It is the wound and salt in the hearts and minds of South Africans…. It's a festering sore. Let's make sure that it [land] is available to the majority of the population."
Land reform has become an especially contentious issue since Ramaphosa took over as president following Jacob Zuma's resignation in February. During the transition from apartheid to democracy in the early 1990s, the new constitution noted that land should be returned to people who had been dispossessed during colonialism and apartheid. The country's 1913 Natives Land Act had reserved around 93 percent of the country's farmland for white farmers, despite the fact that white colonialists were a minority of the population.
More than a century later, the vast majority of the country's land is still in the hands of white farmers, according to Ramaphosa, and added that making land ownership more equitable has become one of the government's signature missions. The government even proposed a bill that would allow it to seize land from white farmers without compensation. However, the idea drew backlash and was later dropped, but not before the plight of South Africa's white farmers became a cause célèbre for white nationalists around the world.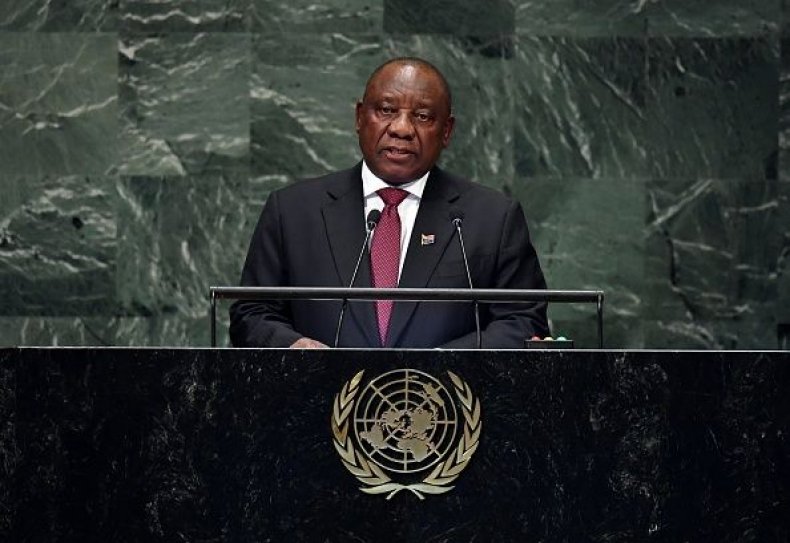 Countries such as Russia and Australia have opened their doors to some white South African farmers in response to sensationalized news reports that the farmers are being persecuted. Even Fox News anchor Tucker Carlson promoted stories claiming that white South Africans were being targeted, a statement that was later repeated via Twitter by President Donald Trump.
Nevertheless, Ramaphosa and the ANC stood by the policy.
"The expropriation of land without compensation as one of the measures to ensure that land reform is implemented in a way that increases agricultural production, improves food security and ensures that the land is returned to those...from whom it was taken under colonialism and apartheid," the ANC said in a statement at the time.
Around 72 percent of farms and agricultural land in South Africa is currently owned by whites, who make up just 8.2 percent of the population. Black South Africans, who make up over 80 percent of the population, own just 4 percent of the land, according to official statistics.