South America's Designer Hotel Boom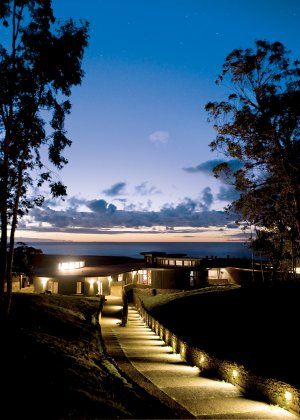 The view outside my window included wild horses roaming near the pool, an empty prairie that extended to the rugged coast, and 3,000 kilometers of open sea that separated me from mainland South America. Most travelers visiting Easter Island expect a crash course in austere island living. But I had wisely booked a room at the Posada de Mike Rapu, the island's first luxury property and the most recent venture of the Chilean travel company Explora. Never mind that it takes a month for food to arrive via cargo ship. I was soon eating beef tenderloin flown in by jet and choosing between such wrenching options as pampering myself at the spa and scuba diving in the legendarily clear water.
The 2008 opening of this ultrachic designer boutique hotel in such an unexpected location marked the coming of age for luxury travel to South America. For years, the continent's properties lacked the aesthetic pizzazz of more high-profile alternatives: Africa's sumptuous safari camps, Asia's jet-set urban hotels and beach resorts, Europe's courtly manors and country estates. But thanks to a number of red-hot economies, led by Brazil, and successful crackdowns against crime in places like Colombia and Peru, South America has become the new hotspot for developers of high-end designer boutiques, resorts, and villas.
The Jumeirah Group, creator of the iconic sail-shaped Burj Al Arab in Dubai, will open its first South American hotel—complete with eight polo fields—this September in Argentina. Brazil's much-anticipated Natal Ocean Club, where suites come with private gardens and Zen pools, should be completed in October, while the posh Brazilian hotel label Fasano will expand into Uruguay this November with a property in party-central Punta del Este. And hoteliers from as far away as India, like the Taj brand, are drawing up long-term plans to set up shop on the continent. "There's definitely been a lot of really substantial openings and announcements in the area," says Andrea Lemon, vice president of sales at Kiwi Collection, an online guide to high-end hotels.
On a recent whirlwind trip through Argentina, Chile, and Brazil, I sampled a half-dozen new villas and designer hotels that exemplified this emerging upscale-hospitality scene. My first stop was a lavish French Belle Époque–style villa in the historic San Telmo barrio of Buenos Aires. One of four properties newly acquired by the European agent Hosted Villas in Buenos Aires, this two-story 19th-century building boasts a dip pool, two terraces, a rooftop sundeck, and a rose garden, not to mention an on-call concierge and driver ($9,950 per week; sleeps eight). Of course, the pitfall of renting one of these historic mansions is that you'll spend half your time attempting to sit on all the furniture or trying to keep track of which of the two dozen doors and windows should be left shut or open. Even when I had friends over, my mind was occupied by the damages I would pay if they broke one of the countless mirrors or chandeliers.
Deciding I'd be more comfortable with something a bit more minimalist (and childproof), I checked in to the nearby Loft Suaya in Palermo Hollywood, a concrete-and-glass penthouse designed three years ago by L.A. restaurant impresario Adolfo Suaya ($2,750 per week). The two-story loft had a decidedly more urban feel that matched the vibe of the surrounding neighborhood, with its trendy art galleries and clothing boutiques. But while the location was great, I missed the human touch (forget a welcome drink served by the in-house butler; even the key was unceremoniously left downstairs with the doorman).
So on my next stop I opted for an actual hotel, the W Santiago, which opened to great fanfare last summer in Chile's frenetic capital as the American luxury chain's first foray into South America ($279 per night). From what I observed on my short stay, I and the other hotel guests, many of them staid businessmen, were noticeably less hip than the members of the young "it" crowd who flocked to its trendy bars, including the rooftop Red2One, one of the city's most exclusive watering holes. For those who don't particularly enjoy being surrounded by people who are cooler than they are, I suggest the more laid-back Hotel Aubrey, Santiago's first luxury design boutique, which opened this March ($240 per night).
For my final leg, I flew into hopping Rio de Janeiro, where instead of staying at one of the usual suspects on past-its-prime Copacabana Beach, I checked in to the Relais & Châteaux property Santa Teresa ($450 per night). Decades before the boutique hotel opened its doors in October 2008, it functioned as a coffee plantation. This history has been revived in its design, with the use of dark tropical woods, coconut fibers, and sculptural pieces that hark back to "old Brazil."
A surprisingly good value, Santa Teresa was perhaps the antithesis of the last property I visited, the European villa association LaCure's new 3,000-square-meter contemporary wonder in the beach resort of Búzios, two hours' drive out of Rio ($3,000 per night). With a full-time staff of four, including two chefs and a butler-bartender—not to mention a dune buggy, one of those accessories you never know you need until you have one—the over-the-top Villa Paraiso looked as if it had been helicoptered in from St-Tropez. A few years ago such cutting-edge designs in South America would indeed have looked foreign, but not anymore. Even Easter Island is getting a second luxury boutique—the ultragreen Hangaroa Eco Village & Spa—this fall.