South Bend Police Officer Who Fatally Shot Black Man Resigns
Sgt. Ryan O'Neill, a white officer who shot and killed a black man suspected of breaking into cars, resigned from the South Bend Police Department on Monday.
Chief Scott Ruszkowski confirmed the news to CNN.
"I am in receipt of his resignation letter. I will have no further comment at this time," Ruszkowski said.
On June 16, O'Neill was called to respond to reports of car burglaries in downtown South Bend, Indiana. When O'Neill arrived on the scene, he claims, Logan was holding a knife and lunged at him with it, causing O'Neill to fatally discharge his weapon.
Newsweek subscription offers >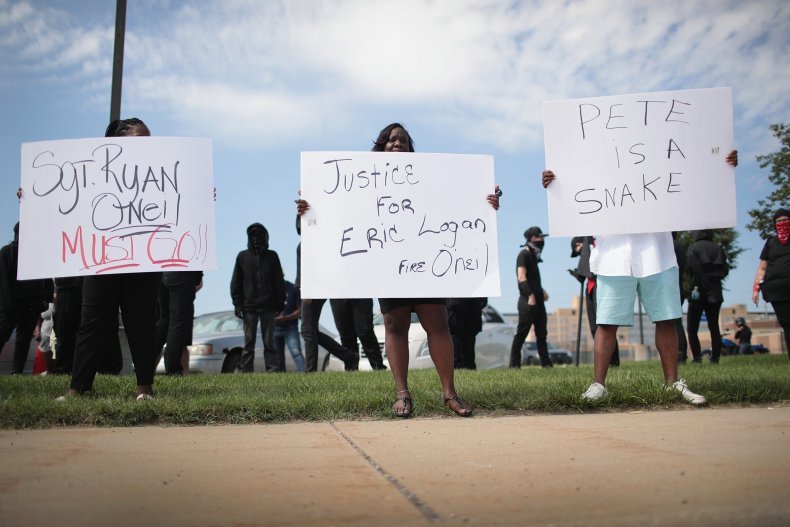 O'Neill has been the subject of complaints about potential racial bias in the past. A former officer once raised concerns after O'Neill allegedly made disparaging comments about interracial marriage. An internal investigation cleared O'Neill of wrongdoing. Two black men in his custody have also sued him over alleged use of excessive force.
In one suit, O'Neill was accused of using his taser on a man whose arms were already raised and hurling a racial epithet at him. Another man sued over accusations of police brutality. Both lawsuits were dismissed after the appropriate filing fees weren't paid.
South Bend's mayor Pete Buttigieg — who is also a 2020 Democratic candidate for president — returned home from the campaign trail to lead a dialogue with residents about the death of Logan the day of the shooting. There, he met may angry constituents, who demanded answers and accused Buttigieg of favoring his presidential ambitions at the expense of their interests.
Newsweek subscription offers >
"You're running for president and you want black people to vote for you?" one rally-goer asked. "That's not going to happen."
"I've been off the campaign trail helping my community move through a tragic shooting of a resident of our community by a police officer," Buttigieg said of his homecoming. "It is as if one member of our family died at the hands of another."
Earlier this month, a new poll showed Buttigieg receiving zero support from black Democratic voters as he fell below five percent in overall support after last week's debates.
When asked about the of support from black voters, Buttigieg told CNN's D.J. Judd they "need to understand the details of the Douglass plan that we're continuing to roll out, and frankly they need to see me in action for a longer period of time."
Last month, Buttigieg proposed a "Douglass Plan" to improve black American prosperity across the country. The plan includes reforms to credit scoring, a reduction in "racist policies" preventing some people from voting and a 25 percent increase in federal government contracts with minority-owned businesses.
South Bend Police Officer Who Fatally Shot Black Man Resigns | U.S.