South Carolina Boy, 11, Gets Fish Hook Stuck in His Eye, Calmly Tells Parents: 'I've Got a Hook Stuck in My Eye'
A boy who got a hook attached to a plastic fish stuck in his eye was back by the water days later, but this time wearing sunglasses.
11-year-old Manning Ruff from Canebay, Summerville in South Carolina, was fishing last week when he caught a bass, his father Daniel Ruff told Newsweek. Manning was at a pond by his home at the time when he tried to pull in the fish and hooked his left eye.
Manning didn't have a pocket knife to cut the line, but didn't want to leave his equipment by the water.
"He rode his bike home with the hook in eye and rod in hand," Daniel told Newsweek. "[Manning] drove past a neighbor all nonchalant and waved to her saying 'hey!'"
The boy then stopped in the garage and clipped the line.
Manning lives at home with his parents, his 5-year-old brother, and their two dogs. The boy has been fishing since he was 2 or 3, Daniel Ruff told Newsweek, and makes his own bait.
When Daniel Ruff first saw his son after the accident, he told him to get in his truck so they could head to ER.
"He calmly said, 'Dad I've got a hook stuck in my eye," Daniel Ruff told Fox News.
Daniel Ruff rushed his son to Trident Medical Center in Summerville.
"We then went to the ER. The doctors told Manning they were going to give him pain medicine and he said 'no, just get it out'," Daniel Ruff told Newsweek.
Medics carefully sent the hook back out the boy's eyelid, and stitched up his skin.
Daniel Ruff told Newsweek his son has recovered well. "I am so proud of how he handled the situation," he said.
"Tell you what. This is one tough kid," Daniel Ruff wrote on Facebook.
The incident hasn't put the boy off fishing.
"He said a hook in the eye isn't going to hold him back," Daniel Ruff told Newsweek. "He wants to be a professional fisherman when he grows up."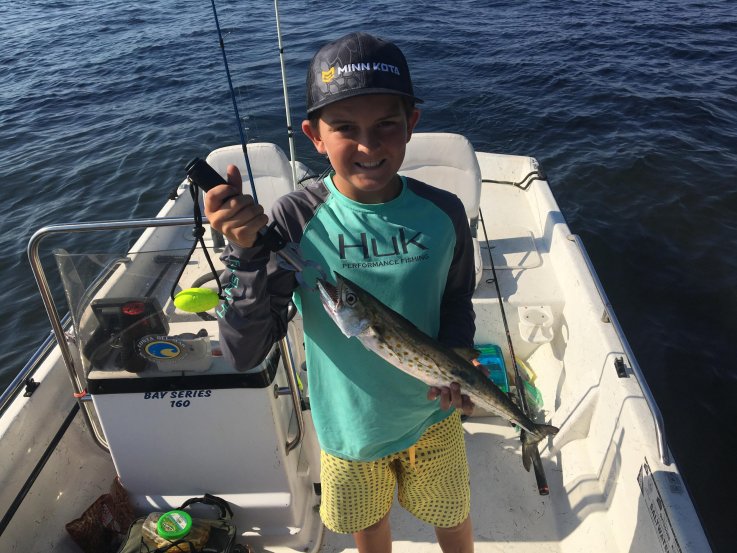 "He loves anything outdoors. He's an avid fisherman. He fishes every day," Daniel explained. "We also travel the country duck hunting in the winter. If we aren't hunting or fishing we are on the baseball field."
"I told him a pocket knife and sunglasses are mandatory when fishing" the father said.
Days later on Sunday, Daniel shared another photo on Facebook of his son, this time showing him wearing sunglasses while proudly holding a fish in one hand, and a rod in the other.
Daniel captioned the photo: "He's back at it !!! First cast !!!."
"Glad to see the glasses...good idea," wrote one Facebook user beneath the image of the boy fishing.
"And equipped with ample eye protection," joked another.
"Glad to see he's wearing sunglasses now!!! So proud of that brave kid!" said another.
This article has been updated with comment from Daniel Ruff.
South Carolina Boy, 11, Gets Fish Hook Stuck in His Eye, Calmly Tells Parents: 'I've Got a Hook Stuck in My Eye' | Health