Meet the Young Indian-American Governor Who Could Be Vice President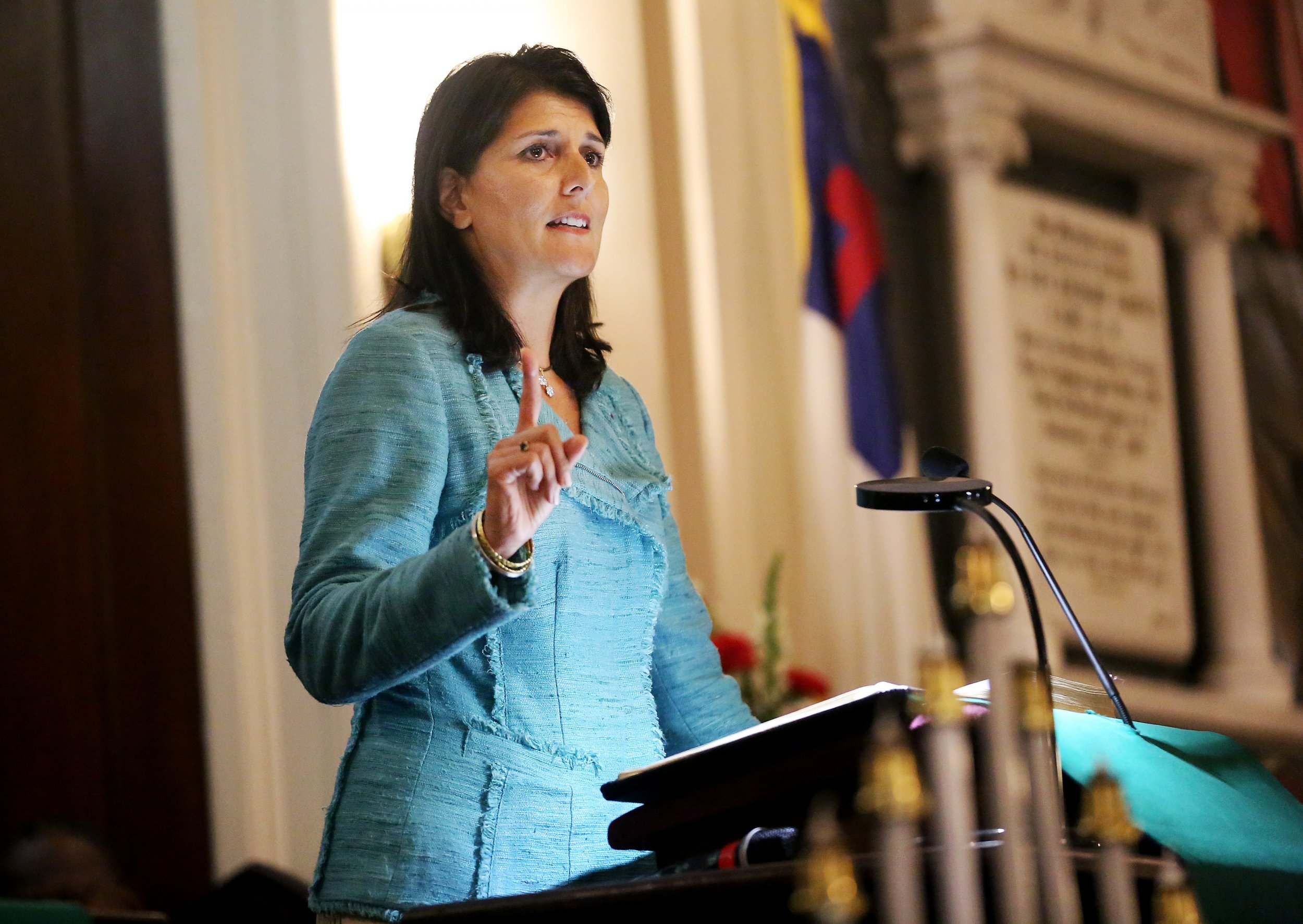 There were Louisiana Governor Bobby Jindal and Senator Joni Ernst from Iowa and then governors Bob McDonnell of Virginia and Mitch Daniels of Indiana. And who could forget Florida Senator Marco Rubio and his awkward water break?
And now, there's another rising star, South Carolina Governor Nikki Haley, who will provide the Republican response to President Barack Obama's seventh and final State of the Union address on Tuesday night.
Since 1966, the opposing party has selected one of its rising stars to appear live on TV and respond to the president. This year, Haley gets her star turn, and whether she'll have better luck with it than, say, Jindal who had to drop out of the presidential race, remains to be seen.
The 43-year-old has qualities Republicans need. There's her compelling family history. The daughter of Indian immigrants, Haley was born Nimrata Randhawa. Before her election as governor in 2010, she served in the South Carolina House of Representatives for six years.
When she was sworn in as governor at age 38, she became the state's first woman and first minority chief executive. Those are attractive qualities at a time when many in the GOP fear Donald Trump is scaring off minorities.
Haley was elected to her second term in November 2014 by the largest margin of victory for a South Carolina gubernatorial candidate in 24 years. She currently is the youngest governor and second Indian-American governor, after Jindal, in U.S. history.
Even if the opposition party's response to the State of the Union sometimes falls flat, there is wide speculation Haley could appear on the GOP ticket as vice president in November's election. She'll get wide attention following the address—and also next month. The South Carolina primary is February 20, and Haley has yet to endorse.
"Governor Haley represents a new generation of Republican leadership. She has the rare gift of being able to connect across differences of party, politics and background," says Matt Moore, chairman of the South Carolina Republican Party.
Last summer, she rocketed to national prominence and was praised for her response under the national spotlight to the deadly shooting of nine African-American worshippers by a white gunman at a historic church in Charleston. After the June 17 massacre, she called for the removal of the Confederate flag from the statehouse in Columbia. She warned that she would use her discretion as governor to call another session if the General Assembly didn't address the issue.
The flag ultimately was removed from the Capitol grounds.
In the immediate aftermath of the shooting, Haley gave an emotional speech in which she fought back tears at a press conference to announce the capture of Dylann Roof, the alleged gunman. Roof, who has been charged with killing nine people, allegedly was able to buy a gun because of a mistake in the federal background checks system. Obama then called for tighter restrictions on guns. As typical with other members in her party, Haley remained strong in her opposition to stronger gun control. She demanded a fix—not an expansion—of the background checks system, saying the problem lies within federal officials, not local and state governments.
After the deadly series of coordinated attacks in Paris on November 13, 2015, Haley joined the list of U.S. governors who opposed allowing Syrian refugees to enter their states because a passport from the country was found near one of the suspects' bodies. She sent a letter to Secretary of State John Kerry asking the refugees not be resettled in South Carolina because of "gaps" in available intelligence for those fleeing the war-torn country.
When House Speaker Paul Ryan and Senate Majority Leader Mitch McConnell announced Haley as their choice for giving the GOP response, they praised her leadership, especially her role in economic reform. During her tenure, the state's jobless rate hit record lows and made its largest infrastructure investment without raising taxes.
"Governor Haley knows the American Dream and wants to see every American share in it, and we're pleased that she will be delivering this year's Republican address," McConnell said last week in a statement.
But her critics argue she is disconnected from reality for making politics a priority. South Carolina Democratic Party Chair Jaime Harrison in a statement said Haley is more concerned with putting "politics over the well-being of her constituents and her duty as an elected official."
Haley's first job was working for her family's clothing store, at the age of 13. She graduated from South Carolina's Clemson University with a bachelor of science in accounting, then returned to work for the business. Her decision to first run for public office in 2004 stemmed from her interest in government, finance and taxes.
The Tea Party movement embraced her. During the race, then-Governor of Alaska Sarah Palin endorsed Haley with the title of "mama grizzly." Haley ultimately overcame a U.S. congressman, the lieutenant governor and the state's attorney general in the GOP primary and runoff. She challenged incumbent state Representative Larry Koon, the longest-serving member of the House, and defeated him in the runoff.
At college, she met her future husband, Michael Haley, a captain in the Army National Guard and a combat veteran. The couple has two teenage children. Raised Sikh, the governor is now a Methodist.
The president will deliver his State of the Union at 9 p.m. ET. The Republican address will be live-streamed online immediately following the president's speech. Haley has said she plans to address both the challenges and opportunities that Americans face.