South Carolina Implemented Restrictions on Large Gatherings Prior to Deadly Nightclub Shooting
The South Carolina nightclub where two people were fatally shot early Sunday morning could face consequences for violating the state's social gathering restrictions, according to local authorities.
Speaking to Greenville News on Sunday afternoon, Greenville County Sheriff Hobart Lewis confirmed two of 10 nightclub patrons who were injured during the shooting had passed away. The individuals were later identified by the county coroner's office as 23-year-old Mykala Bell and 51-year-old Clarence Sterling Johnson, the outlet reported.
"Nobody's in custody. We are actively looking for a suspect," Lewis told Greenville News during an interview about the ongoing investigation. He added later that the sheriff's office received "about five different stories" from witnesses regarding the events that led to the shooting. "And we haven't confirmed any of those," Lewis said.
"Obviously, with the coronavirus going on, there's some of those violations, executive order violations," he continued. "So, we're looking at getting their license revoked. Alcohol license and business license."
The shooting took place inside Lavish Lounge nightclub in Greenville around 1:45 a.m. EDT. Lewis told Greenville News that law enforcement was evaluating whether the incident was related to another shooting that took place inside a nightclub next door one night earlier.
Later on Sunday, Greenville Sheriff's Office Lt. Jimmy Bolt told the Associated Press that police were pursuing two suspects on Sunday afternoon, but did not provide further details.
Newsweek subscription offers >
Lewis estimated that as many as 200 patrons were inside Lavish Lounge at the time of the shooting Sunday morning, exceeding limits on public gathering restrictions that were established by an executive order issued earlier during the novel coronavirus pandemic.
In March, South Carolina Governor Henry McMaster directed state residents to limit the size of group gatherings and gave law enforcement the authority to enforce the measure. The order permits officers to "prohibit or disperse any congregation or gathering of people" if it is determined "that any such congregation or gathering of people poses, or could pose, a threat to public health."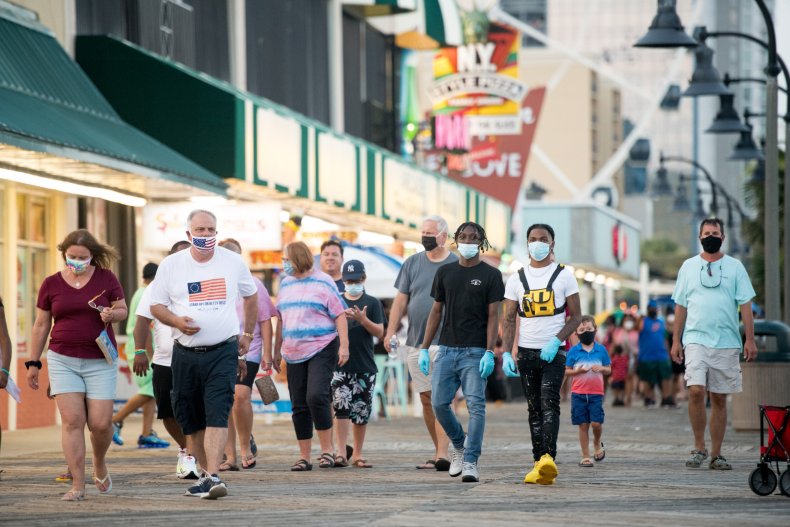 Responding to a recent increase in new cases of the novel coronavirus reported across South Carolina, McMaster reiterated the terms of the social gathering order during a news conference on Wednesday, the Associated Press reported. McMaster also warned that nightclubs and concert venues holding events in defiance of state restrictions were subject to repercussions. Ahead of July 4, the governor was vocal about encouraging South Carolina residents to wear face masks in public spaces and practice adequate social distancing in several messages posted to Twitter.
Businesses across dozens of industries have reopened services in South Carolina since the beginning of May. Although entertainment venues, like nightclubs, have not been permitted to do so, Facebook posts shared by several South Carolina venues indicate some establishments are operating anyway.
Newsweek reached out to the Greenville County Sheriff's Office and Governor McMaster for comments, but did not receive replies in time for publication.
South Carolina Implemented Restrictions on Large Gatherings Prior to Deadly Nightclub Shooting | U.S.