A South Carolina man has died at age of 31 after falling off the roof of his family home while trying to put up Christmas decorations.
Columbia resident Joe Cocco was in the process of installing Christmas lights on November 26 in order to surprise his wife and two young daughters when the "horrible accident" occurred, Myranda Stewart, the man's sister-in-law, wrote on a GoFundMe page.
Cocco fell off the roof of the house and was rushed to the emergency room where doctors determined that he had broken his neck.
He underwent multiple emergency surgeries but was left paralyzed from the neck down and with little movement and sensation in his head and neck.
Cocco spent more than a week in the ICU but his condition worsened and he passed away earlier this month. He was the family's sole financial provider while his wife, Hailey Stewart, looked after the children at home.
"Our hearts are stricken by the immensity of grief as we have lost an incredible husband, father, brother, son, and friend," Myranda Stewart said on the GoFundMe page, which she set up to help with Cocco's medical bills, as well as the family's household bills, food, and other expenses.
Now the fundraiser, which has received more than $68,000 in donations, will also help to pay for Cocco's funeral.
"Our families have gained another guardian angel to watch over us during this unimaginable time," she said.
Chris Mazoue, an orthopedic surgeon from healthcare system Prisma Health, told WIS-TV that holiday-related accidents happen most frequently when people step on stools that are not secure.
"Especially if they reach too far out to put a star on the tree or light on the roof a little further away than needed to be," Mazoue said.
Weather can also be a contributing factor. In Cocco's case, it was windy at the time of his accident, WIS-TV reported.
According to the U.S. Consumer Product Safety Commission (CPSC), around 160 decorating-related injuries occur each year during the holiday season in the country, with almost half of these incidents involving falls.
In the 2019 holiday season about 14,800 people were treated in emergency rooms across the U.S. due to holiday decorating-related injuries, CPSC figures show.
A CSPC spokesperson told Newsweek: "If you are planning to use a ladder to string lights this holiday, always be sure to place your ladder on firm, level ground, and have a helper hold the bottom of the ladder."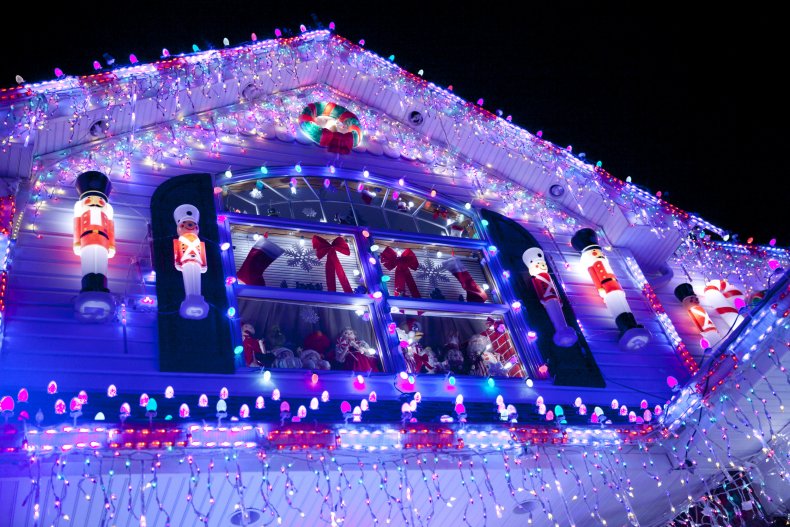 Uncommon Knowledge
Newsweek is committed to challenging conventional wisdom and finding connections in the search for common ground.
Newsweek is committed to challenging conventional wisdom and finding connections in the search for common ground.
About the writer
Aristos is a Newsweek science reporter with the London, U.K., bureau. He reports on science and health topics, including; animal, mental health, and psychology-related stories. Aristos joined Newsweek in 2018 from IBTimes UK and had previously worked at The World Weekly. He is a graduate of the University of Nottingham and City University, London. Languages: English. You can get in touch with Aristos by emailing a.georgiou@newsweek.com.