Video: Huge 10-foot Alligator Does a Death Roll to Try and Evade Capture in South Carolina—'He's Mad'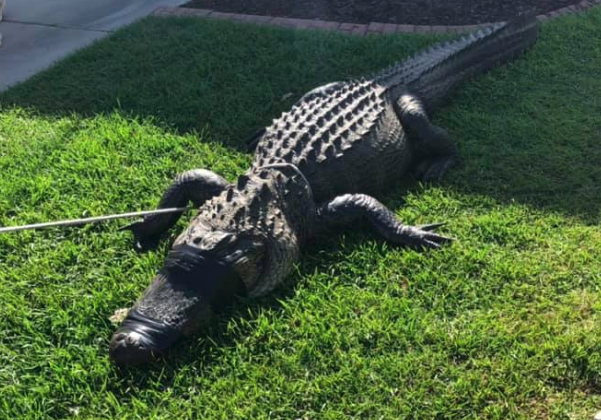 A huge alligator that wandered into a South Carolina neighborhood on Wednesday was captured on video performing a "death roll" as wranglers tried to escort it from the area.
The animal, recorded by witnesses in Murrells Inlet, was seen in footage published by WBTW with a rope around its neck as wildlife experts lured it away from homeowners and kids. In one video, an expert mounted the back of the alligator as another taped its mouth shut.
The clips were posted online this week by local resident Josh Neidig, taken by Bridgett Hamrick. WPDE reported the gator, an estimated 10-foot and 2 inches long, was later returned to a river. But it took efforts by a company called The Snake Chaser to successfully control the animal.
Several times, the alligator was seen spinning over—an innate movement that is typically used by the species to help dismember prey. In some instances, the reptile was seen violently lashing out and hissing as the team tried to contain it. "He's mad," one woman was heard saying.
Andrea Ballard, who was among the large crowd that gathered to watch the commotion, told WMBF: [The gator] literally just sat until the Snake Chasers came out and started trying to get him wrangled and he's like, 'Whoa, wait a minute,' and he's trying to flip around. They're trying to run him back to the backyard because there's a lot more space and [it's] away from the kids."
Russell Cavender, who leads the Snake Chaser business, told WMBF the animal was likely looking to mate. He said: "Mating season for reptiles is in the springtime. You're going to see a lot of these." Cavender noted a mistake during the removal "could mean a limb or your life."
The South Carolina Department of Natural Resource (DNR), which sent officers to the scene, said that gators "occasionally make forays over land in search of new habitat, mates, or prey."
But state officials noted the predators "usually are not aggressive toward humans." The DNR said serious attacks are normally made by alligators that are "greater than 8 feet in length." An online fact sheet noted that alligators begin mating in April and breed between late May and early June—resulting in dozens of eggs.
Rogue alligators are often dubbed a "nuisance" animal if they interfere with humans. The DNR said trapping and removing them should mostly be left to professional wranglers with permits.
It advised online: "Never place your hands near the head of an alligator, as it can swing and snap with great speed. Use catch-poles and other devices to handle and control alligators. Never assume an alligator is dead. Secure the jaws with duct tape as soon as safely possible."