South Carolina National Guard Says Glass Found in Troops' Pizza While Deployed to D.C. for Protests Was Unintentional
National Guard members from South Carolina said they found glass baked into a pizza they ordered while deployed in Washington, D.C., according to a spokesperson for the state military organization.
Captain Jessica C. Donnelly, the S.C. National Guard's Director of Public Affairs, told Newsweek on Thursday that the incident, reported June 3, was isolated and seemed accidental. Donnelly confirmed the National Guard members were unharmed and did not file a report with the Washington, D.C., Metropolitan Police Department (MPDC).
"No one believes that it was intentional or meant to cause harm," she said. "The service members are okay. It was a single incident. Their command said the Soldiers were advised to file a report with local police department. From my understanding they chose not to. There is no additional information to report."
An MPDC spokesperson additionally confirmed the absence of a police report in comments to Newsweek on Thursday.
South Carolina-based newspaper The Post and Courier first published information about the incident on Wednesday, citing a U.S. Department of Defense report sent to the outlet. The Defense Department referred Newsweek's request for a copy of the report to a representative from the U.S. National Guard, who did not reply in time for publication.
Thousands of National Guard troops were deployed to areas across the country during the first week of June, amid widespread demonstrations to protest police violence that followed George Floyd's death while in custody of now-former Minneapolis law enforcement officers on May 25.
Governors and local authorities activated state National Guards to assist police in dozens of U.S. cities, after people looted stores, damaged property and committed other crimes while demonstrators rallied. Local law enforcement and National Guard members used tear gas, rubber bullets and other means of force to disperse crowds on numerous occasions. Several police officers who harmed civilians during demonstrations in a number of states--including New York, Georgia, Kentucky and Louisiana--now face disciplinary consequences from their departments, and some are charged with crimes.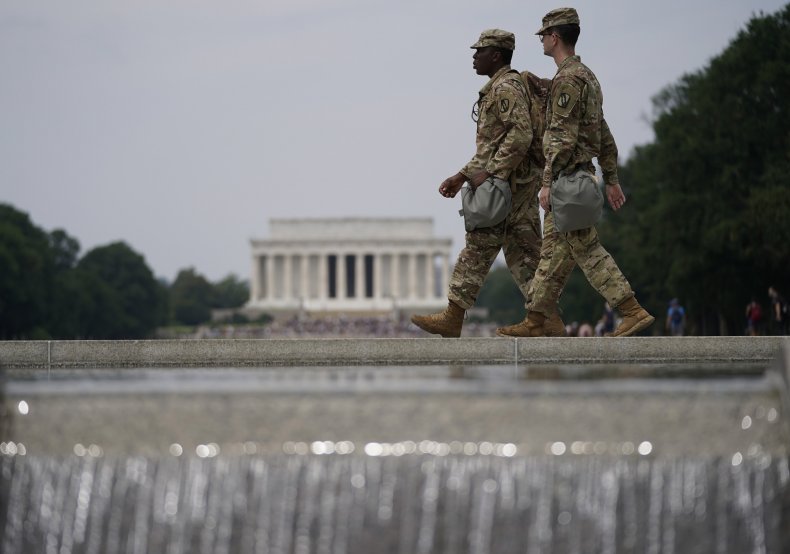 During public remarks given outside the White House on June 1, President Donald Trump ordered state leaders to "dominate the streets" with police as means to prevent further damage from taking place during protests. Earlier, peaceful protesters said they were tear gassed to clear a path for the president as he stood for a photo outside St. Johns Church, which was partially burned.
According to a Wednesday report from TIME, 5,000 National Guard members were deployed to D.C. during protests. The report said about 1,200 of them were D.C. troops, while others arrived from Florida, Idaho, Indiana, Maryland, Missouri, Mississippi, New Jersey, Ohio, South Carolina, Tennessee and Utah. On June 6, the National Guard said more than 43,300 members were deployed to 34 states as well as D.C. to assist local authorities during protests.