South Carolina NCAA Women's Basketball Champs Never Got An Invite To The White House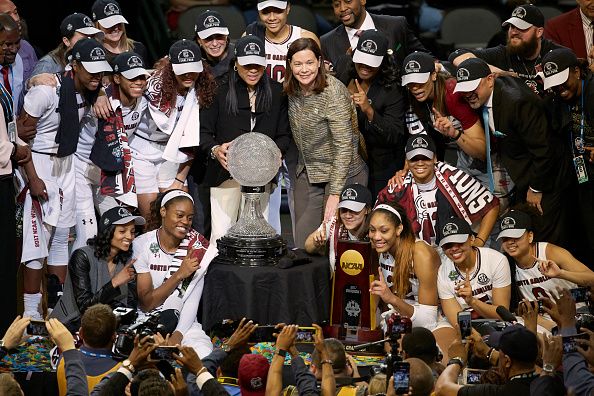 The South Carolina Gamecocks won the NCAA women's title back in April, and are still waiting for their invitation to the White House.
Coach Dawn Staley and her champion basketball team still haven't received a formal invitation to the Executive Mansion, USA Today reported. Staley even said the team would go the night they won because "it's what it stands for. It's what national champions do."
"We haven't gotten an invitation yet and that in itself speaks volumes," Staley told The Associated Press in a phone interview on Friday night. "We won before those other teams won their championships. I don't know what else has to happen."
The women's championship coach is now saying she isn't sure her team would go now if invited. Staley also said that was before "some things transpired over the last few months."
Since 1983, every NCAA women's basketball champion has been invited to the White House, the tradition that spans over five different presidents.
Staley has been invited to the White House before when she represented the U.S Olympic team when George W. Bush was president. She is currently in California running her first USA Basketball Camp as the national team's head coach.
Since his election win, trips to the White House by sports teams are not a guarantee. The Golden State Warriors were invited after their win over the Cleveland Cavaliers, but rescinded their invitation when President Donald Trump tweeted all-star point guard Stephen Curry was "hesitating" to make the trip to Washington. This week, the NHL champion winning team, the Pittsburgh Penguins, announced they were going to make the traditional trip to the White House.
But, both of those teams won their titles months after South Carolina claimed their victory.
This past year, some teams like the Clemson Tigers have visited the White House after winning the College Football Playoffs. Some members of the New England Patriots also attended the White House after their Super Bowl win.
Recently, Trump has not been a big fan of sports, especially football. The National Football League raised controversy in the past few weeks for kneeling during the national anthem to support Quarterback Colin Kaepernick's cause to honor African Americans who were shot and killed by police.
In an interview with Fox and Friends on Thursday, he called the league's protest "disrespectful" and "un-American."
"The NFL cannot disrespect our country," Trump told Pete Hegseth, a Fox and Friends co-host. "They cannot disrespect our flag, or our National Anthem."