South Carolina Official Who Backed Biden Says She Now Supports Sanders As Best Candidate to 'Fight for a Better America'
A South Carolina council member who endorsed former Vice President Joe Biden in the 2020 Democratic presidential race just last month has shifted her support to Vermont Sen. Bernie Sanders as the "right" choice.
Speaking to The Associated Press on Wednesday, Dalhi Myers, a conservative Democrat, said she believed that Sanders would be the best Democratic presidential candidate to unseat President Donald Trump.
"I looked at that, and I thought, 'He's right,'" said Myers, who in 2016 made history as the first black woman to be elected to the Richland County Council.
Describing Sanders as "unafraid" and "unapologetic," Myers said she liked "the fact that he is willing to fight for a better America—for the least, the fallen, the left behind."
The council member said that she had previously joined a number of South Carolina elected officials in endorsing Biden as a "compromise choice."
The former vice president, she had believed, was likely the best candidate to appeal to Republican voters who felt they could no longer support the president.
"It was a compromise choice," she said. "I didn't find anybody's candidacy electrifying, but I did find Joe Biden's candidacy to be reassuring in a sort of normal, American kind of way."
Lately, however, she said she had been starting to feel that Biden's campaign was not strong enough to inspire young voters, whereas Sanders' campaign appeared to have some of the energy the former vice president's bid lacked.
Asked by AP how Myers could back a candidate with such an ambitiously progressive platform, including proposals like "Medicare of All," the official said such efforts would "have to go through Congress."
"Medicare for All will have to go through Congress," she said. "He's not going to pull a Donald Trump."
Ultimately, Myers said, the decision to pull her support from Biden and invest it in Sanders' bid was one she made as "a realist."
"I'm a 50-year-old-black woman, and I tend to be middle of the road. I'm voting what I think is best for all of us, not just me. I'm not a left-wing liberal. I'm not even a left-wing Democrat. But I am a realist," Myers said.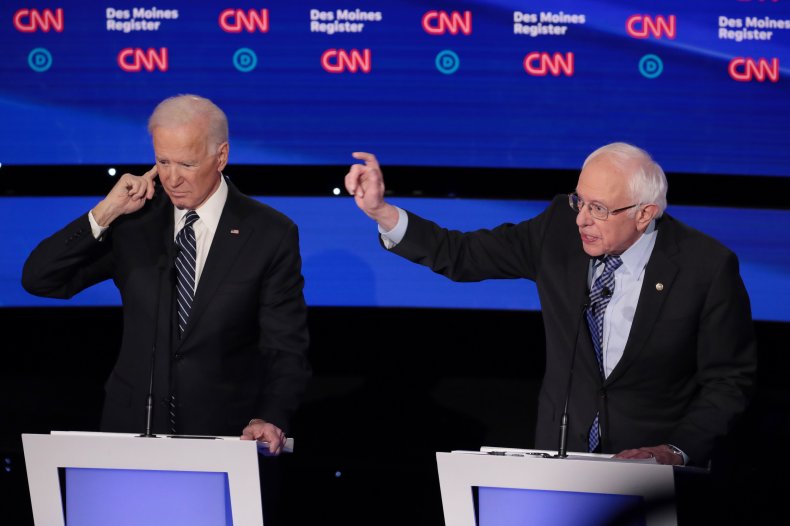 Currently, in an average of polling maintained by RealClearPolitics, Biden is still ahead of Sanders with 28.1 percent, while the Vermont senator trails behind at 21.6 percent.
Massachusetts Sen. Elizabeth Warren sits at 15 percent with Grand Bend Mayor Pete Buttigieg and former New York Mayor Michael Bloomberg following.
Newsweek has contacted the Biden and Sanders campaigns for comment.