Pet Pot-Bellied Pig Runs Wild in South Carolina Elementary School, Lands in 'Jail'
A South Carolina man is facing charges after his pet pig escaped and ended up at a local elementary school.
Leroy, a Vietnamese pot-bellied pig, had already escaped his coop and fled to Brennen Elementary School in Columbia three times before showing up again there last week. His owner, Mcgregor Wallace, has been repeatedly cited for owning a pig within the city limits and for having a fugitive pet.
The citations will be adjudicated at a traffic court hearing next month. Until then, the 7-month-old piglet is in custody at a local animal shelter.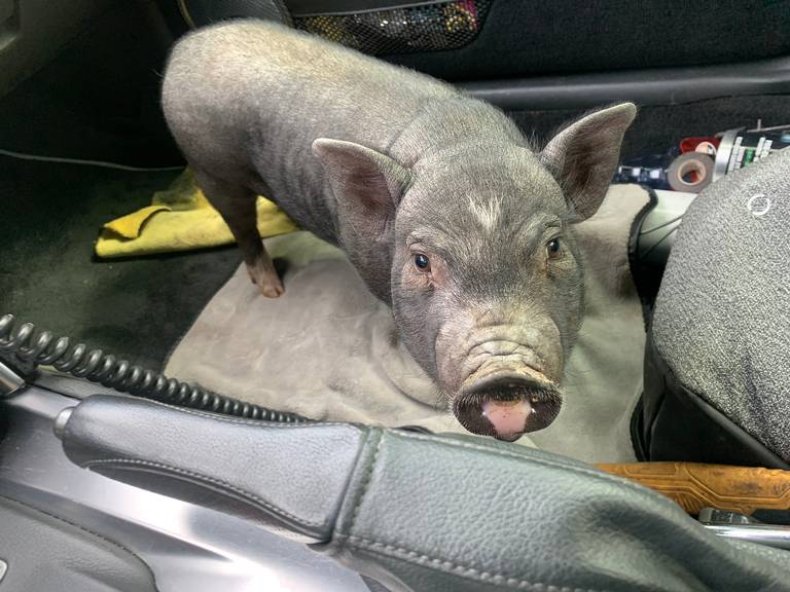 "The pound isn't suited to maintain a pig at all or a place to keep him." Wallace posted on Facebook. "He's currently sitting in a concrete cage being fed dog food. Now, if you know anything about pigs this is very inhumane especially for a 7-month-old."
Wallace, 35, said that Leroy goes to the elementary school to play with the kids.
"The school put him behind the gate for me and has done so a couple of times," he wrote on Facebook. "The teachers and kids LOVE Leroy so much!"
According to Wallace, an unknown troublemaker called animal control and told them Leroy was at Brennen Elementary again. But when animal control arrived, the school refused to let them take the pig—so the officers called the police, who ordered Leroy remanded to the shelter.
"The school is private property... they just can't get him like that," Wallace argued. "Also they grabbed him by his two back legs and carried him in mid air by [them]."
Wallace added, "there were children and teacher crying as they were doing this."
He told The State that Leroy is quite smart and can open the gate by himself. "He can even open the refrigerator, which is pretty cool," he added.
He knows that having a pig is illegal in the city, but argues Leroy is smaller than some dogs. "I think the law is bull—telling me what I can and can't have," he said. "It's not like it's a tiger."
He bought Leroy three months ago to replace a standard pig that had gotten too large. He sufferers from PTSD and says pigs help comfort him. He apologized to his neighbors for "for being a pain in the butt" and promised to be more considerate in the future.
"If anyone could help me with getting Leroy back that would be great!" he added. "The pound is no place a pig can be held at, y'all. I'm serious, this is animal cruelty at its best and our city is doing it. Just think, what if it was your beloved dog or cat? How would you or [your] children feel about it? And what would u do to get them out?"
Leroy's first escape was in early August and Wallace says he's been charged more than $1,000 for each citation, racking up a total of $4,000.
"I can't pay $4,000," Wallace, who has a construction company, told The State. "Maybe I can work something out. I just want to get my pig back."
According to the American Mini Pig Association, Vietnamese pot-bellied pigs originated in Vietnam's Red River Delta and made their way to the United States in the mid-1980s. They weight an average of 150 to 200 pounds and grow to 16 to 28 inches tall.