When Jennifer Brecheisen, a Republican candidate for the South Carolina House of Representatives, refused to wear a mask to cast her vote Monday, a local elections worker told everyone to clear the room for safety purposes.
The Chester County poll worker later explained he was trying to protect other voters from exposure to COVID-19 when he confronted Brecheisen about not wearing a mask.
"We're in a closed room with a lot of people in it, and I've got somebody refusing to wear a mask," said 69-year-old Earl Moore to the Post and Courier. "Why should I take the risk of her infecting other people?"
Brecheisen and her husband arrived at the polls without masks, creating conflict with Moore and drawing mixed opinions on social media about the issue of voting without a facial covering during the 2020 election.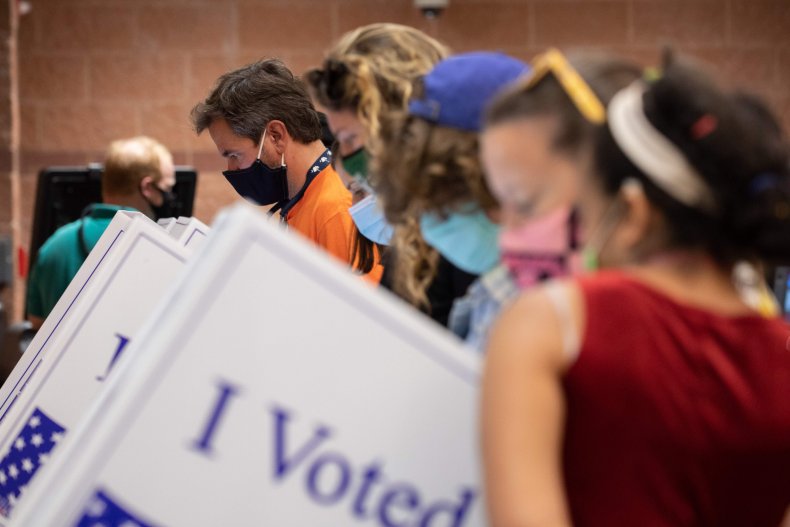 In Chester County, a local ordinance requires residents to wear facial coverings while inside public buildings. But in August, Republican Governor Henry McMaster issued an executive order that said residents would not be required to wear masks while voting in the presidential election, overruling the county's mandate.
"Poll managers aren't the police," State Election Commission spokesman Chris Whitmire told the Post and Courier. "They are not there to enforce local ordinances. There is no law that says masks are prerequisites to vote."
Moore maintains that he didn't violate the executive order, since he ultimately allowed Brecheisen and her husband to cast their votes.
Part of the conflict was filmed and posted on Facebook by Brecheisen, who can be heard accusing Moore of bullying her and stating that citizens have the right to vote without masks.
"That was rude to me," Brecheisen states in the video. "You cleared out the room like I'm some sort of disease. I am not a disease."
The video quickly circulated on social media, gaining more than 240 comments from people vocalizing support from both sides.
Moore told the Post and Courier that Brecheisen, a vocal Trump supporter with a "pro-liberty" campaign platform, was the only voter he encountered who refused to wear a mask inside the polling place. After she left, Moore disinfected the area and allowed more voters to exercise their right.
While coronavirus cases are surging to record highs throughout the country, most states with current mask mandates, including California, will not force voters to wear a mask to the polls.
The issue has become a hotly debated subject, and has seen differing viewpoints from both presidential candidates, with Joe Biden much more vocal about the efficacy of masks than President Donald Trump.