Why Is The South Carolina Primary Important? Contest Considered 'Make-or-Break' For 2020 Democrats Ahead of Super Tuesday
Next up in the 2020 Democratic primary race is South Carolina, where voters will head to the polls Saturday to choose the candidate they want to see nominated for president.
The Palmetto State's "first in the South primary" plays a key role as it's the last stop for candidates before Super Tuesday, when 14 states will vote and award more than two-thirds of all pledged delegates.
"South Carolina is in a sweet spot where it's critically important and make-or-break for a lot of candidates," according to Jordan Ragusa, an associate professor of political science at the College of Charleston and co-author of First in the South: Why South Carolina's Presidential Primary Matters.
This year, Super Tuesday will take place just 72 hours after the South Carolina primary. With no debates or contests being held in between, the last major election coverage voters in those states will see are the results in South Carolina and the Charleston debate, which was held February 25.
Several 2020 Democrats have admitted they need to be successful in South Carolina to move forward. Joe Biden, who's suffered big losses in other early-voting states, told NBC earlier this month that he has to do "really well" on Saturday. Billionaire Tom Steyer told Fox News that he needs to have a top-three finish in the state "for sure."
The South Carolina primary will also be the first time candidates are measured on their ability to appeal to black voters. Unlike Iowa and New Hampshire, where the voting population is roughly 90 percent white, the Democratic electorate in South Carolina is two-thirds African American.
"South Carolina is a different test and it's not surprising that it tends to back different candidates than either Iowa or New Hampshire," Ragusa said.
Candidates who have had trouble connecting with black voters are Minnesota Senator Amy Klobuchar and former South Bend, Indiana Mayor Pete Buttigieg. A Quinnipiac University poll released earlier this month found that just 4 percent of black voters backed Buttigieg while 0 percent supported Klobuchar.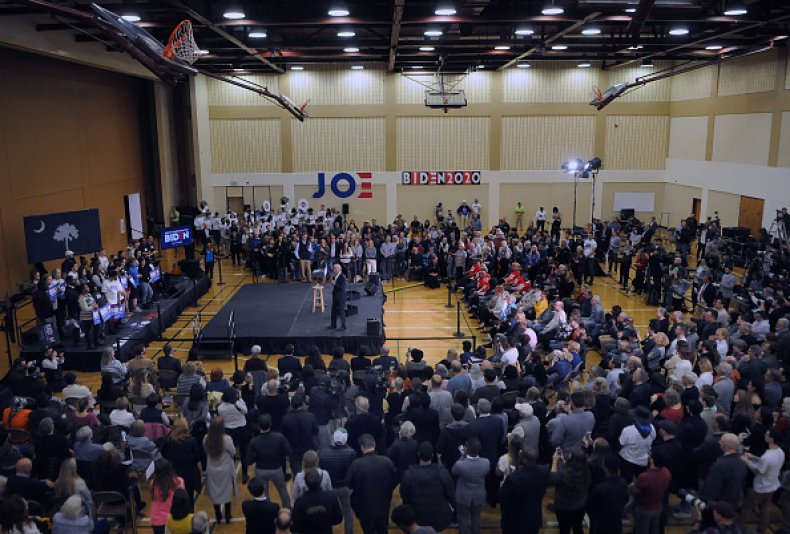 Polling in the state currently shows that Biden is the front runner. A poll released from Monmouth University on Thursday morning showed the former vice president with a commanding 20-point lead over his closest rivals. Senator Bernie Sanders trailed Biden in a distant second place with 15 percent support among likely primary voters.
A surprise contender to perform well on Saturday is Steyer. The 62-year-old billionaire has risen substantially in the polls over the past few months. The latest CBS News/YouGov survey showed him in third place overall with 18 percent support among likely primary voters—a significant jump from the 2 percent support he had in the state back in November. His support among black primary voters also skyrocketed from 2 percent in November to 24 percent on Thursday. He also came in third place in the new Monmouth University poll.
Seven candidates will be competing on Saturday for 54 pledged delegates, which are allocated proportionally based on performance. According to the Democratic National Committee, a candidate needs to capture at least 1,991 delegates to secure the party nomination.
As of now, none of the candidates has a clear advantage when it comes to delegates. Sanders is currently in the lead with 35 but closely followed by Buttigieg, who has 24 delegates. Three candidates—Michael Bloomberg, Tulsi Gabbard and Tom Steyer—have not earned any delegates so far.
However, Bloomberg has decided not to compete in any of the four early-voting states due to his late entry into the race. Instead, he's focused most of his time and resources on Super Tuesday, where over 1,350 delegates will be up for grabs, as the rest of his competitors battle each other in states like Iowa and South Carolina.
South Carolina voters will cast their ballots on February 29, with polls open from 7 a.m. to 7 p.m. ET.