South Carolina Reports Highest Rise in Coronavirus for Fourth Straight Day as Alabama, Florida Set Three-Day Record
For the fourth day in a row, South Carolina reported its largest single-day rise in coronavirus cases on Sunday, while Alabama and Florida also saw record new cases over three consecutive days this week. Despite their surges in COVID-19, all three states are still continuing to reopen their economies amid the pandemic.
South Carolina added 799 confirmed cases of COVID-19 on Sunday June 14, marking its highest single-day increase of the novel virus, and bringing the state's total number of cases to 18,795. The sharp rise in cases also represented the fourth record the state had set in just as many days. On June 10, South Carolina saw 531 new cases, on June 11, 682 new cases and June 12 saw another increase, with 729 new cases.
Alabama and Florida also confirmed record highs in new COVID-19 cases this week.
On June 11, Alabama reported 848 new coronavirus cases, the highest single-day increase the state had seen at the time. June 12 and June 13 broke that record, with 859 and 888 new cases respectively.
Similarly, Florida reported 1,698 new coronavirus cases on June 11, their highest single-day increase at the time. The record was beaten again on June 12 and June 13, adding 1,902 and 2,581 new cases respectively.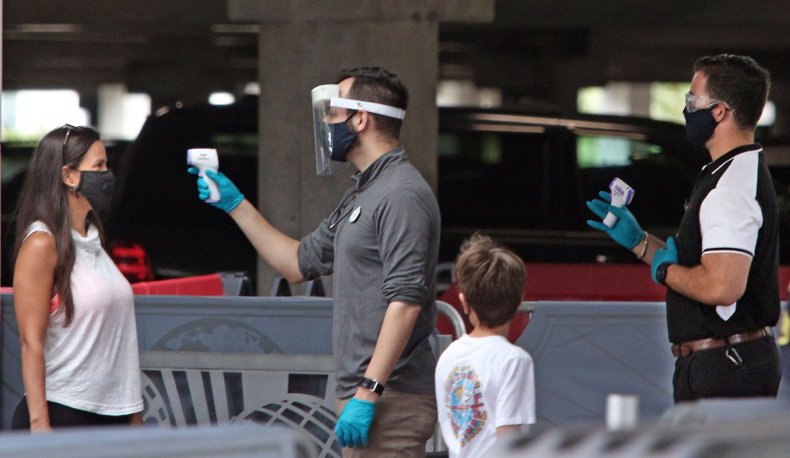 The surge in coronavirus surge comes after all three states moved to reopen businesses following the expiration of lockdowns that saw people confined to their homes for many weeks. Florida Governor Ron DeSantis' stay-at-home order expired on May 4, South Carolina Governor Henry McMaster's stay-at-home order expired on May 4, and Alabama Governor Kay Ivey's stay-at-home order expired on April 30.
Newsweek reached out to McMaster, Ivey and DeSantis for comment. This article will be updated with any response.
Additionally, several other states, including Alaska, Arizona, Arkansas, California, Oklahoma and North Carolina, also reported record numbers of new cases this week. Health officials from various states have linked the rising infections to large gatherings that took place across the country on Memorial Day weekend, according to Reuters. Authorities have also pointed to increases in testing capacity as a factor that could partly account for the rise in infections.
Arkansas, North Carolina, Texas and Utah also reported record high coronavirus hospitalizations on Saturday, prompting health officials to urge citizens to wear masks in public areas, adhere to social distancing and avoid large gatherings in an effort to limit the spread.
More than 2,162,140 coronavirus infections had been confirmed in the U.S. overall as of June 14, with 117,853 deaths caused by the novel disease and 867,849 recoveries.