South Carolina Resident Attempted to Register Dead People as Democratic Voters in Florida
Election officials reported an attempt to register more than a dozen deceased people as Democratic voters in Florida.
The fraud scheme included at least 54 new voter registration applications submitted to the Broward County elections office in July by an unidentified person in Columbia, South Carolina. Officials said that the applications—several found in 19 envelopes back in August—all contained the same handwriting.
Many of the registered individuals were elderly and more than a dozen had recently passed away in the Virginia or Northeast region of the U.S. All applications were submitted with addresses in the same Davie, Florida, neighborhood, although the investigation noted that none of the dead or fraudulent applicants had any ties to these addresses. The driver's license and social security numbers were left blank on all applications.
Broward County Supervisor of Elections spokesperson Steven Vancore told Newsweek that no mail-in ballots were requested or cast under the fraudulent voter IDs. Almost all of the applications were flagged as suspicious and turned over to the Broward State Attorney's office for investigation.
In a letter obtained by Newsweek to Broward Supervisor of Elections Peter Antonacci from the Broward State Attorney's office, 30 of 51 applicants originally flagged were verified as deceased. Five of the applicants were active, meaning that they were already in the system as able to vote and applications were likely sent for a fraudulent change of address, according to Vancore. None of the identified active registrations requested an absentee ballot as of August 14. The deadline to request a vote-by-mail ballot was October 24 in the state.
Three more falsified IDs that dodged detection in July and subsequently added to the Broward voter roll were uncovered by the Sun-Sentinel newspaperthis week, after a tip from a Davie man who received three mysterious voter IDs in the mail.
The man researched the names on the IDs, only to find that all of them had died—including a 104-year-old woman from Naples with no ties to Broward County and who passed away in June, according to the Sun-Sentinel.
Vancore noted that there is always a lag between someone dying and the elections office system—which does an automatic sweep of files every two weeks—recognizing that they have died. He noted that the person seemed to understand this gap and knew when to get the voter registration done.
He said that the scheme proves that it's easy to register someone to vote in Florida, but much harder to carry out the process of actually voting. Registering this way would classify the voter as a MARG, or "Mail Registrant," who did not submit verification of identity. If new registrants plan on voting either in-person or by mail, they would have had to show proof of identity before submitting the ballot.
"It's not hard to register. But if you register and you're a MARG voter, it's noted in the file and you have to always show a photo ID when you actually vote," Vancore said. "So this person was not able to vote until they produced an ID."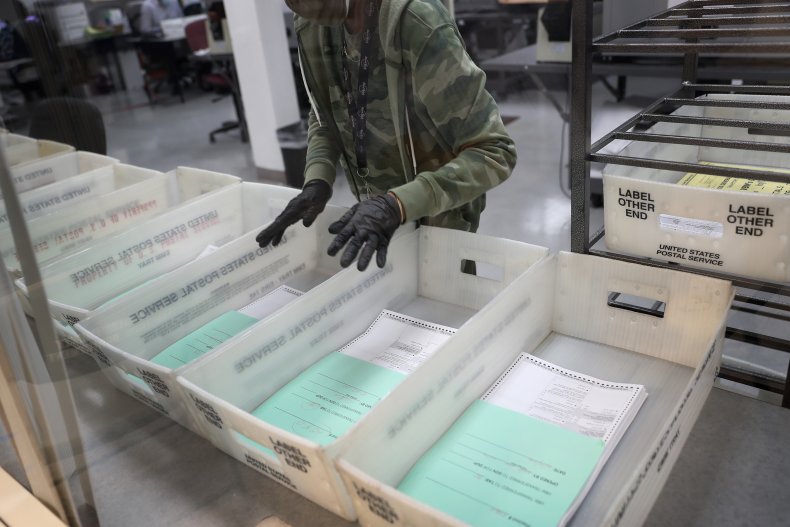 But Vancore said that the fact that none of the falsified IDs were able to be used to vote or even to request a mail-in ballot proves that the system works as intended.
In a follow-up letter from the State Attorney's office, Assistant State Attorney Timothy Donnelly requested in August that all identified fraudulent registration files be activated by the elections office in the effort to track down the person responsible and investigate if they attempt to obtain ballots for the November general election. The envelopes were postmarked from South Carolina, but there was no return address listed.
Donnelly also mentioned that several criminal violations have been committed, including the criminal use of personal identification information.
He wrote that if the person is convicted of fraudulently using the personal identification information of 30 or more deceased individuals, the mandatory minimum sentence is 10 years' imprisonment.
"Hopefully, the state attorney will take this case seriously and will follow through and prosecute," said Vancore. "Now, it's a cross-jurisdictional thing. They figured out it was in South Carolina, so it's not going to be an easy case for them to prosecute."