South Carolina School Investigating Video of Female Student Being Wrestled Down by Police Officer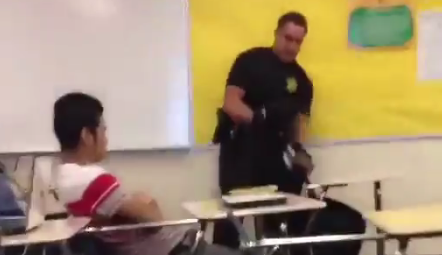 A video circulating on social media of a police officer wrestling a student to the floor at Spring Valley High School in Richland County, South Carolina, has sparked an investigation by the school district, according to WLTX 19.
The video shows the female, African-American student sitting at her desk in a classroom, surrounded by other students. The police officer grabs her arm, puts his hand on her neck, and then pushes the student and her desk backward to the floor. While the student is on the ground, the officer drags her to the front of the classroom. He then instructs her to put her hands behind her back.
The police department was not available for comment when reached by Newsweek, nor did they comment to the local news channel. A New York Daily News justice reporter identified the police officer as Ben Fields of the Richland County Sheriff's Department.
"We are aware of an incident that occurred today at Spring Valley High School. Video of it has been posted on social media. The incident is under investigation. We are working closely with the sheriff's department," the school district said.
The student has not been identified by officials.