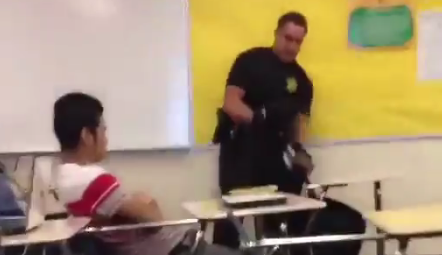 Updated | The South Carolina student flipped and tackled by sheriff's deputy Ben Fields is in foster care, her attorney told the New York Daily News.
The student, who has not been identified by authorities, refused to leave the room after disturbing a class on Monday at Spring Valley High School in Columbia, South Carolina. Fields, a school resource officer, entered the classroom to remove her after a teacher and administrator was unable to do so. In a video filmed by another student, the officer is seen flipping the girl over in her chair and throwing her across the room.
Richland County Sheriff Leon Lott fired Fields on Wednesday, saying it was the throw that compelled him to do so.
In an interview on the Joe Madison Show on Thursday morning, Todd Rutherford, the girl's lawyer, said her biological mother and grandmother are both alive. His remarks clarified a story published in the New York Daily News on Wednesday suggesting the girl's mother had recently died. The Daily News updated its story on Thursday morning, but maintains that the student is currently in foster care. The girl's relationship with her father is unknown, and she has not spoken publicly about the incident or Fields's firing.
After the video went viral on Monday, authorities said the student was not injured. However, her attorney Todd Rutherford told WLTX that she suffered neck and back injuries from the incident. "He weighs about 300 pounds. She is a student who is 16 years old. Who now has a cast on her arm, a band aid on her neck, and neck and back problems. There's something wrong here," Rutherford said.
The student still faces charges of disturbing the peace, Lott said on Wednesday. "She was very disruptive, very disrespectful. She started this whole incident with her actions."
The incident is being investigated by the FBI and U.S. Justice Department to determine if any federal laws were violated. The officer has not been charged.
This story has been updated to reflect Todd Rutherford's interview on the Joe Madison Show, which clarified that the mother and grandmother of the student tackled by Ben Fields are both living.