Multiple South Carolina Students Disciplined After Putting 'Whites' and 'Colored Only' Signs Over School Water Fountains
A group of students at a South Carolina high school have sparked outrage after they plastered signs which read "whites only" and "colored only" above two separate water fountains at the school.
The "prank" was allegedly carried out by a number of teenagers of different races according to West Ashley High School, but the incident that took place on Wednesday caused many to take offense.
Numerous people shared the image of the two fountains on social media and called for the school to investigate.
"I'm lost for words," one person wrote on Facebook. "Today someone decided this was okay."
"So this is what I moved back to Charleston for?" another said. "At a school that is a mix of a generation that comes from old friends from both sides of the Ashley? Really?! We didn't act like this with each other so why are your children? Please share so action is taken!"
West Ashley Principal Ryan Cumback called the action of the students "extremely insensitive and hurtful" in a letter and pre-recorded voice message that was sent to parents at the school.
"Let me first say, we have absolutely no tolerance for this kind of activity," Cumback's letter read, which has since been forwarded to Newsweek.
"Even though those involved in this prank admitted they were wrong, we followed discipline per the Charleston County School District protocol.
"I understand how upsetting the image posted on social media is. That is why we acted swiftly in addressing the matter and why I am reaching out tonight.
"It is important to note that the students involved are of different racial backgrounds. Please know I welcome your feedback, input, and concerns on the situation and how we can move forward together.
"It is my sincere hope that we (staff, parents, students) can come together as a community by not allowing the actions of a few students define who we are and what we are trying to become at West Ashley High School. Thank you for supporting your neighborhood high school."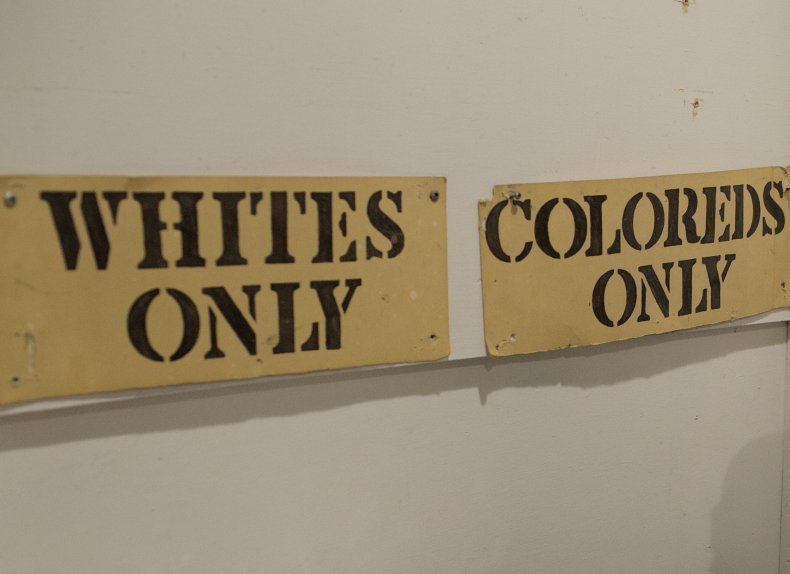 The statement from Charleston County School District's spokesman Andy Pruitt echoed that of the school's.
"Charleston County School District is aware of an extremely offensive and distasteful prank done by students at West Ashley High School yesterday," Pruitt said, in a statement sent to Newsweek. "School administrators took swift action and handled discipline per district protocol."
Neither statement detailed the number of students that were involved nor did they specify what type of disciplinary action was taken. However, a number of posts on Facebook said that the teenagers were suspended.
The so-called prank mimicked Jim Crow-era laws that segregated blacks and whites in public facilities and existed up until 1965.