A teacher from South Carolina has been arrested on a drug trafficking charge after police said they found 2.23 pounds of a white crystal-like substance believed to be methamphetamine in her car.
Sarah McKinnon, a second grade teacher at Aiken Elementary School, was detained after a series of traffic violations led officers to search her vehicle.
Local news outlet WJBF reported that she attracted attention from police after the rental vehicle she was driving ran two stop signs and made an illegal turn.
Police aided by a dog unit found a clear gallon-sized plastic bag filled with suspected methamphetamine which was placed in a cardboard box intended to hold an iron. Several more bags containing the drug were found along with another bag allegedly containing marijuana. She was detained on Saturday on drug trafficking charges and was later released.
Following McKinnon's arrest, Mike Rosier, a spokesman for the school district, said: "This weekend, local law enforcement arrested an individual who is employed by Aiken County Public Schools. None of the alleged offenses were directly related to her employment with the District.
"The individual has been a teacher for twenty-one years, serving most recently at Aiken Elementary School. As is standard protocol, the employee has been placed on administrative leave pending the outcome of the investigation."
According to The Augusta Chronicle, McKinnon was arrested in 2010 after officers allegedly found methamphetamine on her—but those charges were later dropped. At the time, she was a teacher at Mossy Creek Elementary School.
Newsweek contacted the Aiken County sheriff's office for comment.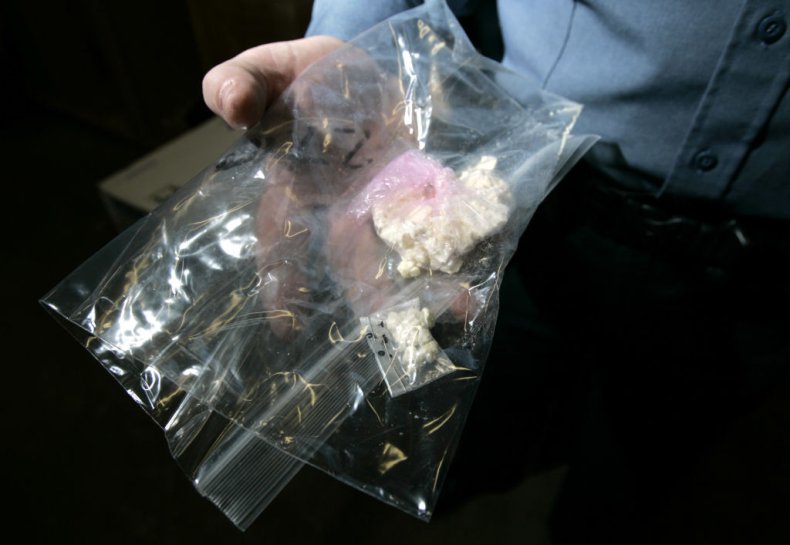 Earlier this year, a first grade teacher in Jacksonville, Florida, was arrested on suspicion of attempting to buy methamphetamine while at school.
Clay County Sheriff's Office said Valerie Lee Prince contacted an undercover police officer in February to arrange to buy an "eight ball" of methamphetamine while at Jacksonville Heights Elementary School.
Domenic Paniccia, a narcotics officer with the local police department, said at the time: "The situation is disturbing. This is someone that was in charge of kids, first grade kids, and it's something that was a priority to us."
The case followed two chemistry professors who were accused of making methamphetamine in a lab at their Arkansas school.
Terry David Bateman and Bradley Allen Rowland, of Henderson State University, were arrested and charged with manufacturing meth and use of drug paraphernalia, according to a statement from Jason Watson, the Clark county sheriff.