South Carolina TV Anchor, Photographer Covering Storm Alberto Killed When Tree Fell on Their Car
A pair of South Carolina journalists have died after their car was crushed by a falling tree during Subtropical Storm Alberto.
Sent to cover "rain impact" in Polk County, North Carolina, news anchor Mike McCormick and photographer Aaron Smeltzer were confirmed dead in a press conference on Monday. It is believed they were struck and killed by the tree at around 2pm.
According to Fox News, Tryon Fire Chief Geoffrey Tennant estimated the tree to be about three feet in diameter.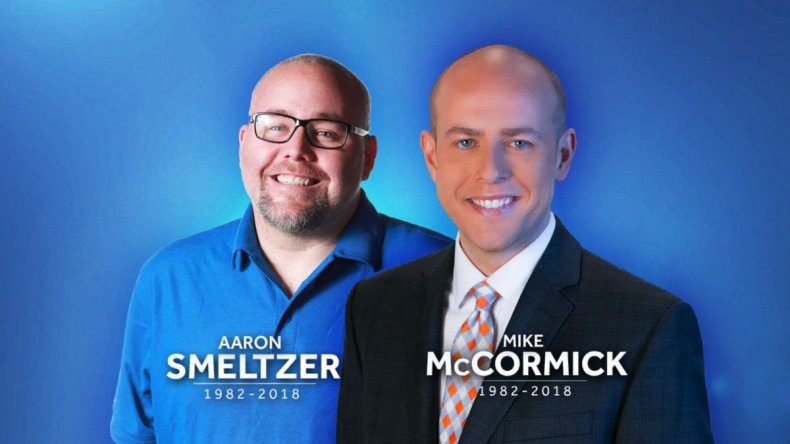 "I think it was a matter of the tree root system had failed and the tree came down," Tennant said. "It's the first time I met either one of the two gentleman but you feel a sense of responsibility toward them."
Tennant had been interviewed by McCormick just 10 minutes before they were killed. "We had talked a little bit about how he wanted us to stay safe and I wanted him to stay safe."
McCormick and Smeltzer worked for WYFF News 4. The television station confirmed the news in a bulletin on Monday night. "All of us at WYFF News 4 are grieving," the station said. "We are a family and we thank you, our extended family, for your comfort as we mourn and as we seek to comfort the families of Mike and Aaron."
The fire crew found the vehicle still running and in drive. Ongoing investigations will be conducted by the North Carolina State Highway Patrol.
McCormick had spent the past 11 years working for the station and was made anchor in 2014. Smeltzer joined WYFF in February and has been working in media for more than a decade.
Storm Alberto recorded winds of 45 miles per hour, according to the National Hurricane Center.